Event #13: €2,500 Short Deck No-Limit Hold'em
Jours 2
Event #13: €2,500 Short Deck No-Limit Hold'em
Jour 2 terminé

Niveau 25 : 0/0, 50,000 ante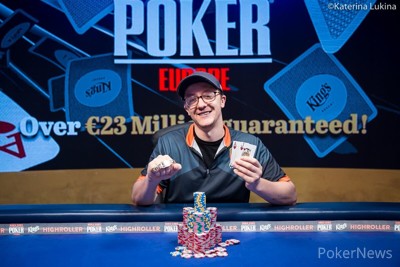 The second day of Event #13: €2,500 Short Deck was a long one, with play lasting more than 13 hours before a winner is crowned. This winner is no stranger to tournament success and especially here in 2019 World Series of Poker Europe, where he won his second bracelet during the festival. Kahle Burns from Australia managed to overtake a total field of 179 entries and win his second WSOP gold bracelet along with €101,843 in prize money.
Regarding his day he said, "This feels like one of those days where I've avoided all the coolers and all the post flop coolers. Obviously I won a few all ins on the way, just ran super good, no complaints."
"I don't know what to say because I'm not super experienced at the game in general. I think a lot of the people in the field, myself included, were sort of trying to figure it out as it goes. A lot of people were in it for a lot of bullets because of the format, everyone was in there and just having fun and figuring it out. The field was certainly not afraid to gamble. Let's put it that way."
"It's been like a whirlwind week. Two bracelets in a week. It's crazy.
Burns admitted that he lacks in experience in this specific format, as he said, "The first time I played Short Deck was a few months ago, here actually. I played a little bit online but I probably played five or six hours online but I certainly wouldn't say I'm an experienced Short Deck player or very good Short Deck player by any means. Pretty new to the game still.''
Kahle Burns managed to become member of the elite club of two WSOP gold bracelet holders, and he did it in just one week. "It's been like a whirlwind week. Two bracelets in a week. It's crazy. Lucky enough to win one live tournament in a week, now I've won two in a week, it's quite fortunate," said a delighted Burns after his second win.
Final Result Event #13: €2,500 Short Deck No-Limit Hold'em
| Place | Winner | Country | Prize (in EUR) | Prize (in USD) |
| --- | --- | --- | --- | --- |
| 1 | Kahle Burns | Australia | €101,834 | $112,835 |
| 2 | Manig Loeser | Germany | €62,929 | $69,727 |
| 3 | Felix Schulze | Germany | €42,233 | $46,795 |
| 4 | Federico Anselmi | Italy | €29,027 | $32,163 |
| 5 | Vladimir Peck | United States | €20,444 | $22,652 |
| 6 | Oshri Lahmani | Israel | €14,764 | $16,359 |
| 7 | Pierre Neuville | Belgium | €10,939 | $12,121 |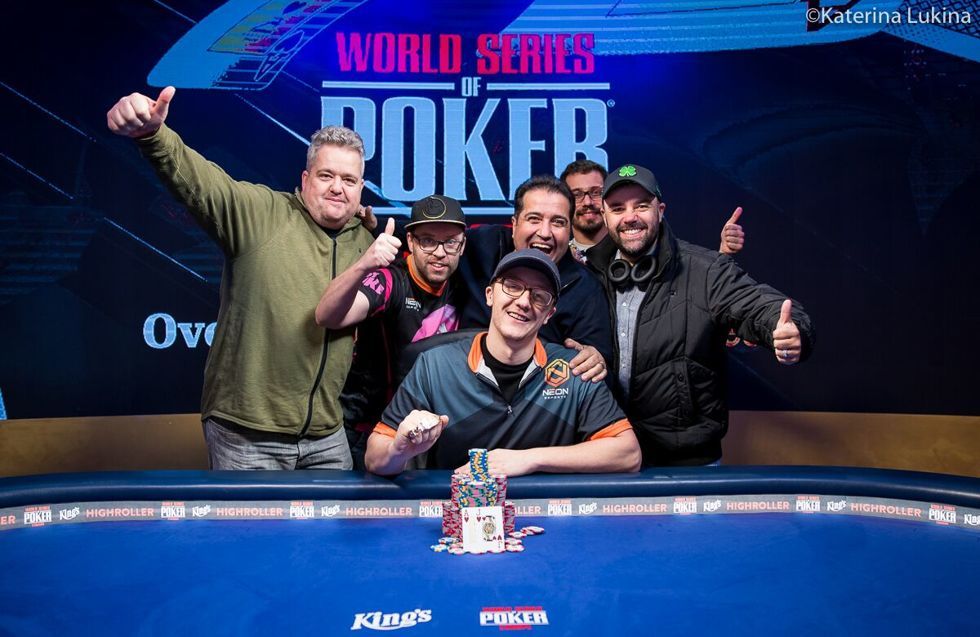 Day 2 started at 3 p.m. local time and players had one level of late registration to try and accumulate as big a stack as they could. In the 147 entries that were registered in the field during Day 1, 32 more entries were added during Day 2, for the total number of entries to reach 179. Burns started Day 2 with the second biggest stack and he managed to turn it into a dominant final table performance and eventually a gold bracelet.
A Flurry of Eliminations
The second day of the event started with an insanely fast pace, since the availability of re-entries during the first level of the day in addition with the aggressive philosophy of the game were enough to bring many big hands among the players. When the first level ended, there were 43 players remaining in the field ready to give their battle to enter in the 27 paid places of the tournament.
Among those that departed empty-handed were Daniel Negreanu, Paul Phua, Rainer Kempe, Danny Tang, Phil Hellmuth, Shaun Deeb, Chris Ferguson, Anthony Zinno, and Robert Campbell. The bubble period started when there were 28 players left in the field and it had its own adventure. In order to burst, it needed a simultaneous elimination for Tony G and Ismael Bojang during hand-for-hand, causing both of them to get paid, for half the money of the 27th place each.
After the field got in the money, it was a quick affair until the final table and eliminations in the money included Julien Martini (26th; €3,682), Ryan Riess (21st; €4,323), Phil Ivey (18th; €5,228), John Cynn (11th; €6,505), and Benny Glaser (9th; €8,322). The last player to bust to send the field to the unofficial final table was Hokyiu Lee (8th; €10,939) who saw his flopped two pair being in the losing end of the hand, against Burns' turned straight.
A Dramatic Change of Pace
The fast pace of the first part of the day gave its place to a slow-paced final table, which finally needed six levels in order to crown a winner. Burns' appearance was dominant during those six levels and managed to turn a chip lead in the beginning of the final table, to a win for his second WSOP gold bracelet in a week.
Burns didn't lose the chip lead at any point of the final table and managed always to come back whenever he happened to lose chips from his opponents. Out of his six opponents, he eliminated Vladimir Peck (5th place; €20,444) with jacks against nine-eight, and after sending Felix Schulze (3rd; €42,233) to the rail with ten-eight versus nine-eight, the heads-up began with a 3-to-1 chip lead over Manig Loeser. In between, Pierre Neuville (7th; €10,939), Oshri Lahmani (6th; €14,764), and Federico Anselmi (4th; €29,027) were the other players that entered the final table but busted during the course of it.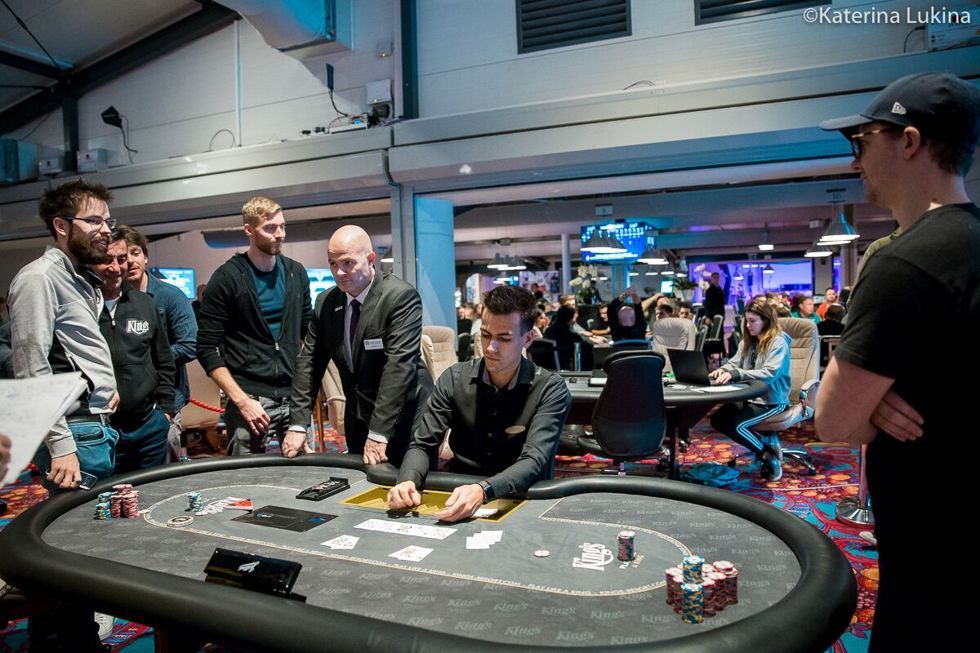 Despite the fact that three-handed play lasted almost two hours, the heads-up was a short affair, with Burns needing just two hands to capture the gold. In the last hand of the day, Loeser open-shoved from the button with king-jack and Burns called with ace-jack to send his last opponent to the rail.
This capped an amazing week for Kahle Burns who managed to win two WSOP gold bracelets along with €698,717 ($774,179) in total prize money.

Niveau 25 : 0/0, 50,000 ante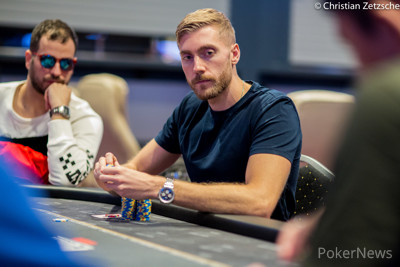 The heads-up lasted a lot less than expected, since in just the second hand of the duel both players put their chips in the middle with Manig Loeser at risk. Loeser open shoved and Kahle Burns called quickly to go to showdown.
Manig Loeser:

Kahle Burns:
The board ran out
and Loeser is the last player to depart from the field, leaving Burns with all the chips in front of him.
Joueur
Jetons
Progression

Kahle Burns

8,950,000

2,610,000

Manig Loeser

Eliminé
Niveau 25 : 0/0, 50,000 ante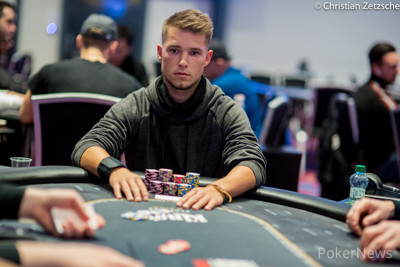 Kahle Burns moved all in from the hijack for 5,500,000 and Felix Schulze called from the cutoff for less, putting at risk his last 950,000. Burns made the call and the players tabled their cards.
Felix Schulze:

Kahle Burns:
The board ran out
and Burns raked in the pot with his straight, sending Schulze to the rail in 3rd place for a nice payday of €42,233.

Niveau 25 : 0/0, 50,000 ante
Most of the pots that are played postflop are starting with limps and this is what happened and the latest big pot. Kahle Burns limped the cutoff and Felix Schulze checked the button, with the flop showing
.
Burns bet 80,000, Schulze raised to 300,000, Burns answered with a reraise to 650,000 and Schulze called.
The turn was the
and Burns checked, Schulze bet 375,000 but Burns wasn't done yet, since he announced all in. Schulze didn't think for long before folding his hand and the classic "Aussie, Aussie, Aussie" was heard once again from Burns' rail.
Joueur
Jetons
Progression

Kahle Burns

5,200,000

1,000,000

Manig Loeser

2,500,000

-200,000

Felix Schulze

1,100,000

-950,000
Niveau: 25
Blinds: 0/0
Ante: 50,000
Niveau 24 : 0/0, 40,000 ante
Manig Loeser raised to 440,000 from the cutoff and Kahle Burns called from the button.
The dealer spread a flop of
and Loeser threw in a bet of 390,000 that Burns called.
The turn brought the
that was checked through to the
river. Loeser checked once more but Burns went deep into the tank then fired 670,000. Loeser let it go.
Joueur
Jetons
Progression

Kahle Burns

4,200,000

1,835,000

Manig Loeser

2,700,000

-680,000

Felix Schulze

2,050,000

-1,115,000

Niveau 24 : 0/0, 40,000 ante
Two pots had exactly the same action and board, the only difference was in who raked the pot. In the first one the pot was limped from Felix Schulze and Kahle Burns checked on the button. The flop came
and Schulze check-called a bet at 80,000. The turn was the
and Schulze led for 300,000 getting a fold from Burns.
In the next hand, it was Schulze on the button and Burns limped to see the
flop again. As before, it was Burns that checked this time and called Schulze's bet for 80,000. The turn was the
in this hand and Burns slid a lead bet, only for Schulze to throw quickly his cards into the muck.
Niveau 24 : 0/0, 40,000 ante
The players have taken back their seats and play has resumed with 30:31 remaining in Level 24.
Niveau 24 : 0/0, 40,000 ante
The remaining three players have taken a ten-minute break.