$1,600 Mystery Bounty
Jours 2
$1,600 Mystery Bounty
Jour 2 terminé
Niveau 40 : 1,000,000/1,500,000, 1,000,000 ante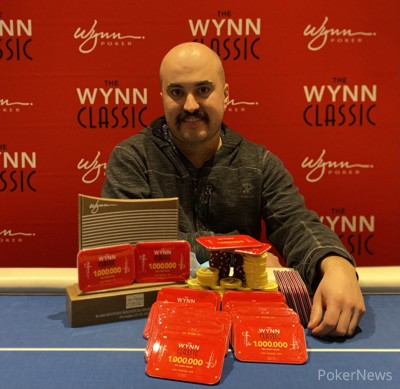 On the final day of the 2021 Wynn Fall Classic $1,600 Mystery Bounty, a champion was crowned as Evan Sandberg defeated Aram Zobian in heads-up play for $293,322, in addition to the $87,000 in bounties he collected. The heads-up match went back and forth and lasted over an hour, which seemed only fitting as Day 2 lasted over 19 hours before Sandberg was finally declared the winner.
The event attracted 2,573 players to create a prize pool of $3,730,850. There were three starting flights and there were 281 players who made it to Day 2 and in the money.
Wynn Fall Classic $1,600 Mystery Bounty Final Table Results
| Place | Player | Country | Prize |
| --- | --- | --- | --- |
| 1 | Evan Sandberg | United States | $293,322 |
| 2 | Aram Zobian | United States | $185,125 |
| 3 | Filippo Ragone | United States | $131,216 |
| 4 | Dennis Wilke | Germany | $95,217 |
| 5 | Thomas Lust | Belgium | $67,049 |
| 6 | Guillaume Diaz | France | $51,629 |
| 7 | Bryan Piccioli | United States | $42,380 |
| 8 | Arturas Astrauskas | United States | $34,653 |
| 9 | Hwany Lee | South Korea | $29,054 |
Winner's Reaction
"I am feeling exhausted… I think I was running on adrenaline mostly," Sandberg said after the 19-hour Day 2 marathon.
"I was very tired. Normally when I play poker, when I'm on my game I always kind of feel like I'm the best player at the table, but I didn't feel that when I was playing [Zobian] heads up. I was quite certain that he had an advantage over me. It was tough, but I ran really good in the heads-up match."
"I was having a very disappointing summer in the World Series. I busted the Main Event in two hours, but now it's a great summer all of a sudden."
On the Mystery Bounty format, Sandberg said, "I really liked it. I never played bounty tournaments, I always avoid them. I almost didn't play this, I just played the last flight. I like the element of the bounties coming into play on Day 2, and the overall sweat for people I think is good for the game."
Today's Bounty Action
A Mystery Bounty between $500 and $100,000 was earned every time an opponent was eliminated. The three $100,000 top prizes were not yet found until the second break, when all three were claimed in quick succession by Sergio Fernandez, JC Tran, and Hwany Lee, who also found a $50,000 prize and made the final table.
The other five $50,000 mystery bounties were found by Jonathan Kotula, Vlad Darie, George Petrov, Guillaume Diaz, and eventual winner Sandberg.
Final Table
Hwany Lee was the short stack coming into the final table, and was the first to make his exit after losing a flip. The next one to hit the payout desk was Arturas Astrauskas when his ace-king flopped Broadway but was ousted as his opponent rivered a boat. Bryan Piccioli was gone next in seventh when he got it in with a pair and flush draw, but couldn't improve.
At that point, Guillaume Diaz held around forty percent of the chips in play, and nearly two hours passed without another elimination. Eventually, it was Diaz who lost his chip lead through several hands and was gone in sixth. Soon after, Thomas Lust made his way to the exit when running into a better ace. Dennis Wilke was the next one to collect his payout after getting his chips in against Zobian. Zobian was slightly behind but smashed the flop by improving to a boat, thus eliminating Wilke.
The three remaining players all had the chip lead at some point three-handed, but eventually, Filippo Ragone was the one to be gone in third when Zobian made quads on the turn against him. That set up a heads-up match between Zobian and Sandberg, with the former holding a chip lead of about 3:1 over the latter. Sandberg won his all-ins to survive, as well as other hands, and at some point, took the chip lead.
After a short break, Sandberg got his ace-jack in against Zobian's ace-five. A jack on the flop put him well ahead, and the board completed with blanks to crown Sandberg the winner after 19 hours of Day 2 play, and hand him the Wynn trophy in addition to the $293,322 first-place prize and $87,000 in mystery bounties he collected.
Congratulations to Evan Sandberg for winning the Wynn Fall Classic $1,600 Mystery Bounty!
Big Bounty Winners
| Player | Prize |
| --- | --- |
| Sergio Fernandez Bernal | $100,000 |
| JC Tran | $100,000 |
| Hwany Lee | $100,000 |
| Jonathan Kotula | $50,000 |
| Hwany Lee | $50,000 |
| Vlad Darie | $50,000 |
| Peter Nigh | $25,000 |
| Kharlin Sued | $25,000 |
| Endrit Geci | $25,000 |
| Jarod Minghini | $25,000 |
| Tony Miles | $25,000 |
| Tony Tran | $25,000 |
| Ethan Bennett | $25,000 |
Niveau 40 : 1,000,000/1,500,000, 1,000,000 ante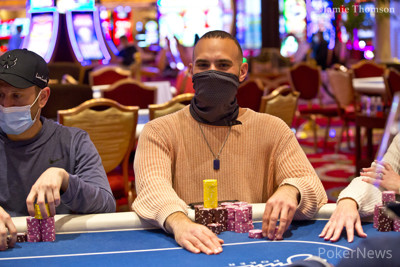 On the first hand back from break, Aram Zobian got the rest of his 30 million or so chips in against Evan Sandberg.
Evan Sandberg:

Aram Zobian:
Sandberg's rail was calling for a jack, and the
flop granted their wish. Sandberg and his rail were practically celebrating before the
turn and
river officially ended the tournament. Zobian will have to settle for the $185,125 runner-up prize for his efforts, while Sandberg claims the title.
A recap is to follow.
Niveau 40 : 1,000,000/1,500,000, 1,000,000 ante
After 19 hours of play, the two remaining players are now taking a short break.
Niveau 40 : 1,000,000/1,500,000, 1,000,000 ante
After a series of hands, Evan Sandberg has now taken the chip lead over Aram Zobian. Either player can still claim the title.
Niveau 40 : 1,000,000/1,500,000, 1,000,000 ante
Sandberg has had multiple double-ups at different points of heads-up play and both players have won their share of hands and are fairly even now.
Niveau: 40
Blinds: 1,000,000/1,500,000
Ante: 1,000,000
Niveau 39 : 600,000/1,200,000, 600,000 ante
Evan Sandberg check-called for 1.2 million on the
flop. The
turn saw him check-call another bet, and on the
river, he check-folded to a jam.
Aram Zobian showed the
for the royal flush, which now marks two quads and a royal flush for Zobian in under an hour.
Niveau 39 : 600,000/1,200,000, 600,000 ante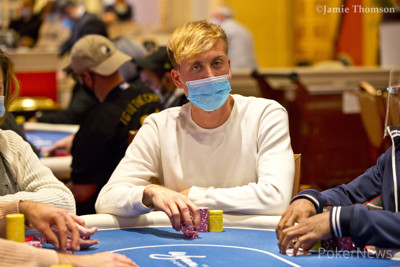 Aram Zobian raised to 3.5 million in the small blind and Filippo Ragone jammed for about 23 million in the big blind. Zobian called.
Filippo Ragone:

Aram Zobian:
Ragone was pipped and was looking for a six. He found one in the window of the
flop. Unfortunately for him, Zobian also flopped a set, and the
turn gave Zobian quads for the second time in less than an hour, as the meaningless
completed the board.
Ragone was gone and Zobian took the pot to start heads-up play with the chip lead.
Niveau: 39
Blinds: 600,000/1,200,000
Ante: 600,000