Welcome to Day 3 of the PokerStars.com EPT13 Malta €5,300 Main Event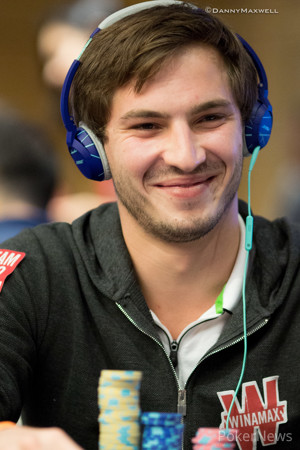 Day 3 of the PokerStars.com European Poker Tour Malta Main Event is here and only 90 players are still in the hunt for the title and a first prize of €355,700. In fact, the field will be just a few eliminations from the bubble when play resumes at Casino Portomaso.
The bubble nearly burst on Day 2, but play concluded with 90 players left and plans to pay only 87 of them.
Start-of-the-day chip leader Guillaume Diaz likely won't fear the bubble, but several others will be desperately trying to book at least the €8,070 min-cash in this penultimate Main Event on the EPT.
Diaz bagged up 583,500 chips yesterday and the Frenchman is leading the field by a decent margin over Gianfranco Visalli (518,000) and Peter Ockenden (469,500). Plus, there are several big names left in the field, including five former EPT champions.
Dominik Panka, who won the PCA in season 10, is the one with the most chips. He's fifth on the leader board with 385,000. Davidi Kitai (284,500), Frederik Jensen (191,500) and Roberto Romanello (82,000) are also still in with a shot at winning their second EPT crown. Jean Montury (85,000) can even win this exact same event for the second time. He was the EPT Malta champion in season 11.
There are still plenty of other notables in the field as well, including Sarah Herzali (362,000), Eugene Katchalov (284,00), Dan Shak (203,000), James Akenhead (176,000), Stephen Chidwick (100,500), Ole Schemion (86,000) and Maria Ho (40,500).
They're all set to play five 90-minute levels today. They will start at level 15 with the blinds at 2,000/4,000 with a 500-chip ante.
Play begins at 12 p.m. local time in Malta and the PokerNews live reporting team will bring you all the action as it happens. It's going be a day packed with action so be sure to tune in.
Day 3 Seat Draw
| Table | Seat | Name | Country | Chip Count |
| --- | --- | --- | --- | --- |
| 1 | 1 | Jerry Odeen | Sweden | 69,000 |
| 1 | 2 | Mikita Badziakouski | Belarus | 190,000 |
| 1 | 3 | Yury Gulyy | Russia | 37,000 |
| 1 | 4 | Sarah Herzali | France | 362,000 |
| 1 | 6 | Dmitry Yurasov | Russia | 358,000 |
| 1 | 7 | Alain Fluri | Switzerland | 17,500 |
| 1 | 8 | Armando Collado Lanuza | Nicaragua | 50,000 |
| | | | | |
| 2 | 1 | Armin Mette | Austria | 190,000 |
| 2 | 2 | Yung Hwang | USA | 182,500 |
| 2 | 4 | Benjamin Philipps | UK | 27,500 |
| 2 | 5 | Tomas Macnamara | UK | 219,500 |
| 2 | 6 | Maria Ho | USA | 40,500 |
| 2 | 7 | Miguel Riera Suarez | Spain | 95,000 |
| 2 | 8 | Jeroen Soons | Netherlands | 133,500 |
| | | | | |
| 3 | 1 | Gianfranco Visalli | Italy | 518,500 |
| 3 | 2 | Frederik Jensen | Denmark | 191,500 |
| 3 | 3 | Martin Staszko | Czech Republic | 244,500 |
| 3 | 4 | Xixiang Luo | China | 390,000 |
| 3 | 5 | Thomas Lentrodt | Germany | 95,000 |
| 3 | 6 | Felix Schlott | Germany | 81,500 |
| 3 | 7 | Andre DiFelice | Canada | 43,000 |
| 3 | 8 | Darya Hulyk | Ukraine | 91,500 |
| | | | | |
| 4 | 1 | Tomasz Panek | Poland | 79,000 |
| 4 | 2 | Thibault Letort | France | 114,000 |
| 4 | 3 | Guillaume Diaz | France | 583,500 |
| 4 | 4 | Benjamin Pollak | France | 224,000 |
| 4 | 5 | Guillaume Valle | France | 363,000 |
| 4 | 6 | Bastian Dohler | Germany | 209,500 |
| 4 | 7 | [Removed:215] | Switzerland | 119,000 |
| 4 | 8 | Rafael Gancedo | Spain | 86,500 |
| | | | | |
| 5 | 1 | Nicolino Di Carlo | Italy | 76,500 |
| 5 | 2 | Louis Cartarius | Germany | 313,500 |
| 5 | 3 | Stale Eggen | Norway | 22,500 |
| 5 | 4 | Piotr Franczak | Poland | 103,500 |
| 5 | 6 | Alexander Debus | Germany | 73,000 |
| 5 | 7 | Konstantin Kazaev | Russia | 228,500 |
| 5 | 8 | Aleksandar Spadijer | Montenegro | 76,000 |
| | | | | |
| 6 | 1 | Victor Ilyukhin | Russia | 151,000 |
| 6 | 2 | Martin Nikolov | Bulgaria | 199,000 |
| 6 | 3 | Chi Zhang | UK | 239,500 |
| 6 | 5 | Bart Maes | Belgium | 145,000 |
| 6 | 6 | Daniele Colautti | Italy | 165,000 |
| 6 | 7 | Roberto Romanello | UK | 82,000 |
| 6 | 8 | Stefano Terziani | Italy | 258,000 |
| | | | | |
| 7 | 1 | John Gulino | USA | 113,500 |
| 7 | 2 | Davidi Kitai | Belgium | 284,500 |
| 7 | 3 | Peter Ockenden | Netherlands | 469,500 |
| 7 | 4 | Sylvain Loosli | France | 88,500 |
| 7 | 5 | Mats Karlsson | Sweden | 191,000 |
| 7 | 6 | Dong Zhao | China | 154,500 |
| 7 | 7 | Zorlucan Er | Turkey | 66,000 |
| 7 | 8 | Kees van Brugge | Netherlands | 52,500 |
| | | | | |
| 8 | 1 | Ole Schemion | Germany | 86,000 |
| 8 | 2 | Walter Treccarichi | Italy | 231,000 |
| 8 | 3 | Marco Bartolini | Italy | 69,000 |
| 8 | 4 | Peter Akery | UK | 72,500 |
| 8 | 5 | Stephen Chidwick | UK | 100,500 |
| 8 | 6 | Aliaksei Boika | Belarus | 212,000 |
| 8 | 7 | Alessandro Longobardi | Italy | 101,000 |
| 8 | 8 | Felipe Costa | Brazil | 39,500 |
| | | | | |
| 9 | 1 | Marko Popovic | Bulgaria | 64,000 |
| 9 | 2 | Taran Parmar | Canada | 94,500 |
| 9 | 3 | Felix Bleiker | Switzerland | 31,000 |
| 9 | 5 | Oskar Szwed | Poland | 173,000 |
| 9 | 6 | Ismael Bojang | Austria | 192,500 |
| 9 | 7 | Marco D'Amico | Italy | 45,000 |
| 9 | 8 | Jacek Pustula | Poland | 45,500 |
| | | | | |
| 10 | 1 | Konrad Abela | Malta | 206,000 |
| 10 | 2 | Alexandru Baron | Canada | 50,000 |
| 10 | 3 | Viatcheslav Ortynskiy | Russia | 115,000 |
| 10 | 4 | Brian Altman | USA | 219,500 |
| 10 | 5 | Dan Shak | USA | 203,000 |
| 10 | 6 | Sergey Sergeev | Russia | 257,500 |
| 10 | 7 | Zoltan Szabo | Hungary | 132,500 |
| 10 | 8 | Pawel Brzeski | Poland | 140,500 |
| | | | | |
| 11 | 1 | Grzegorz Grochulski | Poland | 142,500 |
| 11 | 2 | Paul Gresel | Netherlands | 52,000 |
| 11 | 3 | Dominik Panka | Poland | 385,000 |
| 11 | 4 | Mark Anthony Vella | Malta | 48,500 |
| 11 | 5 | Dietrich Fast | Germany | 50,500 |
| 11 | 7 | Freek Scholten | Netherlands | 225,000 |
| 11 | 8 | Michael Kane | UK | 59,500 |
| | | | | |
| 12 | 1 | James Akenhead | UK | 176,000 |
| 12 | 2 | Dawid Borkowski | Poland | 49,000 |
| 12 | 3 | Elie Saad | Lebanon | 302,000 |
| 12 | 4 | Dariusz Szoen | Poland | 110,000 |
| 12 | 5 | Ollie Price | UK | 88,500 |
| 12 | 6 | Eugene Katchalov | Ukraine | 284,000 |
| 12 | 7 | Jean Montury | France | 85,000 |
| 12 | 8 | Usman Siddique | UK | 152,000 |