€1,100 French National Championship
Jours 3
€1,100 French National Championship
Jour 3 terminé

Niveau 36 : 250,000/500,000, 500,000 ante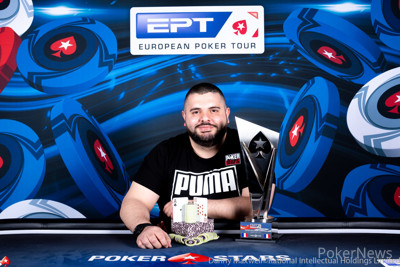 After three days of playing, the €1,100 French National Championship at the 2019 PokerStars and Monte-Carlo®Casino European Poker Tour (EPT) has crowned its champion. Out of a field of 1,425 entries, Italy's Stefano Schiano reigned supreme to claim the trophy, as well as the first-place prize of €209,000 from the €1,382,250 total prize pool.
Five-time Aussie Millions champ Sam Higgs, who's on holiday in Monaco with a trusted friend that railed him for days, finished runner-up for €175,000 after making a deal with Schiano heads-up. James Romero finished in fourth place, 2015 WSOP Ladies Event winner Jacquelyn Scott made her first cash outside of the US and finished in sixth, while Jack Sinclair ended up in ninth.
It was Schiano's third lifetime cash, according to The Hendon Mob, following up on a second place in Malta three weeks ago where he cashed €39,211 in another 1k event. Here in Monaco, Schiano steamrolled the final table up until the heads-up, where he'd start out with a 6:1 lead on Higgs. However, the Australian put up some real resistance and even reclaimed the chip lead at some point before Schiano ultimately turned it around again to capture the trophy and make his mark in the live poker circuit.
2019 €1,100 French National Championship Official Results
| Place | Player | Country | Prize (EUR) | Prize (USD) |
| --- | --- | --- | --- | --- |
| 1 | Stefano Schiano | Italy | €209,000 | $233,746 |
| 2 | Sam Higgs | Australia | €175,000 | $195,721 |
| 3 | Mario Mosböck | Austria | €98,200 | $109.827 |
| 4 | James Romero | United States | €72,200 | $80,753 |
| 5 | Emrah Cakmak | France | €56,600 | $63,305 |
| 6 | Jacquelyn Scott | United States | €42,800 | $47,868 |
| 7 | Sylvain Mazza | France | €32,600 | $36,460 |
| 8 | Yota Mitsui | Japan | €23,000 | $25,724 |
| 9 | Jack Sinclair | United Kingdom | €17,750 | $19,852 |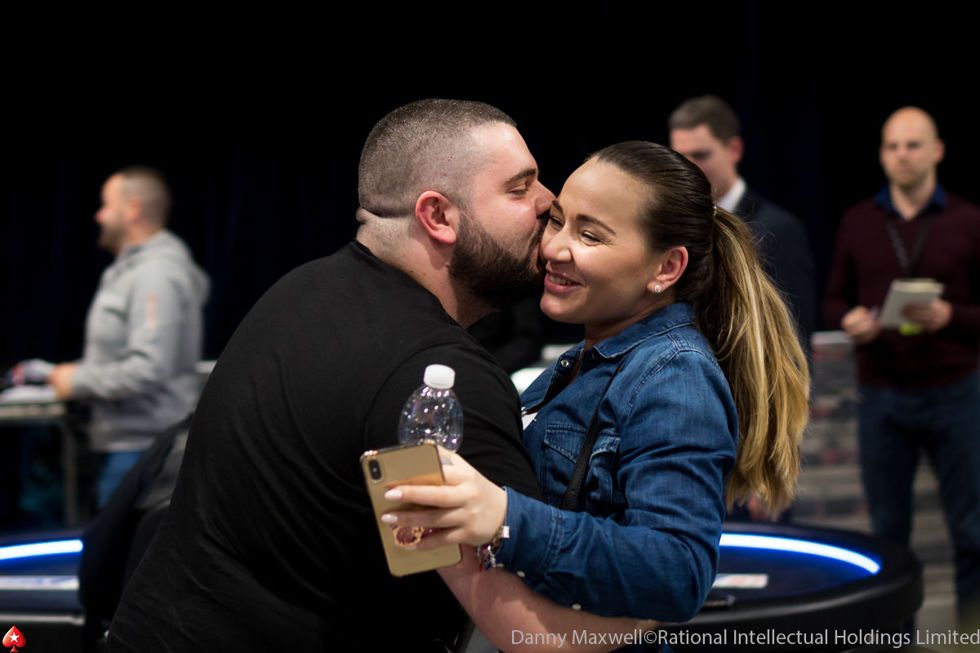 Action of the Final Day
Just 16 out of 1,425 players returned at noon for the third and final day of the €1,100 French National Championship, the most popular tournament entries-wise at the EPT Monte Carlo. Within two hours, the final table was already set after players like Shachar Haran, Arnaud Enselme, and Dennis Schienagel were dispatched in quick succession.
The final table became a short affair for their biggest star, Jack Sinclair. Sinclair shoved ace-king over a raise from Higgs, who looked the Brit up with king-nine. A nine on the turn spelled an early demise for Sinclair, who had to settle for €17,750.
After Yota Mitsui and Sylvain Mazza busted, it took a while before Jacquelyn Scott became the next to go. At 70 years of age, the American noted her first recorded cash outside of the United States, but she was unable to follow up on her WSOP Ladies Event win with an EPT title. To learn more about Scott, read the interview with PokerNews' associate editor Valerie Cross.
Another strong USA hopeful, James Romero, made it until the final four, where an ill-timed reshove with king-five offsuit got picked off by Schiano with ace-jack. With his most accomplished adversary out of the way, Schiano worked his monster stack to put ICM-pressure on his remaining two opponents. It was Mario Mosböck who made a stand first, finding pocket tens in the big blind only to run it into Schiano's pocket kings to bust in third.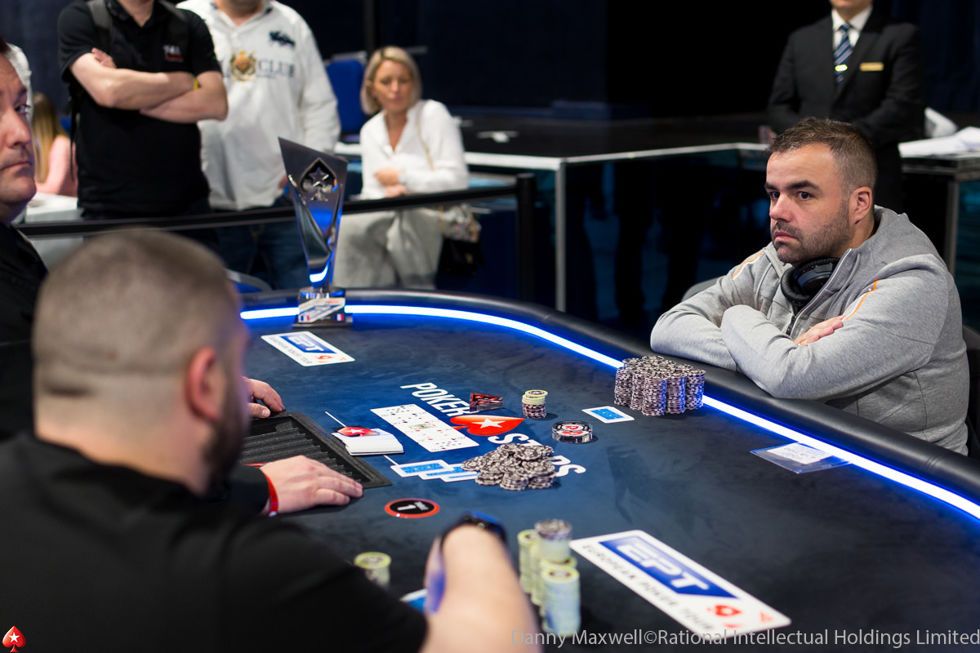 Heads-up play started off with a 6:1 lead for Schiano, and while the packed rail was anticipating the 'when' rather than the 'if' in regards to Schiano's potential victory, it was Higgs that had other plans. He doubled with pocket jacks and ace-queen, got several three-bet shoves uncontested through, then spiked a crucial three-outer with ace-five versus ace-ten to suddenly claim the lead. The pair quickly agreed on a deal afterwards with each of them taking a slice of €175,000 already, and left €34,000 in the middle to play for.
Unfazed, Schiano went back to work and clawed himself out of the hole. A strong laydown from the Italian, where he tanked for seven minutes on the river, proved to be a pivotal pot in hindsight as Higgs would later reveal he played a nine for rivered trips in the hand. Had Schiano called, he would've been left with mere dust.
Instead, Schiano doubled shortly after with kings versus ace-six, then picked off a king-five reshove with ace-ten to win it all. He celebrated with his partner and Italian rail and became the successor of Guillaume Diaz by winning the €1,100 French National Championship in Monte Carlo.
That concludes PokerNews coverage for this event, but make sure to check back regularly as there's plenty more on the horizon as the 2019 EPT Monte Carlo at the Monte-Carlo Bay Hotel & Resort rolls on.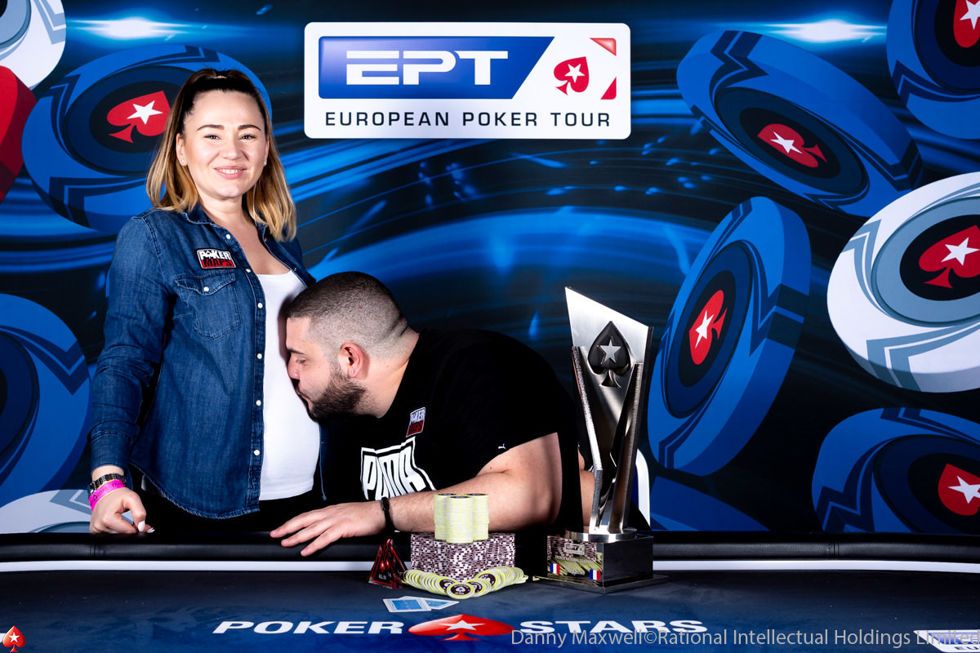 Niveau 36 : 250,000/500,000, 500,000 ante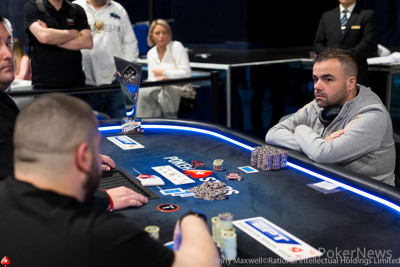 Stefano Schiano raised to 1,250,000, Sam Higgs three-bet shoved all in for 14,500,000 and Schiano called it off within seconds.
Sam Higgs:

Stefano Schiano:
The board came down
and Higgs' nine lives were finally up. He congratulated and hugged his opponent for a well-played heads-up battle. The five-time Aussie Millions champ bowed out in second place and took home €175,000 for his accomplishment.
Stefano Schiano, who received a big kiss from his ecstatic partner, has become the winner of the €1,100 French National for €209,000! An end of day recap of all the action, as well as the winner's shots of Schiano, follow later.

Niveau 36 : 250,000/500,000, 500,000 ante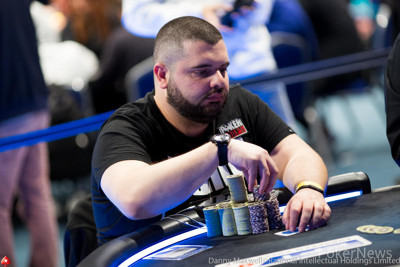 Stefano Schiano raised on the button and called a three-bet shove from Sam Higgs, which was the first time Schiano would be the one at risk for his tournament life.
Stefano Schiano:

Sam Higgs:
The
flop was save for the Italian, whose girlfriend came closer to the rail to see the
land on the turn.
"Woop, there it is!" laughed Higgs, but it was the
instead to double Schiano back into the lead.
Niveau: 36
Blinds: 250,000/500,000
Ante: 500,000

Niveau 35 : 200,000/400,000, 400,000 ante
Sam Higgs limped in on the button, Stefano Schiano raised to 1,600,000 and Higgs called. On the
flop, Schiano continued for 1,300,000. Higgs shoved all in and Schiano spent more than five minutes in the tank before making another laydown.

Niveau 35 : 200,000/400,000, 400,000 ante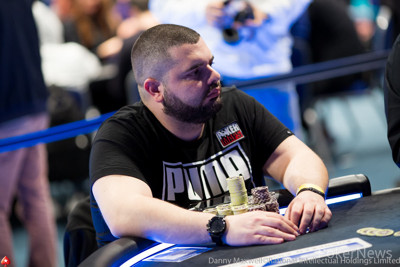 With a completed board of
out there, Stefano Schiano bet 2,500,000 on the river. Sam Higgs thought for about five seconds before shoving all in for over ten million.
Schiano spent what felt like an eternity in the tank while Higgs slumped down in his chair. After more than seven minutes of thinking and staring Higgs down, he slowly released his hand into the muck.

Niveau 35 : 200,000/400,000, 400,000 ante
Sam Higgs and Stefano Schiano have agreed to a deal. They'll each take €175,000 and will leave €34,000 and the trophy in the middle to play for.

Niveau 35 : 200,000/400,000, 400,000 ante
After Higgs' double-up, the players went on an unscheduled break to discuss a potential deal.

Niveau 35 : 200,000/400,000, 400,000 ante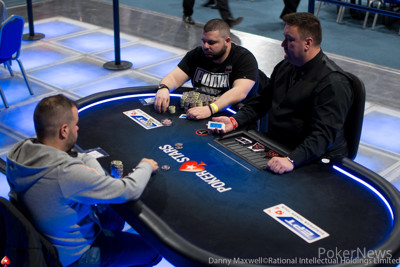 Stefano Schiano has won the majority of small pots played in the past five minutes, which left Sam Higgs at 11,600,000 when the biggest hand of the tournament occurred. It started when Higgs limped in and Schiano who raised to 1,300,000.
Higgs then limp-shoved all in and Schiano called after nearly a minute.
Sam Higgs:

Stefano Schiano:
The crowd got on their feet and hugged the rail in anticipation of what was about to come. The
flop was safe for the Italian but the
on the turn sparked a loud "oooh" across the Salle des Etoiles. The river was the
and like a true Houdini, Higgs escaped again.