Niveau 31 : 80,000/160,000, 20,000 ante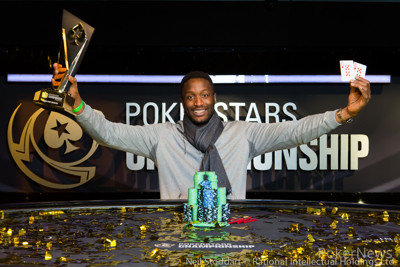 Kalidou Sow didn't let a little trash talk get him off his game.
Quite the contrary, he laughed off some needles thrown his way by Jason Wheeler on the way to their eventual heads-up match, where he toppled the far more experienced American transplant to win PokerStars Championship Prague €5,300 Main Event in a field of 855 for €675,000.
That prize was an adjusted payout after the two made a heads-up deal that saw each player lock up €570,000, so Wheeler secured himself a hefty payday despite the disappointment of a second-place finish.
For Sow, a small to mid-stakes recreational player from France, the win comes after he had some success for years in his bread-and-butter €1K and €2K events but found himself unable to make a mark in the bigger events he'd take shots in. He likened the step up in competition to playing in soccer's famed Champion's League.
"It's very prestigious so it's a dream to win it," he said through a translator. "When you see so many great players who haven't won it, I realize how fortunate I am to be in this position."
When asked about his mindset, Sow stressed that an old poker cliche ran through his heads every day through the six-day grind: take it one day at a time.
Every night, Sow headed back to his room, ate a quiet meal alone and got his rest before coming back the next day with the goal of another round of survival. That remained his only goal, even on the days he bagged over 100 big blinds and found himself among the leaders.
One such day was the final day, when he carried an ever-so-slight chip lead over Wheeler into the streamed final table of six. The two seemed to be on a collision course, especially after taking turns busting short stacks Colin Robinson and Harry Lodge early on.
Lodge came in slightly the shorter of the two and said after his elimination he was happy to ladder once for a €49,000 bump.
Wheeler won a flip to bust Italian bitcoin investor Gabriele Lepore in fourth after those two also had some words earlier in the day when Lepore openly questioned a raise-fold by Wheeler that turned out to be correct.
The big moment for Sow came on Hand #67, when he and Wheeler both flopped straights, Sow's being of the nut variety. The massive cooler saw Sow double through into the lead and take command of more than half of the chips.
A bit later, the barbs started flying from Wheeler. Whether Wheeler was genuinely fired up or making a calculated strategic move to try to throw Sow off his game is a question only the veteran grinder can answer. Either way, he started climbing his way back toward the top and let Sow know he was coming for the throne.
"Let's f****** go," Wheeler said after picking off Sow with ace-high. "Try to win every pot, bro. You get one cooler, you think the tournament's yours. I'm still the one to beat."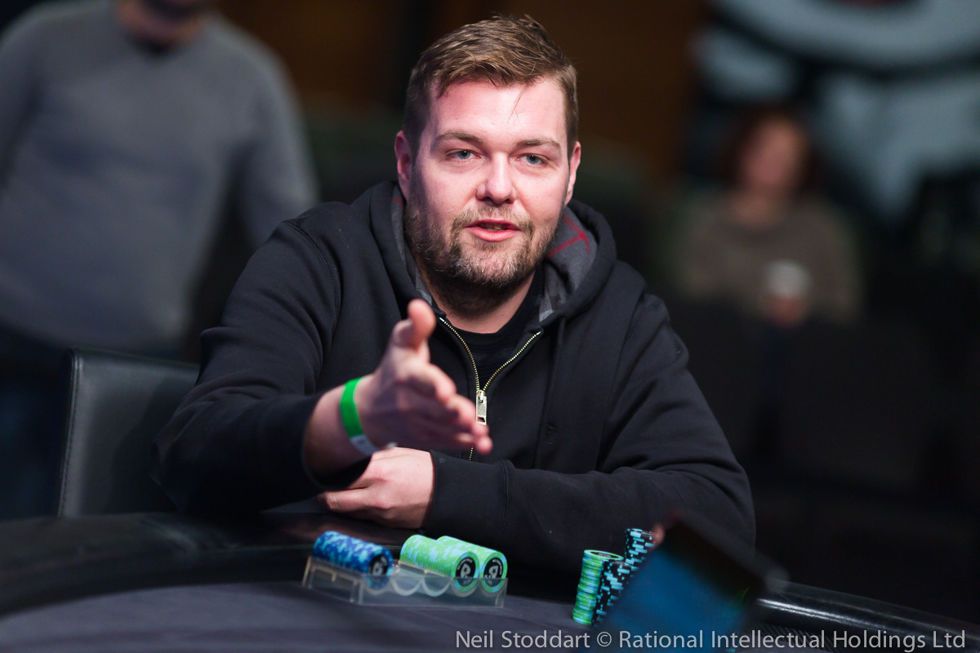 "Good luck," Sow responded with a smile.
"I don't need luck."
Then, Wheeler pulled the rug out from under Sow again when he limp-raised ace-king in a blinds battle and forced Sow to muck.
"Show me the bluff," Sow said.
"I'll show you the trophy soon," Wheeler replied.
For his part, Sow remained reserved and didn't start firing back.
"I let him get away with it because I knew he wanted to have a go at me and troll me," Sow said. "I think he thought he was facing amateur players so he wanted to get under our skin. I'm not one to play that kind of game."
Wheeler won another flip to send local hero and Day 1 leader Michal Mrakes packing in third and the heads-up stage was set. Before the battle could begin, though, talk of a deal commenced.
Sow had only a slight lead with deep stacks and Wheeler felt confident. He gave Sow only two options: leave €105,000 on the table and chop the rest evenly, or play for it all. Sow consulted with a French contingent that included EPT champ Jean Montury and EPT regular Jimmy Guerrero. They advised him to take the deal.
"He's a very good player," Sow said of Wheeler. "Accepting the deal was taking an insurance. I have no regrets and I don't have a big ego, so it was no problem."
What seemed like it could be a long match proved quite short, lasting only about 20 hands. Sow seemingly won every showdown and Wheeler just couldn't get any momentum. When they finally got the money in, Sow had Wheeler dominated with tens against ace-nine.
"Runs so pure," was all Wheeler could muster with a sigh before helplessly watching the board run out with nothing but bricks.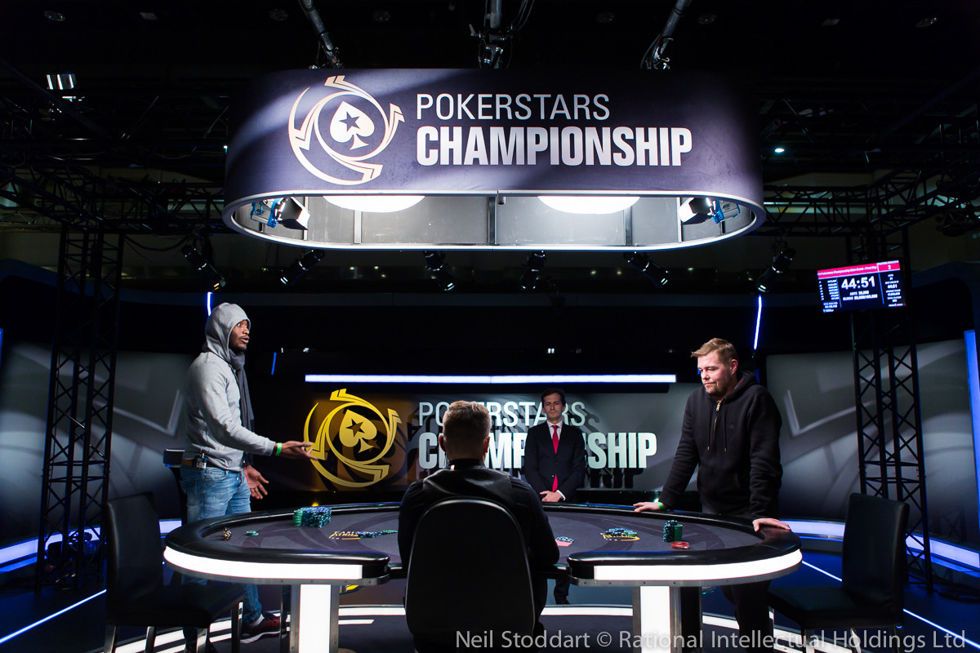 Wheeler congratulated Sow with a handshake before walking into the waiting arms of his girlfriend and heading to collect his bolstered payout.
As for the champ, he claimed to have only a muted celebration planned. A few drinks with friends — on him, of course — and then a flight home to Paris. There, he expects his poker career to continue as if nothing special even happened — he said he'll likely get back to playing €150 dailies not long after he sets back down.
But Sow let no matter how calm his demeanor throughout play and even after his win, this means something to him.
"I'm dreaming, this is incredible," he said.
Official Final Table Results
| Place | Player | Home Country | Prize |
| --- | --- | --- | --- |
| 1 | Kalidou Sow | France | €675,000* |
| 2 | Jason Wheeler | USA | €570,000* |
| 3 | Michal Mrakes | Czech Republic | €332,000 |
| 4 | Gabriele Lepore | Italy | €249,000 |
| 5 | Harry Lodge | UK | €196,000 |
| 6 | Colin Robinson | USA | €147,000 |
| 7 | Matas Cimbolas | Lithuania | €104,000 |
| 8 | Valentyn Shabelnyk | Ukraine | €72,850 |
| 9 | Alexander Mordvinov | Russia | €57,500 |
*reflects heads-up deal