Niveau 30 : 100,000-150,000, 150,000 ante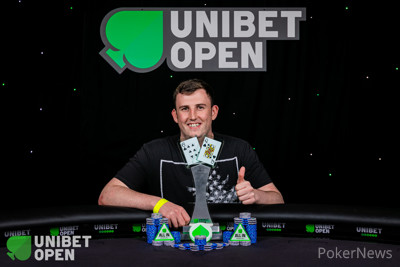 A record-setting 2019 Unibet Open Malta €1,100 Main Event has wrapped up to bring an end to this year's festival. Alan Carr became a prime example of turning rags to riches as he defeated a field of 327 players to take home a prize of €53,400.
A deal was struck between the final three players which resulted in very level payouts but from what started as a €5 satellite ticket, Carr will walk away with his largest recorded cash in a live tournament. The British cash game player defeated Italian Luca Beretta in heads-up play to earn the extra €5,100 and the Unibet Poker trophy. Beretta locked up €48,550 for second place while Christopher Heidelbacher took home €44,880 for third place.
Carr can often be found playing online cash games or larger buy-in tournaments, but one day he accidentally registered a €5 step-satellite on Unibet Poker. He turned that into a €50 ticket which turned into a €250 ticket. Carr won his seat into the Unibet Open Malta, one of over 190 players this week. However, he will be the one walking away with the trophy held high as the doors close in the InterContinental Hotel and Casino Malta.
In the closing hands of the night, both Heidelbacher and Beretta were overcome by the ever-growing blinds. Heidelbacher found himself at risk for 11 big blinds against Beretta but couldn't manage to hold on. A mere 20 minutes later, Beretta saw his last six big blinds evaporate at the turn of a card when Carr turned the only pair in an all-in situation.
Final Table Results
| Place | Player | Country | Prize (EUR) | Prize (USD) |
| --- | --- | --- | --- | --- |
| 1st | Alan Carr | United Kingdom | €53,400* | $59,808* |
| 2nd | Luca Beretta | Italy | €48,550* | $54,376* |
| 3rd | Christopher Heidelbacher | Romania | €44,880* | $50,266* |
| 4th | [Removed:402] | Lithuania | €22,740 | $25,469 |
| 5th | Tonio Roeder | Germany | €17,490 | $19,589 |
| 6th | Serdar Demircan | Sweden | €13,450 | $15,064 |
| 7th | Henri Jantunen | Finland | €10,760 | $12,051 |
| 8th | Matthew Ireland | United Kingdom | €8,610 | $9,643 |
| 9th | Gedas Petrauskas | Lithuania | €6,890 | $7,717 |
*denotes a three-way deal was made.
There were 11 players that returned to the felt for the final day of the tournament and despite a couple of short stacks, it still took some time before the final table was reached. Alexandru Cinca and Sulaiman Sesay were the unfortunate players to make the early exit before the first break of the day.
Starting out the final table, Gedas Petrauskas came in as the short stack but was unable to pick up any hands to build his stack. Eventually, he called off his stack with pocket sixes but ran into the pocket eights of fellow short stack Henri Jantunen. No help on the runout meant Petrauskas was the first to exit from the final table.
It was a great start to the day for Matthew Ireland who looked to be running away with the chip lead but a couple of unfortunate hands turned the tide for the Brit. Running two pair into Tonio Roeder's set of jacks seemed to be the crucial hand of the final table and Ireland found himself handcuffed with around 15 big blinds. Roeder eventually finished him off in eighth place in a blind vs blind battle that saw Roeder flop top pair and hold on.
While the table continued to tip-toe around the short stacks, Jantunen patiently waited for some cards but they never came. He eventually flopped a pair from the big blind but it was no match for the larger pocket pair of Heidelbacher and the young Finn bowed out in seventh place. His fellow Scandinavian friend who brought some excitement to the table but also rubbed others the wrong way with his excessive tanking was next on the chopping block. Serdar Demircan made some moves on the final table that didn't go his way and ultimately ran his ace-queen into the pocket queens of Carr.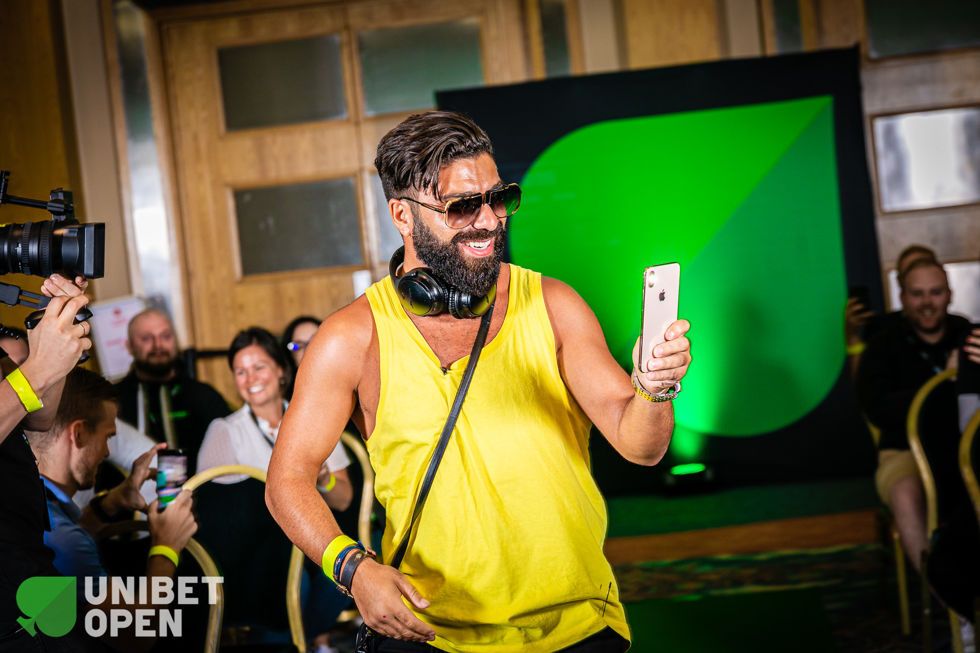 The final five players went on their second break of the day with four of them hovering around similar stacks while Roeder was the clear front-runner. Even though the levels were reduced to 45 minutes, five-handed play continued throughout the next two levels and past the next break. Unfortunately for Roeder, he was on the wrong side of many of the short-stacked double-ups that occurred and he returned as the short stack himself.
He eventually called off his last eight big blinds with two face cards but was up against the ace-high of Beretta. Roeder was unable to find any help on the board and bowed out in fifth place. Following him to the payout desk in quick order was [Removed:402]. The Lithuanian came into the final table with the most experience in these situations but his aggressive style eventually caught up with him. Once he departed and the final three stacks were fairly level, a deal was discussed and agreed upon.
Coming back with just three players and the blind rapidly increasing, most of the game was played out preflop with a lot of shoving from each player. Carr grabbed a hold of a big chip lead that he would never look back on when both he and Beretta made full houses. Carr's was the bigger of the two which earned him a double up and from there he managed to close things out.
That wraps up the coverage for the 2019 Unibet Open Malta festival but continue to follow along with PokerNews for other events currently taking place along with many more in the future.
Niveau 30 : 100,000-150,000, 150,000 ante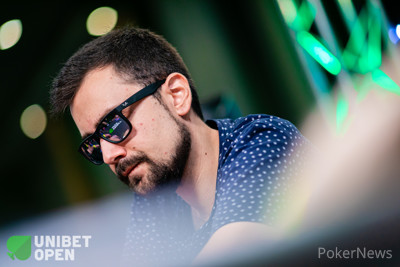 Luca Beretta was down to just six big blinds and he shipped all in for 930,000 on the button. Alan Carr made the call from the big blind and the cards were on their backs with the tournament on the line.
Alan Carr:

Luca Beretta:
The flop came
and Beretta was still out front with his king-high. However, the
on the turn gave Carr a pair of sixes and he held on through the
river. It was a bad run of cards for Beretta in the end but he will still take home over €48,000 for his second-place finish.
Niveau 30 : 100,000-150,000, 150,000 ante
Alan Carr limped in on the button and Luca Beretta checked his big blind. The flop fell
and both players checked to the
on the turn. Beretta checked again and Carr fired out a bet of 225,000 which Beretta called.
The river was the
and Beretta checked once more. Carr sized up a bet of 750,000 and Beretta looked him up. Carr turned over
and Beretta mucked his cards.
Niveau 30 : 100,000-150,000, 150,000 ante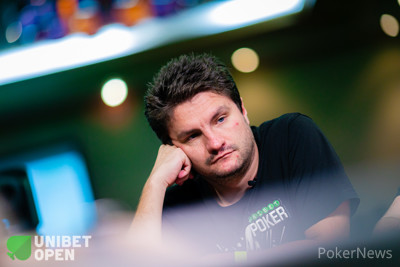 Christopher Heidelbacher shipped all in for 1,710,000 on the button and Luca Beretta made a quick from the big blind, barely covering Heidelbacher.
Luca Beretta:

Christopher Heidelbacher:
There was a
in the window but quickly followed by the
and
. The turn was the
and Heidelbacher was left drawing dead. Beretta scooped the pot and Heidelbacher was eliminated in third place.
Niveau 30 : 100,000-150,000, 150,000 ante
Christopher Heidelbacher limped in from the small blind and Alan Carr checked his option. The flop came
and Heidelbacher led out for 150,000. Carr called and the
landed on the turn.
Heidelbacher fired out another 350,000 and Carr stuck around to see the
on the river. Heidelbacher put together a small bet of 550,000 and Carr shoved all in, putting Heidelbacher to the test for his remaining 1,700,000 chips. After a couple of minutes in the tank, Heidelbacher decided to lay his hand down.
Niveau 30 : 100,000-150,000, 150,000 ante
Alan Carr limped in from the small blind and Luca Beretta raised it up to 500,000 from the big blind. Carr called and the flop of
was spread across the table.
Carr checked to Beretta who continued for 300,000. Carr still called and the
hit the turn. Carr checked once more and Beretta fired out another bet of 525,000. Carr just called again and the
completed the board.
Carr jammed all in for 3,160,000 and Beretta quickly called. Carr turned over
for a better full house than Beretta's
.
Niveau 30 : 100,000-150,000, 150,000 ante
Alan Carr limped in from the small blind Luca Beretta checked his option in the big blind. The flop came
and Carr check-called a bet of 225,000 from Beretta.
The turn was the
and Carr knuckled the table again. Beretta reached for another bet of 675,000 this time and Carr instantly sent his cards to the muck.
Niveau: 30
Blinds: 100,000/150,000
Ante: 150,000
Niveau 29 : 50,000-100,000, 100,000 ante
A deal has been made between the final three players which resulted in the following numbers:
Luca Beretta - €48,550
Alan Carr - €48,300
Christopher Heidelbacher - €44,880
As with all Unibet Open tournaments, there must be some money left to play for. There will be €5,100 extra for the winner to add to their guaranteed total.