Main Event
Jour 1a terminé
Niveau 10 : 600/1,200, 1,200 ante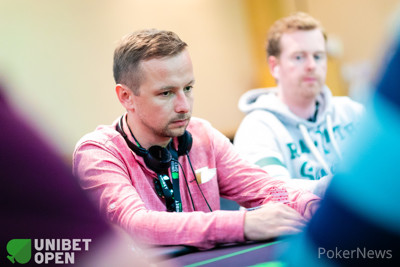 The opening flight of the Unibet Open Malta €1,100 Main Event has drawn to a close after an exciting 10 levels of poker. There were 113 players that gathered in the conference rooms of the InterContinental Hotel in conjunction with Casino Malta but only 44 will be moving on to Day 2.
Leading the way after a resurgence in the last couple of levels is Przemyslaw Zielinski who bagged up a whopping 216,500 chips from a starting stack of 30,000. Zielinski earned the majority of his chips in a massive pot with Kristian Aksnes when the Czech player rivered the best possible full house against a flopped full house from Aksnes.
Zielinski closed out strong by putting his big stack to work in the last few hands of the night and finishing as the chipleader. He will be looking to add to his short-listed poker resume when the action resumes on Day 2. Zielinski has just two recorded tournament cashes, both coming in the last couple of years in the Czech Republic.
Meanwhile, despite finding himself on the wrong end of two huge coolers in the last couple of levels, Aksnes still put 45,000 chips in his bag to return on Day 2. Some of the other big stacks include Alan Carr (201,500), Mikkel Stenkjaer (174,500), and Renato Messina (145,500). Messina was the other fortunate player to take a large chunk of chips off Aksnes before the night ended.
The action kicked off at noon local time with around 40 players in their seats from the onset. That number quickly grew through the opening couple of levels until late registration finally closed after the dinner break. This first flight was played as a freezeout since players will only be allowed to re-enter into flight 1c tomorrow night.
A few familiar names were spotted throughout the day including Barny Boatman, Mateusz Moolhuizen, Martin Soukup, and Unibet Ambassadors Ian Simpson and Dan Murariu. Unfortunately for them, they will have to try their luck tomorrow evening as none of them were able to bag chips by the day's end.
The action will resume tomorrow at 12 pm for Day 1b which is expected to attract an even larger field. A few other Unibet Ambassadors will be present along with many of the popular streamers. Tomorrow will also mark the debut of the Main Event on the live stream which can be viewed by clicking on the 'Live Stream' tab.
Day 1c will also take place tomorrow night starting at 9 pm. That flight will contain most of the players in need of a re-entry but it will be a turbo flight with just 20-minute levels. Continue to follow along with the PokerNews live reporting team for full coverage of both flight tomorrow and throughout the rest of the tournament.
Niveau 10 : 600/1,200, 1,200 ante
Joueur
Jetons
Progression

Przemyslaw Zielinski

216,500

55,500

Alan Carr

201,500

23,500

Mikkel Stenkjær

174,500

174,500

Renato Messina

145,500

1,500

Tonio Roeder

143,000

6,000

Anders Ostrowski

133,500

28,500

Serdar Demircan

130,000

47,500

Bart Vanpee

113,000

13,000

Popa Catalin

106,000

62,000

Zoltan Barabas

104,000

25,000

Steinar Knutsen

103,500

500

Alexander Lebedev

95,500

19,000

Mate Mecs

87,000

-15,000

Jacques Demajo

86,000

86,000

Dejan Vogrin

85,500

85,500

Michal Zielinski

84,000

63,000

Andreas Leledakis

80,500

25,500

Randy Marschall

77,000

-27,000

Tapio Jarvinen

74,000

74,000

Julien Rouquet

74,000

-31,000

Daragh Davey

70,500

70,500

Sean Osullivan

69,000

69,000

Tomas Sujeta

67,000

-80,000

Simon Hemsworth

65,000

65,000

Nikica Tomasic

62,500

32,500
Niveau 10 : 600/1,200, 1,200 ante
The action has finished at all of the tables with 44 players still remaining. A color-up of the 100 denomination chips is being done before the players bag and tag for the night. A full list of chip counts along with a recap of the day's action will be posted shortly.
Niveau 10 : 600/1,200, 1,200 ante
The tournament clock has been paused with 15:00 remaining in the last level of the night. There will be six more hands dealt at each table before the players start the bagging process.
Niveau 10 : 600/1,200, 1,200 ante
Tonio Roeder raised it up to 2,600 in middle position and was called by Steinar Knutsen in the cutoff and Anders Ostrowski in the big blind. The flop came
and the action checked to Knutsen who bet 7,000. Ostrowski folded and Roeder called.
The turn was the
and both players checked to the
on the river. Roeder checked once more and Knutsen flicked in a bet of 10,000. It wasn't enough to scare away Roeder as he made the call. Knutsen reluctantly showed
while Roeder held
for top pair.
Niveau 10 : 600/1,200, 1,200 ante
Erlend Abrahamsen bumped it up to 2,700 from the hijack and Alan Carr who had a healthy stack in front of him called from the small blind. The flop came
and both players checked to the
on the turn and the
on the river.
Carr checked for the third time and Abrahamsen tossed in a small bet of 2,000. Carr check-raised to 11,000 which put Abrahamsen into the tank before he finally folded.
Abrahamsen was left with around 45,000 chips and just moments later was seen standing up from his seat with his chips being pushed to Carr who has now moved into the chip lead.
Joueur
Jetons
Progression

Alan Carr

178,000

113,000

Erlend Abrahamsen

Eliminé
Niveau 10 : 600/1,200, 1,200 ante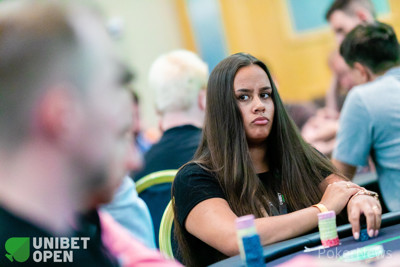 Sean O'Sullivan raised it up from middle position and Siovahn Hofman shipped all in for 17,500 in the small blind. O'Sullivan wasted little time before making the call and the cards were tabled.
Sean O'Sullivan:

Siovahn Hofman:
The flop fell
and despite flopping an open-ended straight draw, Hofman was already drawing nearly dead to O'Sullivan's quad tens. The
on the turn sealed the deal and the
was just a formality.
Joueur
Jetons
Progression

Sean O'Sullivan

77,500

Siovahn Hofman

Eliminé
Niveau: 10
Blinds: 600/1,200
Ante: 1,200
Niveau 9 : 500/1,000, 1,000 ante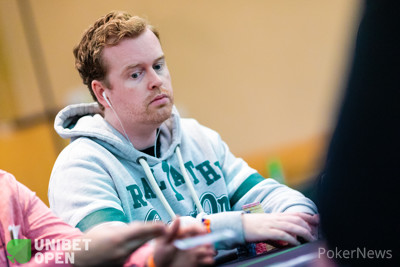 A completed board of
was spread across the felt and Przemyslaw Zielinski checked to Kristian Aksnes. Aksnes threw in a bet of 12,400 into a pot that already had around 40,000 in the middle. Zielinski check-raised all in for 60,500 which got a reaction from Aksnes.
"Wow!" he exclaimed as he bounced up from his seat. "Am I supposed to fold this? I flopped a full house!" Aksnes couldn't make the laydown and Zielinski turned over
for the best full house. Aksnes showed his
for a smaller full house and within two hands, the majority of his stack disappeared.
"I hate poker sometimes," Aksnes continued. He still has a stack in front of him and there is still a full level before the night concludes.