Main Event
Jour 1a terminé

Niveau 19 : 2,500/5,000, 5,000 ante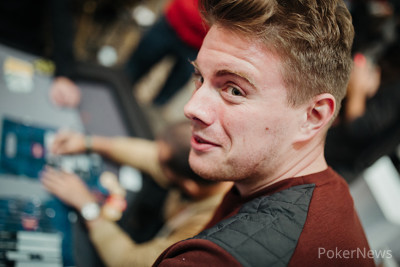 At the end of Day 1a of the Winamax Poker Open Dublin Main Event , just 37 players booked their spot on Day 2 from a starting field of 183. Players making their way to Day 2 included Winamax Team Pros Joao Vieira (195,500) and Sylvain Loosli (142,000).
However, the chip leader at the end of the day is Dominique Potenza who used a unique style of aggression and panache to bag 655,000 in chips, slightly ahead of well-known Irish player Marc Macdonnell (639,000). Macdonnell, who has home court advantage, is used to success here in Dublin at the Winamax Poker Open, having finished fourth for €40,000 in 2013; it's also Macdonnell's biggest score on home soil.
"I just ran pretty good all day," said Macdonnell, "When it's short-handed and you make good hands all day...I mean I ran really good."
The Irishman said that there was nothing crazy all day, just players not believing him in certain situations.
"Irish people never believe me, so it's kind of nice. The French more so; more than the Irish that's for sure. But tournaments like this are just a minefield sometimes."
Other players bagging up stacks include last year's runner-up Sonny Franco (130,000) and former Winamax Team Pro Adrien Guyon (272,500).
Notable eliminations today included last year's winner Otto Richard and former champion Pierre Calamusa, both of whom fired two bullets. They will be back tomorrow, most likely joined by Winamax Team Pros Gaelle Baumann and Leo Margets, 2017 final tablist Teunis Kooij, Sander van Wesemael and Mark Buckley who were unsuccessful in their attempts to make Day 2.
Photos courtesy of Caroline Darcourt

Niveau 19 : 2,500/5,000, 5,000 ante
Joueur
Jetons
Progression

Dominique Potenza

655,000

195,000

Marc Macdonnell

639,000

149,000

Etienne Lagand

418,500

418,500

Craig Burke

353,500

-41,500

Matthieu Lamagnere

347,000

37,000

Zuanyu Zheng

345,500

345,500

James O'Brien

338,500

338,500

Pierre Gentil

327,500

327,500

Arnaud Cressent

325,000

55,000

Louis-Emmanuel Deshouliere

311,000

311,000

Aleksander Da Silva Boski

303,500

303,500

[Removed:13]

296,500

296,500

Fabrice Gouget

272,500

-12,500

Adrien Guyon

269,500

269,500

Werner Lootsma

265,000

Romain Chevrel

260,500

260,500

Arron Fletcher

255,000

255,000

Philippe Schwob

252,500

252,500

Maxime Chilaud

240,500

240,500

Jamie Flynn

231,500

231,500

Olivier Marchet

210,500

210,500

Joao Vieira

195,500

25,500

Mickael Alleon

193,500

193,500

Patrick Clarke

176,000

-229,000

Leo Worthington-Leese

165,500

-29,500

Niveau 19 : 2,500/5,000, 5,000 ante
Players in the Main Event will have two more hands before bagging up at the end of the night.

Niveau 19 : 2,500/5,000, 5,000 ante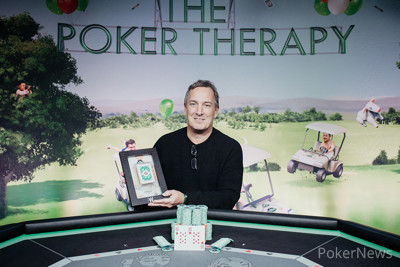 Peter Jaksland has defeated Upeshka De Silva heads-up in the Winamax Poker Open €1,500 High Roller to take home the title and €31,635 in prize money. Coming into the final table as chip leader, he halted the runaway train of overnight chip leader De Silva to emerge victorius.
"I tried to play my own game at the final table," said Jaksland." I read when we were on the final table that he had two bracelets, so I kind of didn't want to let him know that I knew. I tried to stay calm and focus. I tried to adjust to his game a little bit.
Jaksland says that he's only ever played one 6-Max tournament previously, and says that perhaps he's found his "niche" in poker.
"I played one in Vegas and final tabled one that one as well, so it's a good run. But that was two years ago and this was the first one since. I also had my biggest score in Vegas this summer. I just try to play more poker; try to improve."
He now lives in Denmark and has transitioned into playing more poker after selling his business two years ago.
"I saw last week that the tournament was here, and I just decided to go."
That last-minute decision has paid off with a victory here in the €1,500 High Roller.

Niveau 19 : 2,500/5,000, 5,000 ante
Tournament officials have announced that there will be one more level played tonight, stopping after level 19.
Even with an adjusted schedule to allow for an extra starting day, and the inclusion of the big blind ante, there are just 44 players from a starting field of 183 remaining with one 30-minute level remaining.
Niveau: 19
Blinds: 2,500/5,000
Ante: 5,000

Niveau 18 : 2,000/4,000, 4,000 ante
Dominique Potenza has been among the chip leaders for a while now. He has also been opening from almost every position, and to a large amount each time.
He opened to 20,000 and fellow big stack Patrick Clarke gave it a lot of thought before three-betting to 65,000. Potenza quickly folded but gave Clarke an ear-bashing in rapid-fire French.
"I think I'm on my last warning," Clarke said.
The very next hand, undeterred by his tablemate's three-bet, Potenza opened to 30,000 and took down the pot.
"It's getting bigger!" remarked Alex Irwin.
Niveau: 18
Blinds: 2,000/4,000
Ante: 4,000

Niveau 17 : 1,500/3,500, 3,500 ante
Joueur
Jetons
Progression

Marc Macdonnell

355,000

5,000

Patrick Clarke

340,000

-30,000

Matthieu Lamagnere

310,000

-35,000

Dominique Potenza

300,000

100,000

Wermer Lootsma

290,000

255,000

Fabrice Gouget

285,000

-45,000

Michael O'Sullivan

205,000

60,000

Leo Worthington-Leese

195,000

145,000

Joao Vieira

170,000

-15,000

Sylvain Loosli

73,000

18,000

Sonny Franco

70,000

10,000

Sander van Wesemael

Eliminé

Pierre Calamusa

Eliminé