Main Event
Jour 1b terminé

Niveau 19 : 2,500/5,000, 5,000 ante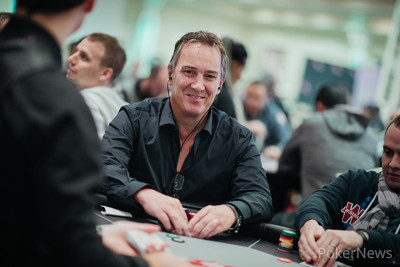 Just 53 players advanced after Day 1b of the Winamax Poker Open Dublin Main Event. 244 players entered today, combined with the 183 from yesterday, meaning the tournament is on pace for a record field if previous final starting flights are anything to go by.
Several big names are through to Day 2 including High Roller winner Peter Jaksland who bagged up 200,000.
"I played at a lot of tables today," said Jaksland. "There were a lot of good players and I played with a lot of them."
Jaksland took down the Winamax Poker Open Dublin €1,500 High Roller yesterday, and after three days of consecutive poker he is perhaps looking to have a day off.
"I think I'm going to take it easy tomorrow, take the day off and maybe go and find a concert or something to watch.
Meanwhile Winamax Team Pros Davidi Kitai (267,500), Pierre Calamusa (221,000), Guillaume Diaz (175,000) andLeo Margets (178,000) also bagged up heading into Day 2 on Saturday.
"Twenty minutes ago I had 7,000 which was 1.7 big blinds!" said Margets shortly after bagging. "I just I think I have played enough [6-max] tournaments that I know my ranges. I think it's important that people are not used to playing 6-Max tournaments, so it's all about adjusting to other people's ranges."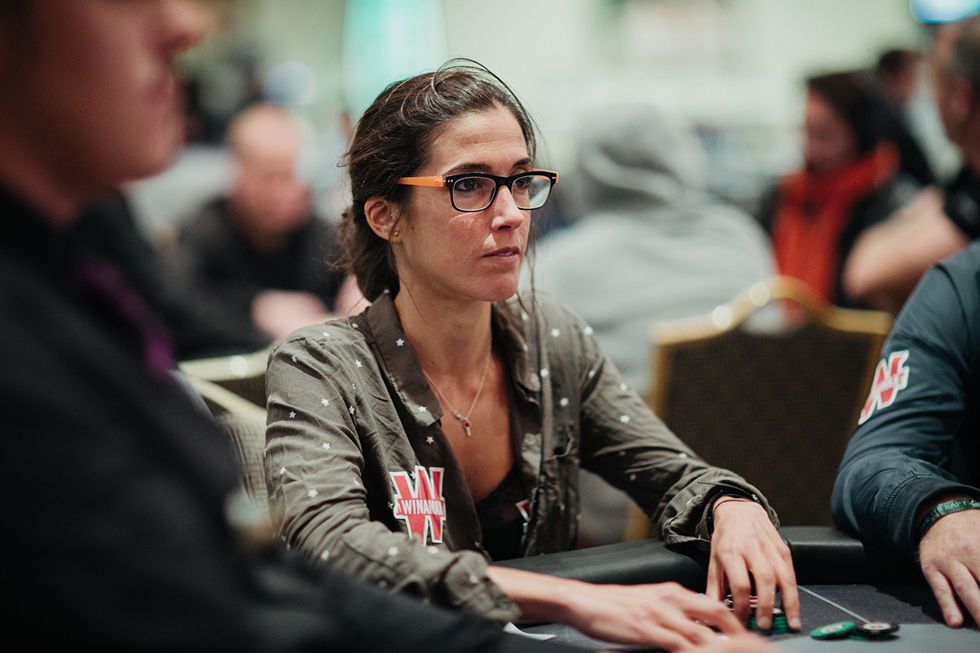 The big stack from Day 1b is Christophe Gil, bagging up an impressive 673,000. Joining him in Day 2 are Mike D'Inca (314,000), French YouTuber Pierre Aymeric (199,000) as well as Damien Le Goff (56,000) and Jason Tompkins (317,500) who both cashed the High Roller.
Join PokerNews tomorrow for the final starting flight of the Winamax Poker Open Dublin, which kicks off from midday. For the last couple of years there have been in excess of 600 entries on the final flight, so it's certainly one to watch!

Niveau 19 : 2,500/5,000, 5,000 ante
Joueur
Jetons
Progression

Christophe Gil

618,500

-11,500

Anthony Matray

500,000

500,000

Jonuskis Mindaugas

423,000

423,000

Eric Ravier

409,000

409,000

Richard O'Neill

383,000

383,000

Marc Bellini

366,000

366,000

Mihail Mazilu

350,000

350,000

Karol Wojciechowski

348,500

348,500

Franck Lelong

323,500

323,500

Jason Tompkins

317,500

255,500

Mike D'Inca

314,000

-266,000

Yassine Maymoun

313,000

313,000

Loic Daspres

304,500

304,500

Ivan Tononi

280,000

280,000

Ankit Ahuja

274,500

274,500

Davidi Kitai

267,500

37,500

Mickael Denoyelle

263,500

263,500

Samuel Baneham

259,000

259,000

Samuel Hermann

247,000

247,000

Sebastien Giangrasso

233,500

233,500

Keith Brennan

231,000

231,000

Bruno Mandagaran

225,500

225,500

Johan Etievant

222,500

222,500

Hayg Badem

221,000

221,000

Karim Ben Aziza

221,000

221,000

Niveau 19 : 2,500/5,000, 5,000 ante
There will be three more hands before players bag up for the evening.

Niveau 19 : 2,500/5,000, 5,000 ante
Christophe Gil has emerged as a contender for chip leader, as he sits with over 600,000 in chips.
Meanwhile at the feature table, Mike D'Inca was facing a bet of 36,000 from Guillaume Diaz on a board of
with 100,000 already in the middle. This bet was for a third of Diaz's remaining stack, and D'Inca eventually folded to leave himself just under 600,000 with twenty minutes left in the level.

Niveau 19 : 2,500/5,000, 5,000 ante
Niveau: 19
Blinds: 2,500/5,000
Ante: 5,000

Niveau 18 : 2,000/4,000, 4,000 ante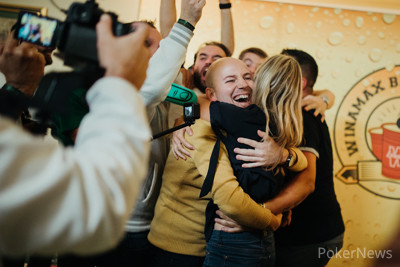 Winamax Team Pro Gaelle Bauman and Kevin Noblat have won the Winamax Beer Pong Open here in Dublin after a classic final which went nearly all the way. The Winamax Team Pro becomes the second in a row to win the tournament after Pierre Calamusa won back in May in Marrakech at the Winamax SISMIX.
The pair topped a field of 97 total pairs to take home the trophies and winner's t-shirts. Many people including fellow Winamax Team Pros Sylvain Loosli and Romain Lewis have likened the event to the week's "Second Main Event" and Baumann said she was overjoyed to win the tournament.
"It's perhaps even better than the Main Event because it's here in Dublin!" said Baumann. "You know, with people drinking and having fun. It's funny because when I'm playing beer pong I'm just so focussed it's like I can't lose. Even more so than in poker. And winning with my [Kevin] is something you always want so it's nice, it's really nice."
"We had six months training(!)" said Harper jokingly. "For me, this is my Main Event because I'm covering the proper Main Event. This is the only moment all week where I can win."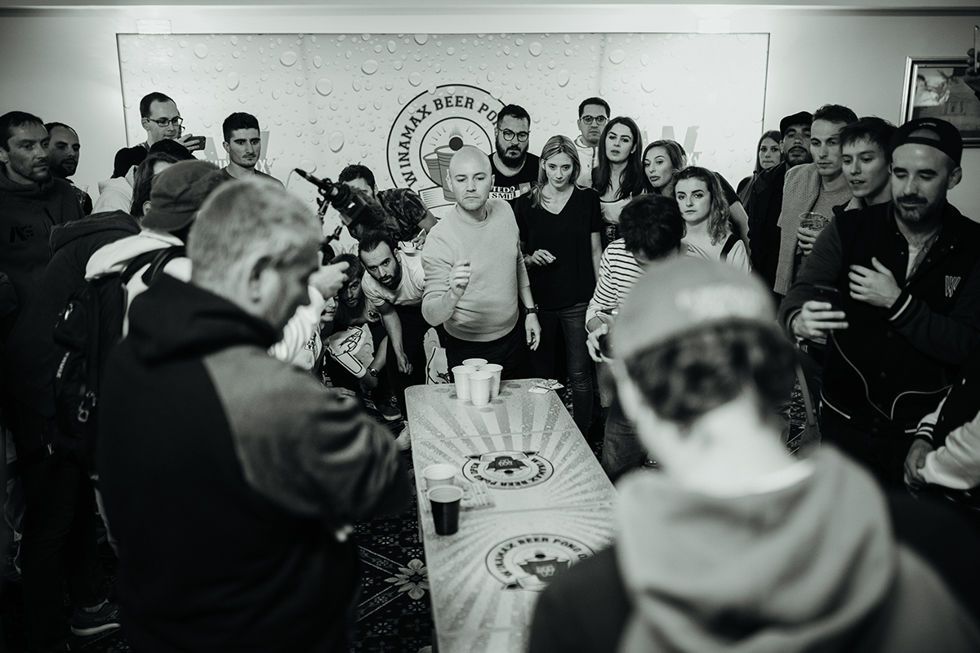 The home favourites, as they clearly were, got off to the worst possible start after their opponents eliminated three cups in a row, but after Baumann and Harper both landed their balls in the same cup, it was all square at seven cups each.
The pair traded shots until the scores were level at 5-5 before a pivotal moment. Harper's shots was deflected and bounced once before landing in the cup. Under the rules this meant that two cups were eliminated and although their opponents remonstrated with the referee, they took a two cup lead.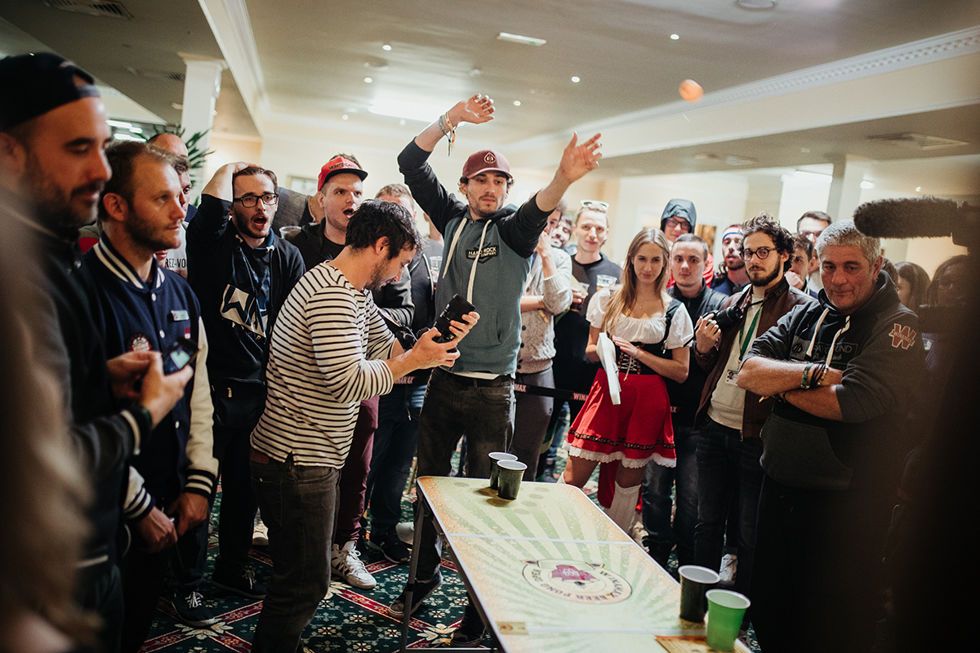 Baumann had been clinical all match when shooting first, and she struck again, bringing the pair to within one cup of victory, but their opponents struck back to make it a 4-2 game.
Harper then struck to put them one cup away from victory, but both opponents struck in the same turn to eliminate two cups, and retain their throw.
However, these throws would come to nothing and Harper stepped up to eliminate the final cup and seal victory for the pair.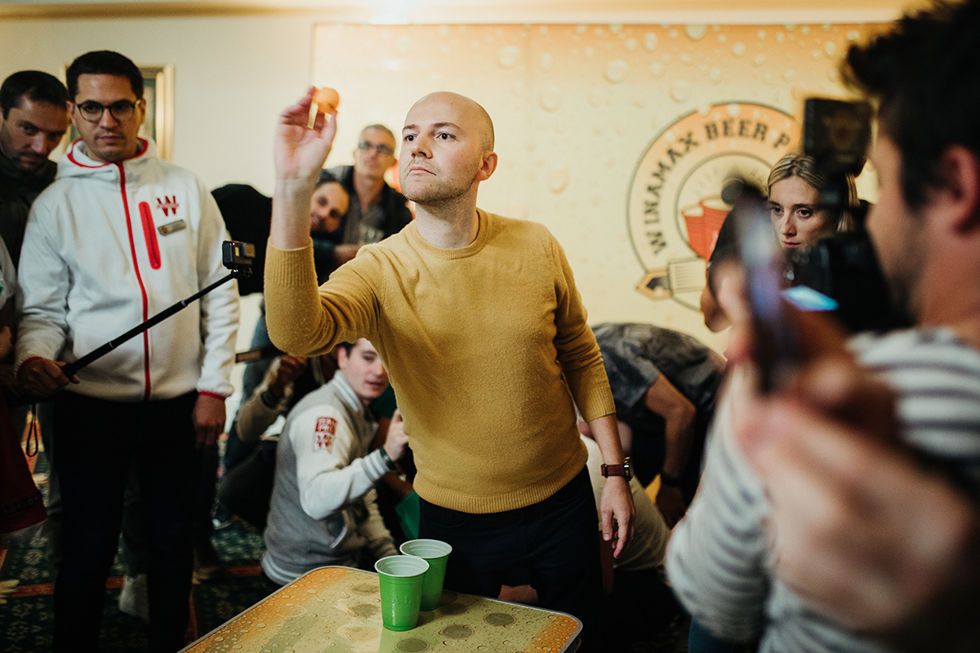 Niveau: 18
Blinds: 2,000/4,000
Ante: 4,000

Niveau 17 : 1,500/3,500, 3,500 ante
In many poker tournaments, as a day comes to an end, the phrase "beer levels" tends to get bandied about. And Eric Ravier now has even more reason to grab himself a pint with less than three levels left in the day.
On a
board Ravier managed to show down
and win the pot with a straight flush. Thanks to Winamax, this means that he has won himself and his tablemates (including the dealer) a round of beers!