Event #13: $1,500 No-Limit 2-7 Lowball Draw
Jours 3
Event #13: $1,500 No-Limit 2-7 Lowball Draw
Jour 3 terminé
Niveau 26 : 15,000/30,000, 45,000 ante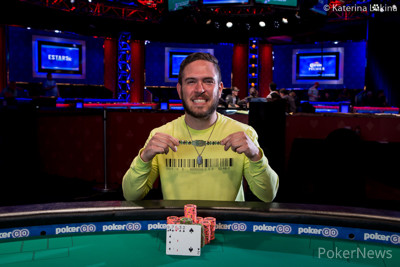 Yuval Bronshtein claimed his first bracelet and $96,278 after making his tenth World Series of Poker final table appearance. This year's Event #13: $1,500 No-Limit 2-7 Lowball Draw drew the largest field (296 runners) ever seen of this variant and buy-in at the WSOP, and the money awarded to the finalists reflected that fact.
After eliminating his final competitor Ajay Chabra, who had dominated the final table for much of the day, Bronshtein called his mom to let her know of his success. "I'm just overflowing with happiness right now," he said in an interview.
"This is considered to be the purest form of poker and I tend to agree with that. It's really about reading people," he said. Starting the day with the second shortest stack, Bronshtein had to work for his chips, especially as tough opponent Chabra returned with more than a third of the chips in play. "I never lose confidence in myself," he said. "I have seen people come back and win tournaments from a short stack. It's a bit more fun when you make a big comeback like that."
Final Table Results
| Place | Player | Country | Prize |
| --- | --- | --- | --- |
| 1 | Yuval Bronshtein | Israel | $96,278 |
| 2 | Ajay Chabra | United States | $59,491 |
| 3 | Jerry Wong | United States | $39,986 |
| 4 | Steven Tabb | United States | $27,477 |
| 5 | Michael Sortino | United States | $19,313 |
| 6 | Bjorn Geissert | Germany | $13,892 |
| 7 | Craig Chait | United States | $10,232 |
Final Day Action
Early action was all focused around German player Bjorn Geissert. Returning for the final day as the shortest stack with 14 big blinds, he did anything but sit on his chips, making a bid to increase them that ended when he ran into a timely pat eight in Chabra's hand within the first 20 minutes of play. His sixth-place finish netted him $13,892.
Michael Sortino was next to be eliminated, after a cagey level during which players took turns to take down hefty blinds and raises with three-bets. In a blind-on-blind confrontation with Chabra, he called when set all in, and drew one pip worse than his opponent to bust in fifth ($19,313).
A monster three-way all-in pot changed the dynamic of the table by tripling up Bronshtein, sending Steven Tabb to the rail, and dropping Jerry Wong's stack into the danger zone. Tabb picked a cold spot to open-jam with the table short stack, running into two good pat hands at the same time. Tabb has already racked up over $1 million in live tournament cashes, adding $27,477 to his total with this fouth-place finish.
"The bad things that have happened to me have made me stronger and I'm really happy."
Wong navigated his short stack around his opponents for a while, picking spots to move in uncalled and make some chips back. Then in a dramatic five minutes, Chabra doubled Wong up then busted him with a ten when Wong's nut draw paired a deuce. The former November Niner received $39,986 for third place.
When heads-up play hit, the bracelet came out, the golden symbol of WSOP triumph they'd battled through a record-breaking field to win. Chabra held a 2:1 chip lead and although pots were traded, he was edging ahead. At one point he had Bronshtein all in for his tournament life, but after this crucial hand, his hold on the tournament slipped as Broshtein first equaled, then overtook him in chips. Chabra took his turn winning an all-in situation but in the end, it was Bronshtein who emerged victorious.
The bonhomie that characterized the whole event carried on right the way through the final. Banter and high-level play kept the rail entertained and the atmosphere at the secondary feature table was second to none.
"I have had a rough year," said Bronshtein as he was being interviewed after his win. "So this is really good. The bad things that have happened to me have made me stronger and I'm really happy."

Niveau 26 : 15,000/30,000, 45,000 ante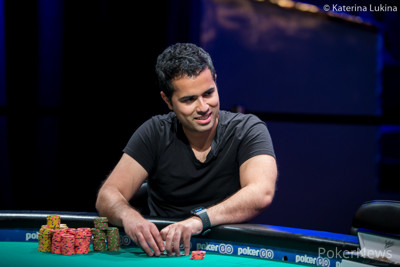 Ajay Chabra minraised from the button and Yuval Bronshtein moved all in, covering Chabra's 550,000 or so. Chabra paused for a bit and then called.
Bronshtein peeled one and Chabra patted with
. Bronshtein rolled over
and he needed either an eight, six, five or a four to close things out.
He peeled a
and that was it for Chabra who had been dominating the final table until he clashed with Bronshtein heads up. Bronshtein, who played on his tenth WSOP final table today, finally claimed his first bracelet along with the $96,278 top prize.

Niveau 26 : 15,000/30,000, 45,000 ante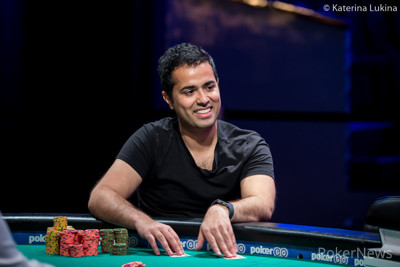 Ajay Chabra shoved for 510,000 and Yuval Bronshtein put his chips forward. Bronshtein patted jack-nine while Chabra needed one.
Chabra:

Bronshtein:
Chabra needed any card from seven to jack and he found the best possible: a
. Chabra finished with Number Two and doubled to just over a million.
Niveau: 26
Blinds: 15,000/30,000
Ante: 45,000

Niveau 25 : 12,000/24,000, 36,000 ante
Players are on a 20-minute break.

Niveau 25 : 12,000/24,000, 36,000 ante
Yuval Bronshtein made it 50,000, Ajay Chabra three-bet to 200,000, and Bronshtein called.
Chabra stood pat and Bronshtein announced he was discarding two.
Chabra fired 110,000 and Bronshtein paused for a moment, then declared a call. Chabra immediately nodded, admitting his defeat. Bronshtein rolled over
and clipped Chabra who now has only 475,000 left.
Niveau 25 : 12,000/24,000, 36,000 ante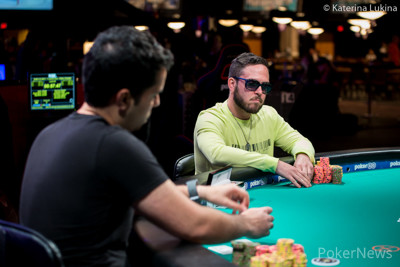 Yuval Bronshtein raised to 50,000 on the button and Ajay Chabra repopped it to 200,000. Bronshtein made the call and drew two cards; Chabra drew one. Now Chabra led out for 110,000 and Bronshtein went into the tank for longer than he has in this tournament so far. Eventually he made the call.
Chabra:

Bronshtein:

Niveau 25 : 12,000/24,000, 36,000 ante
Yuval Bronshtein was on the button and he raised to 50,000. Ajay Chabra matched the price and he drew three while Bronshtein changed two. Chabra checked and called when Bronshtein fired 75,000. Bronshtein tabled
and Chabra couldn't beat that.
Niveau 25 : 12,000/24,000, 36,000 ante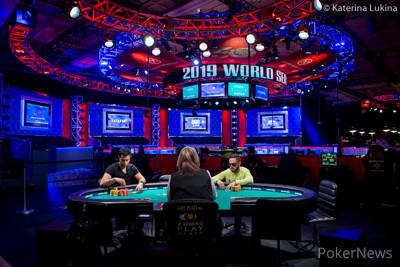 After a few small pots, Yuval Bromshtein raised his button to 50,000 and was called by Ajay Chabra. Both players drew two cards. First to act after the draw, Chabra led for 65,000. Bronshtein raised to 1,600,000 and Chabra made the call.
"I made the eight," said Bronshtein, tabling a winning
.