Event #15: $10,000 Heads-Up No-Limit Hold'em Championship
Jours 2
Event #15: $10,000 Heads-Up No-Limit Hold'em Championship
Jour 2 terminé
Niveau 59 : 30,000/60,000, 0 ante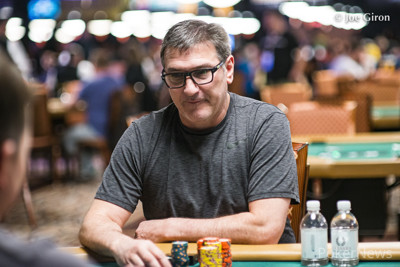 Day 2 of Event #15: $10,000 Heads-Up No-Limit Hold'em Championship has drawn to a close after two more rounds were completed. The Round of 16 was brought down to the Round of 4 with two semifinal matches lined up for Saturday, June 8 which means they will take a full day off tomorrow.
The semifinal matchups will consist of Ben Yu vs Keith Lehr and Cord Garcia vs Sean Swingruber. It will just be a best-of-one match with the two winners squaring off in the final later that day where the winner will walk away with a World Series of Poker gold bracelet.
Lehr, Yu, and Garcia already have at least one bracelet apiece while Swingruber will be searching for his first. One thing for certain is that each player is guaranteed at least $73,333 for reaching the semifinal. The runner-up will earn $115,174 while the winner will pocket $186,356.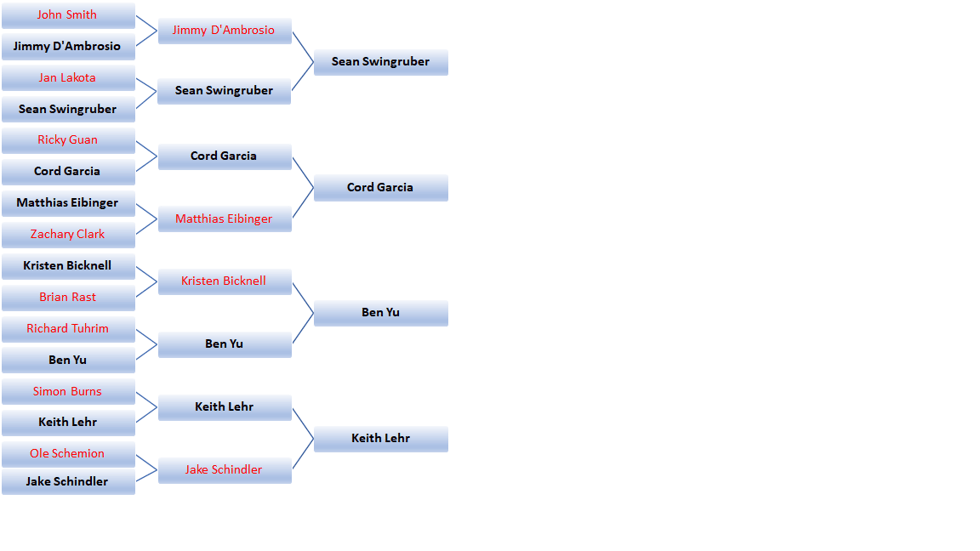 Only 16 players made it through the opening day which set up eight compelling matches in the Round of 16 on the money bubble. The winners would lock up a min-cash of $31,151 while the losers would walk away with nothing. One of the marquee battles involved Kristen Bicknell and Brian Rast who each have multiple WSOP bracelets to their name. It didn't take long for Bicknell to advance as she steam-rolled Rast in nearly every hand they played to advance to the next round.
Jake Schindler was also set up with a tough task as he drew Ole Schemion in Day 2's opening round. Schindler fell down to under 100,000 from a 480,000 starting stack but came all the way back with pot after pot to claim the victory. Many viewers had their eyes on John Smith who made back-to-back deep runs in 2016 and 2017. Unfortunately for Smith, he ran a bluff with ace-king and Jimmy D'Ambrosio picked him off with top pair.
Other players moving on to the Round of 8 included Matthias Eibinger, Lehr, Garcia, Yu, and Swingruber. Those matches got started around the 3 p.m. mark and it was Garcia who made quick work of his German opponent Eibinger. Garcia took control with a huge double up in the early going and Eibinger's run came to an end when he held pocket sixes against Garcia's pocket sevens.
Bicknell took on Yu in another quarterfinal match and the two players dealt blow after blow in a heavyweight tilt. Yu started off with the chip lead but it only took Bicknell a couple of pots to take a two-to-one advantage. Bicknell had Yu on the ropes when she held pocket kings against Yu's flopped flush draw. However, Yu spiked his flush on the river which turned the tide for good. Moments later, Bicknell got her last chips in the middle with king-jack against Yu's king-queen. Despite flopping a jack, Bicknell stared down a queen on the river as the two players shook hands.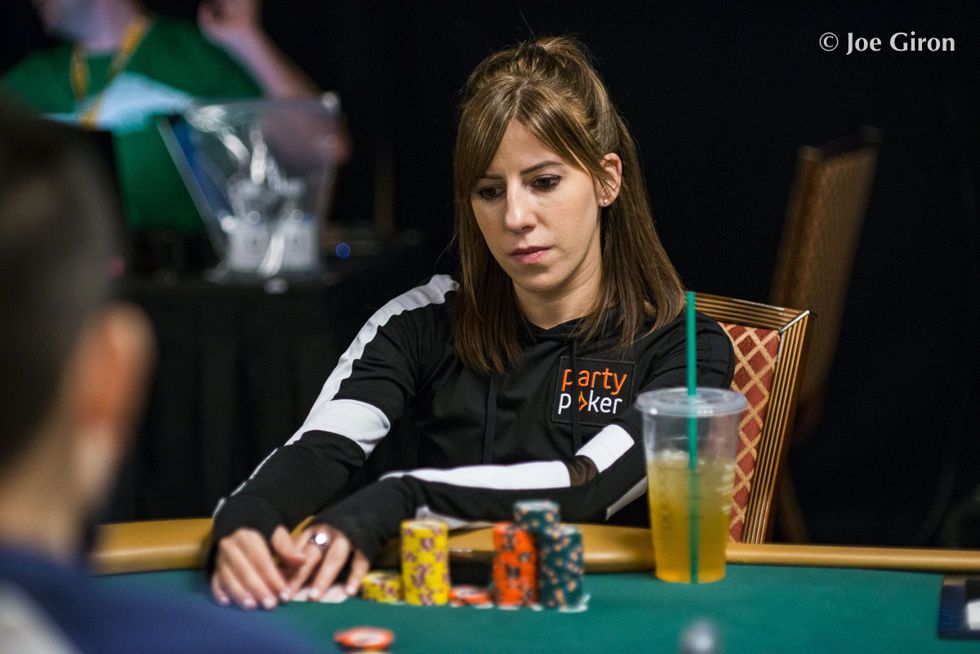 The next quarterfinal to wrap up was a matchup of two American friends, Lehr and Schindler. Both players are regulars on the high roller scene and shots were consistently fired across the table all in good fun. Lehr took an early chip lead in that battle as well, one that he would never relinquish. He continued to chip away at Schindler's stack until he nearly had a four-to-one lead. Eventually, Schindler stuck in the last of his chips with king-queen but ran into the ace-king of Lehr who turned a flush to eliminate Schindler.
The last match to finish on Day 2 was the battle between D'Ambrosio and Swingruber. It was a back and forth battle that saw each player hold the chip lead at certain times in the match. Down to his last 330,000, D'Ambrosio woke up with aces and found a key double-up against the king-queen of Swingruber. It was the most emotion we saw out of any player in the tournament thus far. However, after a couple more twists and turns in the last level, it was Swingruber who came out on top in the four-hour battle.
When the players return on Saturday for their semifinal matchups, they will each begin with 1,920,000 chips and the blinds starting at 6,000/12,000. The levels will continue to be 20 minutes in length until a winner is crowned. The action will take place on the Feature Table in the Amazon Room starting at 12 p.m. with each match being live-streamed on PokerGO. The PokerNews live reporting team will also be on hand to bring you all of the detailed updates as the action unfolds.

Niveau 59 : 30,000/60,000, 0 ante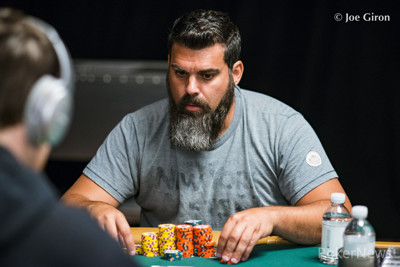 Jimmy D'Ambrosio raised to 175,000 and called the shove of Sean Swingruber to create the following showdown.
D'Ambrosio:

Swingruber:
The board came
and that ended the final heads-up in the round of eight after more than four hours and 15 minutes.
Good battle, great battle," D'Ambrosio immediately said while Swingruber shot out of his chair with the words "god, that was a fuckin battle."
"I gotta have been your toughest battle," D'Ambrosio remarked and Swingruber immediately replied with a "by far."
After this marathon heads-up, Swingruber will have one day off before then playing his semi final against Cord Garcia on Saturday, June 8th, 2019.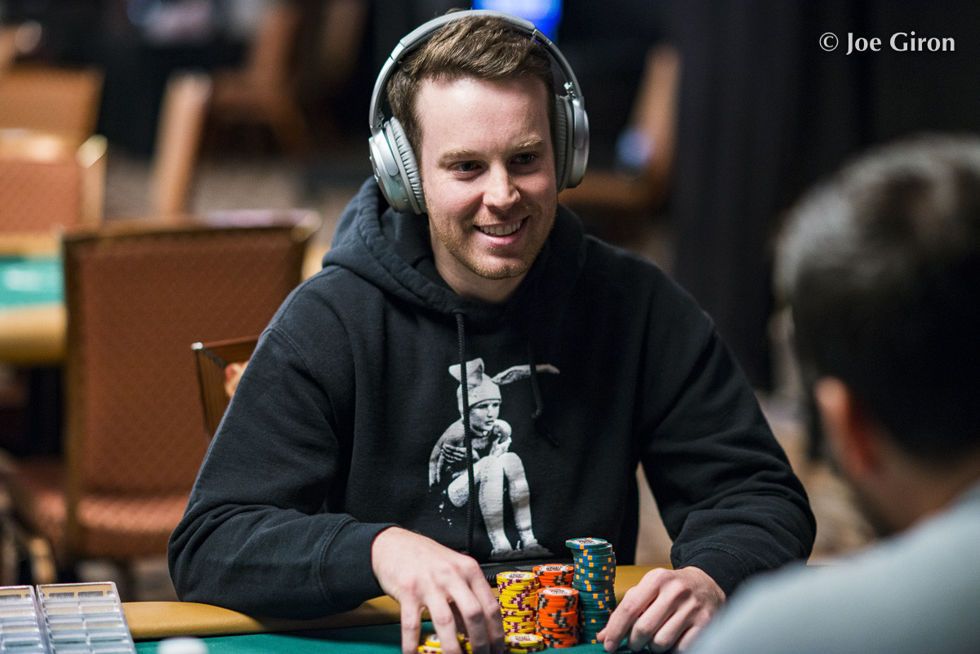 Joueur
Jetons
Progression

Sean Swingruber

1,920,000

330,000

Jimmy D'Ambrosio

Eliminé
Niveau 59 : 30,000/60,000, 0 ante
Sean Swingruber raised all in for 795,000 from the button and Jimmy D'Ambrosio called from the big blind with
, trailing Swingruber's
.
The board came down
, no help to D'Ambrosio, securing the double for Swingruber to take the lead.
Joueur
Jetons
Progression

Sean Swingruber

1,590,000

950,000

Jimmy D'Ambrosio

330,000

-950,000

Niveau 59 : 30,000/60,000, 0 ante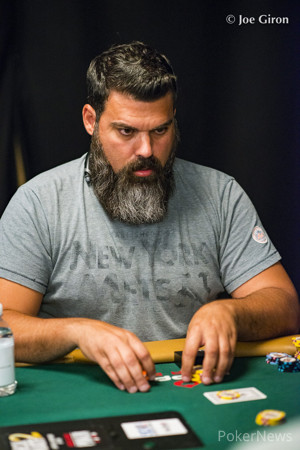 Jimmy D'Ambrosio limped the button and Sean Swingruber moved all in, D'Ambrosio almost beat him into the pot.
Jimmy D'Ambrosio:

Sean Swingruber:
"Let's just run pure," D'Ambrosio said and he indeed secured the double on the turn of a board
.
Both players bumped fists and D'Ambrosio added "we are battling."
Joueur
Jetons
Progression

Jimmy D'Ambrosio

1,280,000

620,000

Sean Swingruber

640,000

-620,000
Niveau: 59
Blinds: 30,000/60,000
Ante: 0

Niveau 58 : 25,000/50,000, 0 ante
Sean Swingruber limped in and Jimmy D'Ambrosio raised to 175,000 in order to force a fold.
D'Ambrosio raised to 125,000 and Swingruber called to see the
flop, which went check, check. On the
turn, Swingruber checked and folded to a bet of 75,000.
"Thank you," D'Ambrosio said as he rakeed in the pot.
Swingruber limped, D'Ambrosio raised to 150,000 and that ended the hand right there.
Joueur
Jetons
Progression

Sean Swingruber

1,260,000

-160,000

Jimmy D'Ambrosio

660,000

160,000
Niveau 58 : 25,000/50,000, 0 ante
Jimmy D'Ambrosio and Sean Swingruber have been battling in some small-pot poker over this level. Each player has shown a couple of big hands but their opponent was left with nothing in each case.
D'Ambrosio is starting to feel the pressure to make something happen soon as he is currently sitting on a 10 big blind stack with the blinds set to increase in a couple of minutes.
Joueur
Jetons
Progression

Sean Swingruber

1,420,000

95,000

Jimmy D'Ambrosio

500,000

-95,000

Niveau 58 : 25,000/50,000, 0 ante
Sean Swingruber raised to 100,000 and Jimmy D'Ambrosio called to see the
flop, on which he checked and called a bet of 100,000. The
turn was checked and D'Ambrosio bet the
turn for 75,000. Swingruber raised to 175,000 and picked up a call.
D'Ambrosio was shown the
by Swingruber and chopped it with
.
One hand later, D'Ambrosio limped in and Swingruber checked. The
flop brought no betting action and Swingruber led for 125,000 on the
turn, which D'Ambrosio called. On the
river, Swingruber bet 200,000 and D'Ambrosio reluctantly folded.
Joueur
Jetons
Progression

Sean Swingruber

1,325,000

105,000

Jimmy D'Ambrosio

595,000

-105,000
Niveau 58 : 25,000/50,000, 0 ante
Sean Swingruber and Jimmy D'Ambrosio are taking a quick break.