Niveau 30 : 80,000/160,000, 160,000 ante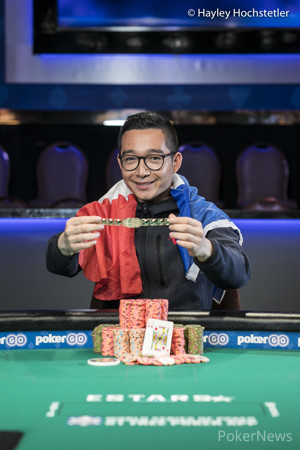 Thomas Cazayous' opponents called him "the silent assassin." In the end, he lived up to that moniker, picking off his final three opponents one by one to win Event #31: $3,000 No-Limit Hold'em 6-Handed at the 2019 World Series of Poker for $414,766.
It's the first bracelet for the 24-year-old French pro, and orders of magnitude bigger than his previous biggest cash of $15,000.
An online cash player by trade, this was Cazayous' first time really focusing on tournaments during the summer. While he was playing for big money against experienced opponents like bracelet winners Upeshka De Silva and Angel Guillen at the final table, Cazayous didn't feel at all like a fish out of water.
"If I'm honest, there was good players but I felt very, very confident," he said. "I don't want to say I think I was the best...but I felt pretty sure what I had to do."
Official Final Table Results
| Place | Winner | Country | Prize |
| --- | --- | --- | --- |
| 1 | Thomas Cazayous | France | $414,766 |
| 2 | Nicholas Howard | United States | $256,314 |
| 3 | Upeshka De Silva | United States | $172,658 |
| 4 | Wojtek Barzantny | Germany | $118,421 |
| 5 | Angel Guillen | Mexico | $82,726 |
| 6 | Raul Martinez | Spain | $58,881 |
Cazayous held the chip lead for the majority of the final table. His ultra-calm demeanor and minimal way with words caused his opponents to chuckle and bestow the nickname on him, as they repeatedly watched him eye everyone in silence and fire in bets and raises.
According to the newly minted bracelet winner, he's not at all like that away from the felt. It's simply his intense focus.
Due to his online background, he's used to the easy mode of counting stacks, simply looking at numbers. Live, his mind is constantly spinning, calculating depth of stacks, pot-to-stack ratios, and filing away the hand histories that indicate his opponents' tendencies. All that work simply makes it impossible for him to engage in table talk.
"If I speak to a lot of people around, I won't be very focused and I will be oriented in value and I won't have enough bluffs to balance," he said. "I'm not focused and I'll just fold without thinking. If I'm not in the hand, I have to see what people are doing, the sizing they use, the way they're acting."
All of those mental machinations served Cazayous well as he came into the final table with the big stack and never dipped below second place.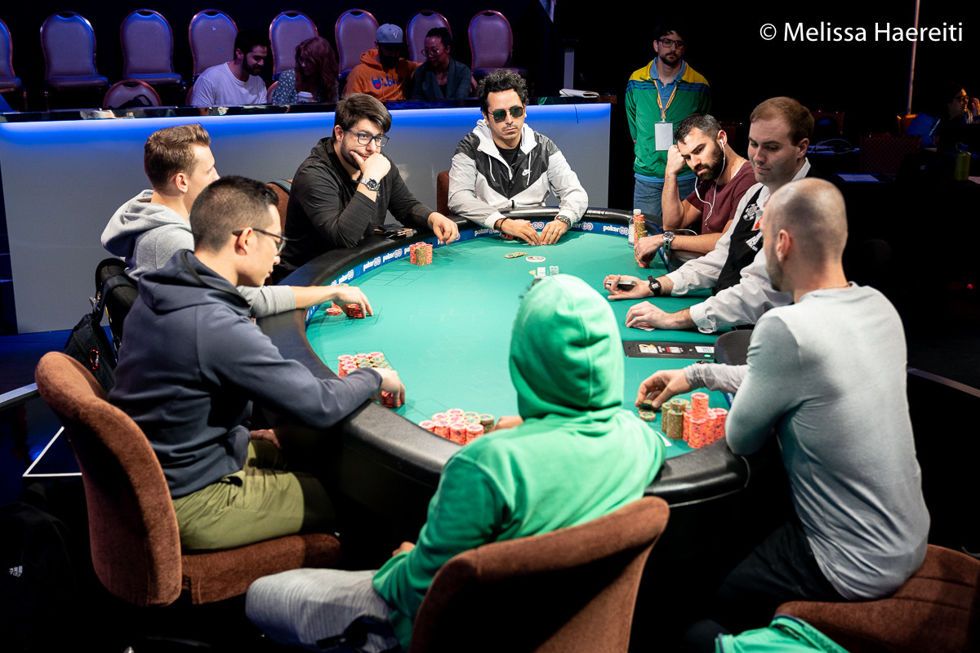 His real run of dominance started with four players left, busting Wojtek Barzantny in a three-bet pot with an overpair, gutter and flush draw against an overpair.
Ten hands later, Cazayous flopped top pair after calling a three-bet from De Silva and bet-called it off against a check-shove. De Silva had just ace-king and bricked out.
Only Nicholas Howard remained and he was at a monster chip deficit. The French supporters, feeling victory was at hand, began singing and chanting in Cazayous' support. Little did they know, if it were up to him, they'd have been treating the Amazon Room like a library during finals week.
"I think in a perfect world for me, I'd prefer to have no noise," he said. "Zero songs, zero words."
Things began well enough as he hammered Howard down to seven big blinds. However, Howard was able to mount a large comeback, running 880,000 to almost 5 million at 80,000/160,000/160,000.
True to his cold-blooded exterior, Cazayous said the comeback didn't phase him. His only concern was playing well and he said he felt no pressure as the bleeding of chips was caused by "just cards."
In the end, Howard put a stop to the comeback himself when he bet-three-bet all in on a pure bluff after all the cards were out. Cazayous found the call button with two pair and it was time to don the French flag for the photos for the silent assassin, now $414,766 richer.