Event #31: $3,000 No-Limit Hold'em 6-Handed
Jours 3
Event #31: $3,000 No-Limit Hold'em 6-Handed
Jour 3 a débuté
| Table | Seat | | Player | Country | Chip Count | Big Blinds |
| --- | --- | --- | --- | --- | --- | --- |
| Amazon | 400 | 2 | Sandeep Pulusani | United States | 335,000 | 17 |
| Amazon | 400 | 3 | Yasheel Doddanavar | Belgium | 685,000 | 34 |
| Amazon | 400 | 4 | Veerab Zakarian | Canada | 1,100,000 | 55 |
| Amazon | 400 | 5 | Wojtek Barzantny | Germany | 1,300,000 | 65 |
| Amazon | 400 | 6 | Demosthenes Kiriopoulos | Canada | 145,000 | 7 |
| | | | | | | |
| Amazon | 401 | 1 | Kyle Cartwright | United States | 490,000 | 25 |
| Amazon | 401 | 2 | Rafael Moraes | Brazil | 260,000 | 13 |
| Amazon | 401 | 3 | Raul Martinez | United Kingdom | 475,000 | 24 |
| Amazon | 401 | 4 | Francisco Torrecillas | Spain | 210,000 | 11 |
| Amazon | 401 | 6 | Jan Bednar | Czech Republic | 770,000 | 39 |
| | | | | | | |
| Amazon | 402 | 1 | Glen Cressman | United States | 465,000 | 23 |
| Amazon | 402 | 2 | Erwann Pecheux | France | 460,000 | 23 |
| Amazon | 402 | 3 | Jonathan Proudfoot | United Kingdom | 530,000 | 27 |
| Amazon | 402 | 5 | Paul Pires Trigo | France | 600,000 | 30 |
| Amazon | 402 | 6 | Nicholas Howard | United States | 1,700,000 | 85 |
| | | | | | | |
| Amazon | 403 | 1 | Jeremy Menard | United States | 310,000 | 16 |
| Amazon | 403 | 2 | Thomas Cazayous | United Kingdom | 1,690,000 | 85 |
| Amazon | 403 | 4 | Josh Weiss | United States | 940,000 | 47 |
| Amazon | 403 | 5 | Angel Guillen | Mexico | 670,000 | 34 |
| Amazon | 403 | 6 | Upeshka De Silva | United States | 1,965,000 | 98 |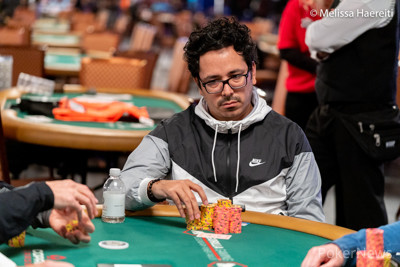 Day 3 of Event #31: $3,000 No Limit Hold'em 6-handed is set to kick off at 2 p.m. local time, with the remaining 20 players from a starting field of 754 scheduled to play down to a final table of six. Leading the way is two-time WSOP bracelet winner Upeshka De Silva with 1,965,000 chips, good for just over 98 big blinds at the start of play. Nicholas Howard (1,700,000) and Thomas Cazayous (1,690,000) also command massive stacks, while Wojtek Barzantny (1,300,000) and Veerab Zakarian (1,100,000) round out the top five.
The rest of the diverse field (ten different countries are represented by the remaining twenty players) include two bracelet winners in Mexico's Angel Guillen (670,000), who won his WSOP bracelet in 2009, and Kyle Cartwright (490,000), who shipped his bracelet in 2014. Canada's Demosthenes Kiriopoulos (145,000) will have some work to do as the short stack in this fast-paced format.
Play will begin today with Level 21 (10,000/20,000 with a 20,000 big blind ante) and the remaining field has already locked up $14,423, with all eyes on the top prize of $414,766 and the coveted WSOP bracelet. Levels will be one hour in length, with a fifteen-minute break after every two levels and a dinner break after the sixth level of play today.
Stay tuned right here to the PokerNews blog as we break down all the exciting six-handed action straight from the tournament floor at the Rio All-Suite Hotel and Casino!
After the customary "Shuffle up and deal!" the final twenty players are off and running, with play scheduled to last until we reach our official final table of six.
Niveau: 21
Blinds: 10,000/20,000
Ante: 20,000
Niveau 21 : 10,000/20,000, 20,000 ante
Action folded to Rafael Moraes, and he moved all in from the small blind for about 200,000. Raul Martinez quickly called in the big with
. Moraes had only
, and the
board didn't offer anything in the way of a sweat.
Niveau 21 : 10,000/20,000, 20,000 ante
Raul Martinez raised to 45,000 on the button, and Francisco Torrecillas three-bet to 135,000 in the small blind, leaving himself 35,000 behidnd. Martinez four-bet to put Torrecillas at risk, and he went into the tank, looking to see if anyone at other tables would be eliminated in that time frame. After a few minutes, Kyle Cartwright said, "I need a clock, please."
When the floor's countdown reached twenty seconds, Torrecillas said, "Twenty? At five, I call." He called right around that point.
Franciso Torrecillas:

Raul Martinez:
Martinez wouldn't find a king on the
flop, but he did on the
turn, and the unfortunate Torrecillas hit the rail after the
river failed to provide him with an ace.
Niveau 21 : 10,000/20,000, 20,000 ante
| Seat | Table 401 | Table 402 | Table 403 |
| --- | --- | --- | --- |
| 1 | Raul Martinez | Demosthenes Kiriopoulos | Sandeep Pulusani |
| 2 | Nicholas Howard | Yasheel Doddanavar | Wojtek Barzantny |
| 3 | Jonathan Proudfoot | Jan Bednar | Paul Pires Trigo |
| 4 | Thomas Cazayous | Angel Guillen | Josh Weiss |
| 5 | Kyle Cartwright | Glen Cressman | Upeshka De Silva |
| 6 | Veerab Zakarian | Jeremy Menard | Erwann Pecheux |
Niveau 21 : 10,000/20,000, 20,000 ante
Yasheel Doddanavar bet 50,000 from the small blind on
and Jan Bednar called in the big. Doddanavar checked the
river and Bednar bet 250,000 after some thought. Doddanavar tanked awhile then slid in a stack of chips.
Bednar showed
for a flush.
Niveau 21 : 10,000/20,000, 20,000 ante
Jeremy Menard shoved in the cutoff for 300,000 and Yasheel Doddanavar jammed to isolate in the small blind. It was Menard's
racing against
. The
flop was solid for Menard but the
turn was golden as he locked it up.
"Good turn," he said dryly.
He collected all but Doddanavar's last 80,000.