Niveau 32 : 200,000/400,000, 0 ante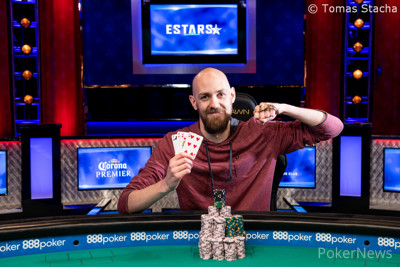 Stephen Chidwick has done it. After 52 previous World Series of Poker cashes and 13 final tables without capturing an elusive bracelet, the British poker pro from Deal finally claimed his first piece of gold. It came with a hefty payday of $1,618,417 after he bested 278 runners in the 2019 WSOP Event #45: $25,000 Pot-Limit Omaha High Roller. It was the biggest prize awarded during the 2019 World Series of Poker thus far and boosted his total live clashes to nearly $25 million, good for 18th spot on the all-time money list.
Following the trend of rising attendance numbers in each of the previous four editions of the tournament, the field was 48 bigger than last year and set a new record. The top 42 spots took home a portion of the massive $6,602,500 prize pool.
"I try really hard to detach the bracelet and everything around it. I have been here many times and I had a lot of heartbreak over the years, too," said Chidwick. "So I am just trying to put that as much out of my mind as possible. I guess I didn't really start to think that until the big aces hand that I won that left him [James Chen] with ten big blinds."
Chidwick defeated James Chen in heads-up play. Chen was also seeking his maiden WSOP bracelet and the first for his home country of Taiwan. A seven-figure payday of $1,000,253 will ease the pain and Chen will certainly try to take another shot at gold in the upcoming Event #52: $10,000 Pot-Limit Omaha Championship.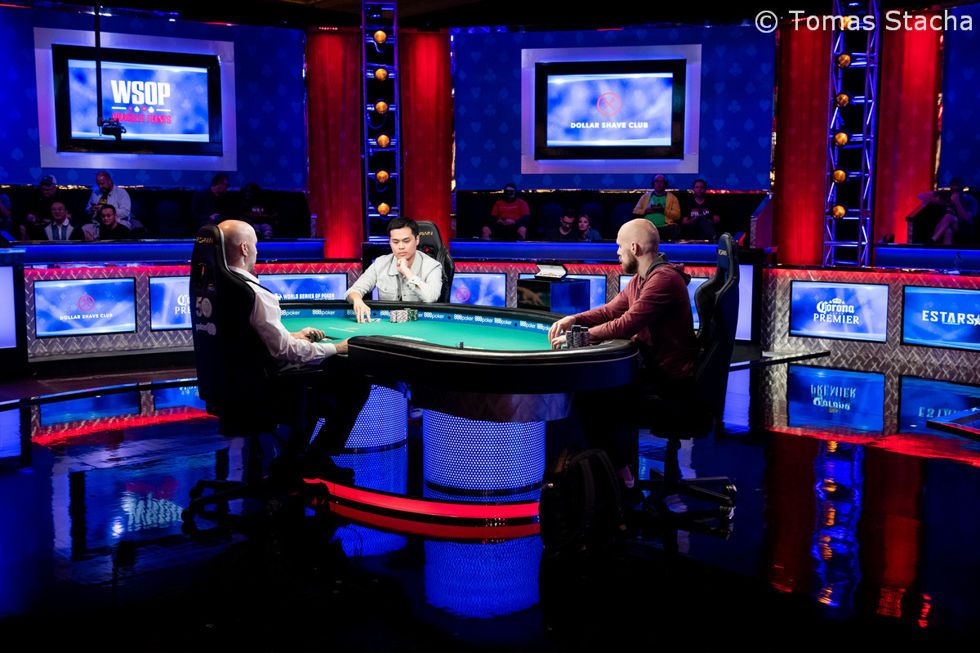 "It means a lot, it feels great. It is obviously a great one to do it in and I am in shock, a little bit," Chidwick said in the interview after his victory not even five hours after he had taken a seat in the Thunderdome.
"I had so many people supporting me for the last 10 years since I have been grinding so hard to win a bracelet and I know I have a lot of people in my corner that are really happy for me and that means a lot," Chidwick added.
Several weeks into the series already, it was in fact the first event Chidwick played as he spent the previous two weeks with his wife and two-month-old daughter in Paris. Upon arriving the evening of Day 1, and with registration for the tournament still open, Chidwick entered at the very last minute in the first break of Day 2 and that decision proved to be golden.
"It is super ironic. Usually I play like every single tournament. I play a final table, bust and then register a $1,500 Stud immediately. Now I come here halfway through and haven't played any of the other tournaments, and win the first one I play. That's pretty funny."
While Chidwick has cashes in several different poker variants including pot-limit Omaha, he doesn't consider it as his strongest game.
"I don't think PLO is necessarily one of my stronger games, but I felt really happy how I played and everything went my way, I had a lot of fun."
The fun for Chidwick kicked off in a key hand against Alex Epstein when he called the shove of his fellow 2019 WSOP bracelet winner with top pair and the nut flush draw, while Epstein was putting his hopes on a naked nut flush draw only.
"That one propelled me to nearly half of the chips in play and that was an important pot for sure," said Chidwick. "I thought a flush draw was possible, he could have a hand kinda similar to mine like ace-jack-ten-nine type of thing. Obviously, he can have some strong hands that I am in bad shape against too, but I thought with all the money in the pot already I had the right price to call."
Once Epstein was gone in fifth place, Chidwick never surrendered his chip lead and it took just over an hour from there to cross the WSOP bracelet off his bucket list. The usual grind may not necessarily be on his mind for the remainder of the summer schedule in Las Vegas, however.
"I kind of play it by ear, see how my wife and baby are doing and prioritize them," he explained. "I love playing tournaments, so I am sure you will see me playing more but I have no plans to play everything."
Matthew Gonzales recorded his seventh cash of the series at the Rio All-Suite Hotel and Casino, and his second final table run came with a payday of $699,364. The final day also included WSOP bracelet winners Robert Mizrachi and Erik Seidel, along with Wasim "Wes" Korkis.
Final Table Results
| Place | Winner | Country | Prize (in USD) |
| --- | --- | --- | --- |
| 1 | Stephen Chidwick | United Kingdom | $1,618,417 |
| 2 | James Chen | Taiwan | $1,000,253 |
| 3 | Matthew Gonzales | United States | $699,364 |
| 4 | Robert Mizrachi | United States | $497,112 |
| 5 | Alex Epstein | United States | $359,320 |
| 6 | Erik Seidel | United States | $264,186 |
| 7 | Wasim Korkis | United States | $197,637 |
| 8 | Ka Kwan Lau | Spain | $150,483 |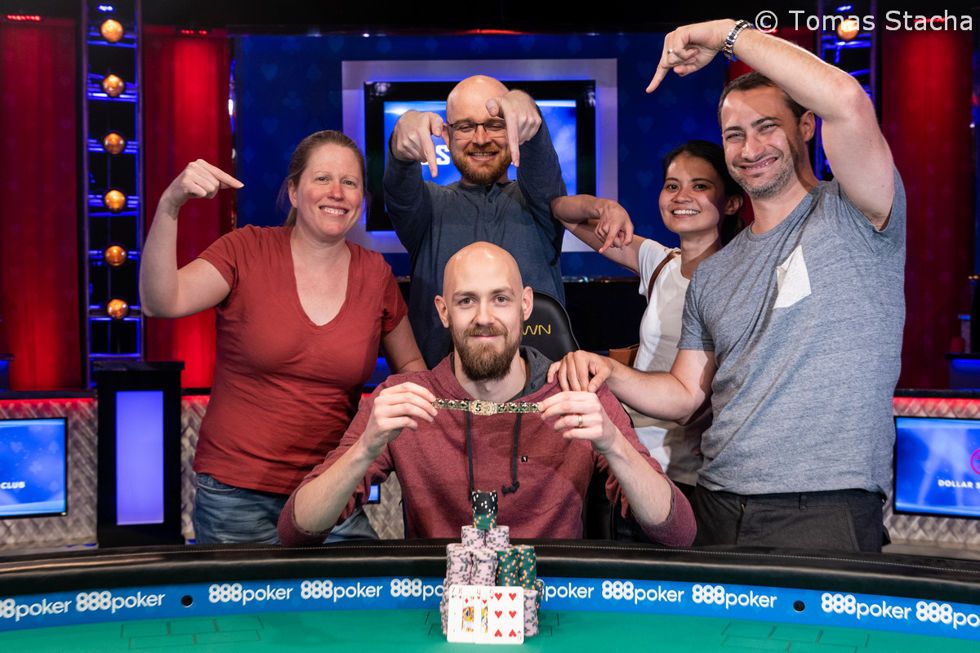 Chidwick entered the final day with seven players remaining in the top spot, and the entire experience was all too familiar for the Brit, who had been in the spotlight for several years with consistent deep runs.
"I worked pretty hard to keep constantly getting better," he said. "I don't think that the success I had over the last couple of years is proportional to how much better I am playing. The cards are falling my way in some of the big spots and that's kind of what it takes to win tournaments."
The cards certainly fell his way en route to the final table when he soared into the lead. The early action saw Epstein and Chen on the rise, while Gonzales scored a vital quadruple up to get back into contention after his aces held up against the nut flush draw of Chidwick in a four-way pot. It would be the only hiccup for the Brit, who continued to dominate with his usual aggression.
Ultimately, it was Korkis that became the first casualty when is queens were cracked by Epstein and Seidel failed to improve with queens against the kings of Chen to follow soon after. Epstein nearly closed the gap to Chidwick, but two clashes with Chen sent the Event #8: $10,000 Short Deck No-Limit Hold'em champion into the middle of the pack before his flush draw bricked off against Chidwick in one of the key hands of the short-lived final table.
Mizrachi was going for bracelet number five, but he found his nemesis in Chen when he first got bluffed, then ended up second-best with set-over-set and Chidwick turned a flush to send Mizrachi out in fourth place on his second final table of the summer.
"The summer is going great, but if you don't win a bracelet you are never happy," Mizrachi said in the interview after his elimination. "It doesn't matter if it's in a big event. I tried my hardest."
Down to the final three, Gonzales was the shortest stack, yet he secured several pay jumps after having entered the day on just five and a half big blinds. It was no surprise that Gonzales walked off the stage with a smile on the face when his bottom pair, straight and flush draw didn't get there against Chidwick.
There was one further motivation for Gonzales to hit the tables hard his summer despite initially had planned to just come for the cash game action.
"Daniel Negreanu picked me for his fantasy team and I committed to a full schedule and here I am," he said. "We have done a lot of work with Daniel and he said, 'If you play, I will draft you for a dollar.' The reply of Gonzales was obvious: 'If you draft me for a dollar, that is the best bet you will make.'"
Seven cashes midway through the summer and two final tables certainly speak for itself.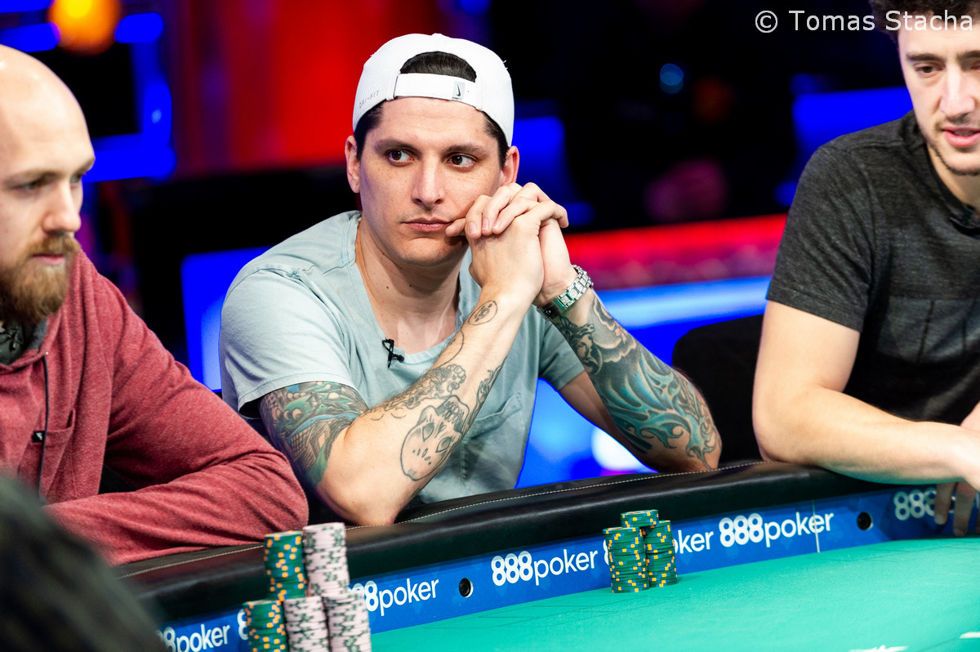 The heads-up match was a brief affair, and while Chen managed to close the gap somewhat, his hopes were all but destroyed when he paid off three streets when Chidwick had top set of aces for the nuts to all but seal his fate. A couple of hands later it was over and Chidwick earned the bracelet he was going for so many times previously.
While the PLO High Roller champion has been determined, the four-card lovers won't have to wait to showcase their talents at the tables as Event #52: $10,000 Pot-Limit Omaha Championship has already kicked off with more than 300 entries. Stay tuned to the PokerNews live updates throughout the summer who will be next to scoop a coveted gold bracelet right here in Las Vegas!