Event #63: $1,500 Omaha Mix
Jours 4
Event #63: $1,500 Omaha Mix
Jour 4 terminé

Niveau 34 : 60,000/120,000, 0 ante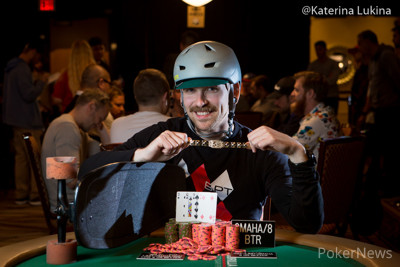 When Anatolii Zyrin lost a 4-to-1 lead heads up for a bracelet three weeks ago, he wouldn't imagine getting another serious shot at a title this summer. And if there was an event in which he'd expect it the least, the 717-entry $1,500 Omaha Mix would be a strong candidate.
He hadn't played limit Omaha in his life. He'd played Big O only once and pot-limit Omaha hi-lo just a handful of times.
Somehow, Zyrin was still able to come out on top to win his first career-bracelet and $199,838. To do so, he had to deny none other than Yueqi Zhu to claim the throne from the defending champion.
"This is something unbelievable," Zyrin said with a wide smile on his face.
Final Table Results
| Place | Winner | Country | Prize (USD) |
| --- | --- | --- | --- |
| 1 | Anatolii Zyrin | Russia | $199,838 |
| 2 | Yueqi Zhu | China | $123,466 |
| 3 | James Van Alstyne | United States | $84,106 |
| 4 | [Removed:146] | France | $58,289 |
| 5 | Aron Dermer | United States | $41,112 |
| 6 | Iori Yogo | Japan | $29,518 |
| 7 | Alan Sternberg | United States | $21,582 |
His road to victory was about as wild as it gets.
"On the first day, I hit a one-outer for my life," he admitted.
As if that wasn't enough, Zyrin was ready to deliver more comebacks from his title-winning campaign, revealing that he once wanted to muck his hand on Day 2 before asking the dealer to reopen it so that he could take a photo. It was only then when he realized he had won the high.
He would have been left with two blinds, and there would have been a different winner story. Or maybe not.
As Zyrin proved on the final day, his performance was as close to destiny as possible in this earthly life. While he returned for the final day as the chip leader with four players left, he hit very sharp skids.
"I played poorly in the first two levels because I didn't know these situations as well as my opponents," Zyrin admitted.
Zyrin suddenly found himself dead last with just under one big bet left, but the variance would flip back in his favor. A stroke of fortune helped Zyrin vault back over the average stack within a few hands.
Zyrin gained some ground back and then eliminated [Removed:146] in fourth and James Van Alstyne in third place. That propelled him to a heads-up match against Zhu.
For many, playing Zhu could be an unwelcome challenge, considering his remarkable results in the history of the mixed Omaha event; Zhu made it to three final tables of the tournament in no more than three years of its running.
There were also the memories from Zyrin's close call in the $1,500 no-limit hold'em shootout from early June. Zyrin had a giant lead with only one player between him and the bracelet, but he couldn't deliver that time.
"In the first heads up, my opponent was, I think, perfect. Maybe he had good cards, maybe good cards and good skill. He destroyed me," Zyrin said.
This time, he claimed to have felt comfortable. Zyrin said that he plays a lot of hold'em and regular pot-limit Omaha heads ups online, and he observed some patterns in Zhu's play that could be exploited.
While Zyrin looked for redemption for the shootout loss, Zhu had a strong incentive of his own. Keeping an unbeaten record for two straight years is a rarity in any poker tournament. Adam Friedman accomplished that in the $10k Dealer's Choice, which has arguably a tougher field, but also seven times smaller field.
A hand that pushed Zyrin close to the victory came in Omaha hi-lo when both players rivered a backdoor flush. Zhu had the second-nut hearts but Zyrin squeezed the ace-seven of hearts, leaving Zhu on a nub.
The match was over shortly thereafter as Zhu couldn't recover from the vast damage done to his stack. After finishing sixth in 2017 and winning in 2018, Zhu had to settle for the silver medal this time.
The debut WSOP triumph for Zyrin might help him break down one particular barrier. While he's played poker professionally for 10 years, he still hasn't been able to convince his parents about the legitimacy of his accomplishments.
"My mom thinks I'm a gambler. So maybe this win will change her mind. I'm not sure, but I hope," Zyrin said before adding: "I would like to dedicate the victory to my parents."
While he's yet to be praised for his poker skills in his family, Zyrin can't complain about support from elsewhere.
"We have a big community in Russia, a lot of people follow me as I stream online."
Only time will tell if Zyrin will be able to add two VIP fans to that group.

Niveau 34 : 60,000/120,000, 0 ante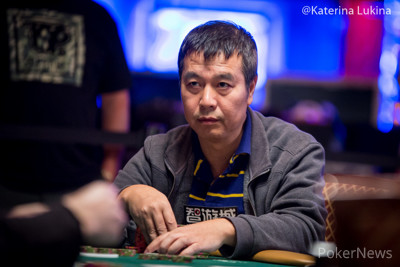 Omaha Hi-Lo
The chips went in preflop and Anatolii Zyrin opened
while Yueqi Zhu held
. A board of
gave both players the same two pair but Zyrin had a better low and quartered Zhu.
Zhu was left with just over one bet and they raced again on the next hand.
Zyrin:

Zhu:
The dealer rolled out
and Zyrin informed his Russian railbirds: "nash" (ours).
Defending champ Yueqi Zhu was eliminated in second palce and Anatolii Zyrin succeeds him on the Mixed Omaha throne.
Joueur
Jetons
Progression

Anatolii Zyrin

8,605,000

1,090,000

Yueqi Zhu

Eliminé

Niveau 34 : 60,000/120,000, 0 ante
Omaha Hi-Lo
Yueqi Zhu was all in preflop for the last 545,000 with the
and Anatolii Zyrin looked him up with the
.
The board of
provided plenty of outs for Zyrin to seal the deal, but Zhu doubled with the nut straight to remain in contention.
Joueur
Jetons
Progression

Anatolii Zyrin

7,515,000

-545,000

Yueqi Zhu

1,090,000

545,000

Niveau 34 : 60,000/120,000, 0 ante
Omaha Hi-Lo
Yueqi Zhu raised his button and Anatolii Zyrin called.
They checked the
flop and Zyrin checked again on the
turn. Zhu bet, Zyrin raised, and Zhu called.
The
hit the river and Zyrin bet. Zhu quickly called but he found out he got coolered as his
for the second-nut flush wasn't enough. Zyrin had the goods with
and Zhu was downed to last 545,000.
Joueur
Jetons
Progression

Anatolii Zyrin

8,060,000

1,755,000

Yueqi Zhu

545,000

-1,755,000

Niveau 34 : 60,000/120,000, 0 ante
Pot-Limit Omaha Hi-Lo
Yueqi Zhu limped in and Anatolii Zyrin checked to the
flop, on which he check-called a bet of 120,000. The
turn and
river brought no betting action and Zhu won the pot with
.
Zyrin limped in next and Zhu checked. The flop came
and Zhu checked to Zyrin, who bet the pot for 240,000. Zhu raised the pot and Zyrin folded with the words "I fold a big hand, no gamble this time."
Joueur
Jetons
Progression

Anatolii Zyrin

6,305,000

-500,000

Yueqi Zhu

2,300,000

500,000

Niveau 34 : 60,000/120,000, 0 ante
Pot-Limit Omaha Hi-Lo
Anatolii Zyrin raised to 300,000 and Yueqi Zhu defended his big blind with a call.
Zhu checked on
and Zyrin potted for 600,000. Zhu called.
The
turn brought the same scenario. Zhu checked and Zyrin bet the maximum, making it 1,800,000. Zhu would have to commit nearly all his chips to see the river card and he let it go.
The next hand saw Zhu open to 350,000 and Zyrin call. Zyrin fired a pot-sized bet on
and Zhu gave up.
Joueur
Jetons
Progression

Anatolii Zyrin

6,805,000

1,200,000

Yueqi Zhu

1,800,000

-1,200,000
Niveau: 34
Pot-Limit Blinds: 60,000/120,000
Limits: 250,000/500,000

Niveau 33 : 50,000/100,000, 0 ante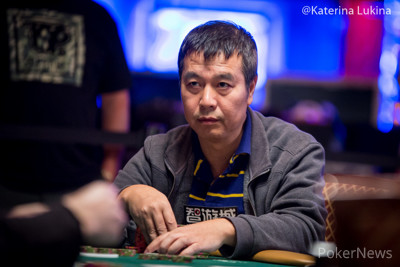 Big O
Anatolii Zyrin check-called bets on the flop and turn of a board
and mucked when Yueqi Zhu tabled
for a flush.
Soon after, Zyrin got most of the chips back, in fact, he pulled further away. In a limped pot to the
flop, Zyrin checked and called a bet of 125,000 by Zhu before check-calling another 400,000 on the
turn. Zyrin led for the size of the pot, 1,250,000, on the
river and Zhu released his cards into the muck after some consideration.
Joueur
Jetons
Progression

Anatolii Zyrin

5,605,000

300,000

Yueqi Zhu

3,000,000

-300,000
Photography by Katerina Lukina