Event #21: $1,500 Mixed Omaha Hi-Lo 8 or Better
Jours 3
Event #21: $1,500 Mixed Omaha Hi-Lo 8 or Better
Jour 3 terminé

Niveau 35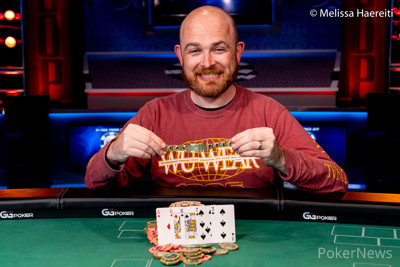 Dylan Linde of Las Vegas, Nevada defeated Hernan Salazar heads-up to win Event #21: $1,500 Mixed Omaha Hi-Lo 8 or Better at the 2021 World Series of Poker. The popular three-game format attracted 641 entries and generated a prize pool of $855,735. Linde takes home the $170,269 top prize and his first WSOP gold bracelet after 85 cashes at the WSOP.
Six-time WSOP champion Daniel Negreanu found a bag on Day 2 but never got the momentum he needed on Day 3 to make a run at his seventh WSOP title. Negreanu ran into trouble in a pot with Salazar early in Day 3 and never recovered to make his run. Other notable Day 3 finishers include Ryan Laplante (27th - $5,627), Ari Engel (23rd - $5,627), Kosei Ichinose (19th - $6,846), and Patrick Tardif (16th - $6,846).
This is Linde's first gold bracelet in 85 cashes at the WSOP. He is a mixed game specialist and author of the book Mastering Mixed Games: Winning Strategies of Draw, Stud, and Flop Games.
Final Table Results
| Place | Name | Country | Prize |
| --- | --- | --- | --- |
| 1 | Dylan Linde | United States | $170,269 |
| 2 | Hernan Salazar | United States | $105,235 |
| 3 | Scott Abrams | United States | $71,651 |
| 4 | David Matsumoto | United States | $49,733 |
| 5 | Damjan Radanov | United States | $35,204 |
| 6 | Ryan Roeder | United States | $25,424 |
| 7 | Lance Sobelman | United States | $18,740 |
| 8 | Michael Lim | United States | $14,104 |
Winner's Reaction
"It feels fantastic," Linde said in a post-win interview with PokerNews. "Finally winning a bracelet feels good but doing it in mixed games is great."
Linde has a well-rounded background in no-limit hold'em, and he finds that the fundamental concepts can be applied to poker games of all varieties. His no-limit background played no small part in adjusting to short-handed play near the end of the tournament.
"I've played a lot of mixed games over time, but I've never really played that much heads-up or short-handed. I was a little worried about my performance so it felt good to not only play and win but to feel confident with my play while doing so."
Linde credits his experience and his preparation for his success on the felt.
"A lot of the studying I've done in no-limit helped me a lot with the way that I played with respect to ICM. I used pot control with certain opponents that had me covered and tried to play pots with opponents that I could pressure."
Linde has an intense schedule planned for the rest of the WSOP and finally breaking through to win his first bracelet won't slow down his desire to play in tournaments and build his legacy.
"I'm an addict of tournaments for life. They've got me forever and I'll just try to win more."
Final Table Recap
Final table action kicked off eight-handed after Robert Redman was eliminated in ninth place by a set of queens from David Matsumoto. Salazar was active early and playing in a lot of pots as he stretched the early final table chip lead. The first elimination came after well over an hour when Michael Lim flopped a full house but ran into Salazar's four queens.
Salazar went into the dinner break with twice as many chips as his nearest competitor, Matsumoto, who also made moves shortly after dinner break when he took out Lance Sobelman in seventh place, also with four queens.
The action picked up after Sobelman's elimination and Ryan Roeder was not far behind in sixth place after Salazar made a wheel when an ace fell on the river. Scott Abrams, the chip leader from each of the first two days of the tournament, eliminated Damjan Radanov in fifth place with a flush.
Linde's turning point came in the final four when he forced Salazar to fold on the river to win a pot of over 2 million. He then eliminated Matsumoto in fourth place and he was the chip leader going into three-handed play.
Salazar clashed with Abrams early in three-handed play, leaving the Day 2 chip leader on fumes. Linde soon eliminated the Henderson, Nevada-based mixed games specialist in third place with a flush. The impressive run for Abrams ended with an eighth career top-ten WSOP finish, all of which have come in mixed game varieties.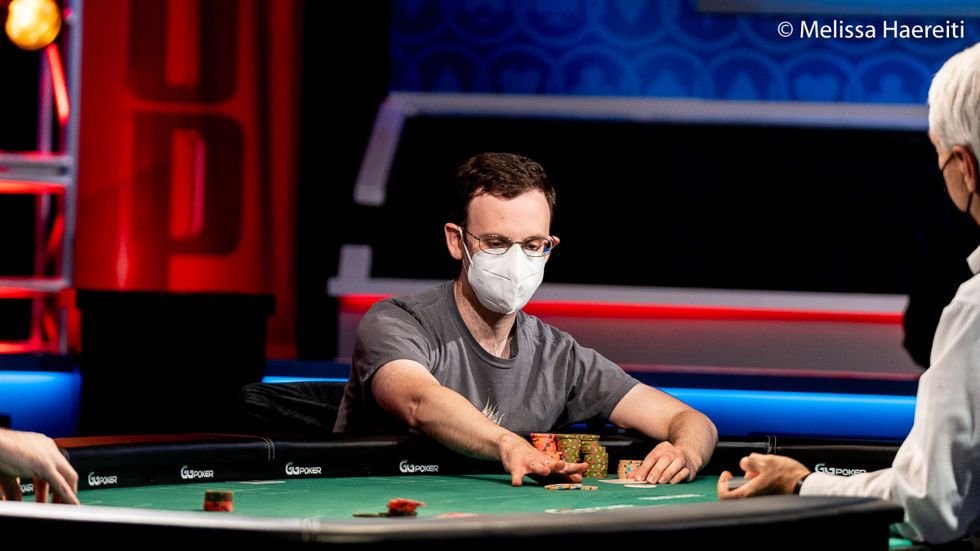 Linde entered heads-up play with a lead over Salazar and extended it further when Salazar shoved and Linde took three-quarters of the pot. Salazar fought back and made several attempts to double through, but Linde finished the job when he scooped the final pot with a flush for the high half and an ace-three for the low half.
This concludes coverage of Event #21: $1,500 Mixed Omaha. Be sure to keep it here throughout the 2021 WSOP for wall-to-wall live coverage from the PokerNews reporting team.

Niveau 35
Dylan Linde has won Event #21: $1,500 Mixed Omaha after defeating Hernan Salazar in heads-up play. Stay tuned for a full recap.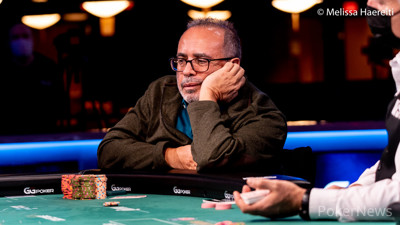 Big O
Dylan Linde raised on the button to 480,000. Hernan Salazar called from the big blind.
The flop came
and Salazar led out for 500,000. Linde responded by betting the pot, and Salazar came over the top for the rest of his chips. Linde called to put Salazar at risk.
Hernan Salazar:

Dylan Linde:
Salazar was ahead with a queen-high straight, but Linde was drawing to a better flush than Salazar.
The turn came the
, and the river brought the
, giving Linde his flush for high and his ace-three got him the low as well to crown him champion of the event and earn him his first WSOP bracelet.
Pot-Limit Omaha 8 or Better
Preflop, Hernan Salazar limped on the button, then called a raise to 480,000 by Dylan Linde.
The flop came
and Linde led out for 700,000, Salazar bet the pot to put himself all-in and Linde made the call.
Hernan Salazar:

Dylan Linde:
Salazar was ahead with top pair and a flush draw, but Linde was drawing to the better flush and had a low draw as well.
Linde would have to settle for chopping the pot with his low after the
came on the turn followed by the
on the river, giving Salazar the high half of the pot with his pair of queens.

Niveau 35
Dylan Linde raised to 480,000 on the button and Hernan Salazar called.
The flop was
and Salazar checked. Linde bet 875,000 and Salazar bet the pot. Linde bet pot and Salazar was at risk for a total of a little over 6 million.
Hernan Salazar:

Dylan Linde:
The turn was
and the river was
. The players split the high pot with aces and kings and Linde took down the low.

Niveau 35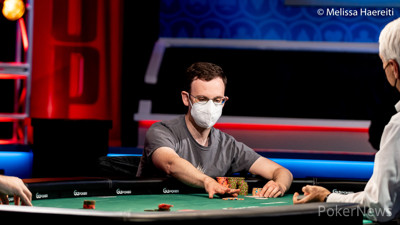 Big O
Scott Abrams bet 500,000 from the button and Hernan Salazar raised to put Abrams at risk. Abrams called and he was at risk for a total of just over 1 million.
Scott Abrams:

Hernan Salazar:
The board ran out
and Salazar's flush was good. Abrams is eliminated in third place after an impressive tournament that saw him hold the chip lead after Days 1 and 2.
Limit Omaha 8 or Better
Harnan Salazar had been getting low in chips, but a massive Limit Omaha 8 or Better pot has him right back in business.
With limits of 300,000 and 600,000, Scott Abrams raised from the small blind to 600,000. Salazar responded with a three-bet to 900,000 from the big blind and Abrams called.
With almost two million in the pot already, Abrams check-called a bet on the
flop, then again on the
turn.
The river
was checked through and Salazar showed
for a winning two pair of aces and nines.
Abrams is now back on the short stack after losing the huge pot.
Niveau: 35
Pot-Limit Blinds: 80,000/160,000
Limit Blinds: 100,000/300,000
Limits: 300,000/600,000
Pot-Limit Omaha 8 or Better
Dylan Linde raised to 300,000 on the button. Scott Abrams called in the small blind and Hernan Salazar folded the big blind.
On a flop of
, Abrams check-called a bet of 275,000.
The
was checked through, and then on the river
, Abrams led out for a cool million.
Linde folded, and Abrams raked in a healthy pot.
Joueur
Jetons
Progression

Dylan Linde

8,300,000

-1,425,000

Hernan Salazar

5,000,000

-300,000

Scott Abrams

3,400,000

1,200,000