Event #94: 5,000 No-Limit Hold'em (8-Handed)
Jours 2
Event #94: 5,000 No-Limit Hold'em (8-Handed)
Jour 2 terminé
Niveau 34 : Blinds 250,000/500,000, 500,000 ante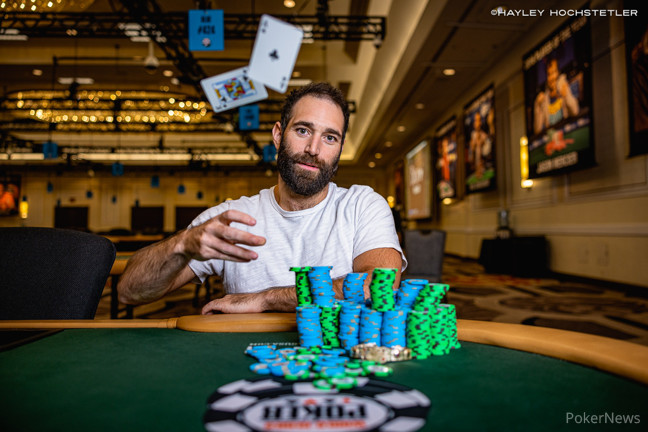 The curtain has closed on Event $94: $5,000 No-Limit Hold'em at the 2023 World Series of Poker at Horseshoe and Paris Las Vegas.
The penultimate event of the series saw 813 players pony up the money for a shot at WSOP glory – a huge increase of last year's figure of 573.
After two days of battle at the baize, it was Alex Keating who prevailed, claiming his first WSOP Bracelet.
Final Table Results
| Place | Player | Country | Payout |
| --- | --- | --- | --- |
| 1 | Alex Keating | United States | $701,688 |
| 2 | Guoliang Wei | China | $433,662 |
| 3 | Nozomu Shimizu | Japan | $305,474 |
| 4 | Marcello Delgrosso | Canada | $208,402 |
| 5 | Alexandros Kolonias | Greece | $158,525 |
| 6 | Josh Reichard | United States | $116,842 |
| 7 | Christian Harder | United States | $87,470 |
| 8 | Jason Hickey | United States | $66,526 |
With many of the summer's recreational players already on their way home, the event was stacked with big-name pros. Viktor Blom, Alex Foxen, Alex Livingston, David Peters, and Phil Laak were just a few of poker's elite who tried but ultimately failed to add to their resume.
Day 2 Action
When the remaining players returned this afternoon, David Peters was sitting at the head of the pack. But he was unable to parlay yesterday's run into a win, eventually falling in 20th place.
Pat Lyons briefly looked like he was making a run at the top spot when his rivered trips catapulted him into the chip lead with just two tables remaining. But that hand marked the end of his run-good and his chip count quickly went south, leaving him to finish in 15th place.
Thai crusher Punnat Punsri finished on the final table bubble when he ran into Nozomu Shimizu's pocket Jacks.
Final Table Action
By the time the tournament got nine-handed, Keating and Shimizu were putting a stranglehold on the opposition and looked the most likely to be duking it out for the bracelet.
Massoud Eskandari was the first to bust the single-table stage, his ace-jack no match for Marcello Delgrosso's ace-king.
Jason Hickey was next to go after getting his short stack in against Nozomu Shimizu.
Christian Harder fell shortly afterward – his pocket sevens unable to hold versus Josh Reichard's king-nine.
It would be Josh Reichard to go next though, Shimizu claiming another victim at the final table.
Alexandros Kolonias followed shortly after, when Keating hit a miracle river.
And Keating did for Marcello Delgrosso in fourth, with another fortunate run-out.
Shimizu, who had provided plenty of entertainment, exited in third, unable to overcome Wei's pocket eights. Shimizu's third finish in third this summer left Keating and Wei heads up.
In the final hand, Keating raised before Wei shoved and got called. Wei flopped a pair of treys on the turn but Keating rivered the higher pair of kings to award the title to Keating.
Winner's Reaction
Asked how he felt in the moment of victory, Keating simply said, "Good… yeah, not bad actually", before adding, "I'm thinking about what I'm supposed to do right now".
Reflecting on the earlier bad beat, when his aces were cracked by Lyons' ace-queen, Keating said, "Usually, I'd be really upset there but for some reason this tournament had a casual vibe to it and I was just like ok…"
"For how huge of a pot that was, I was still third or fourth in chips."
Keating who, by his own admission had gone "zero for forty" during the series said his celebration will entail some first class flights to a friend's wedding: "I wasn't planning on drinking on it but I guess… y'know – they bring you caviar and champagne. That's going to be my way of celebrating."
Niveau 34 : Blinds 250,000/500,000, 500,000 ante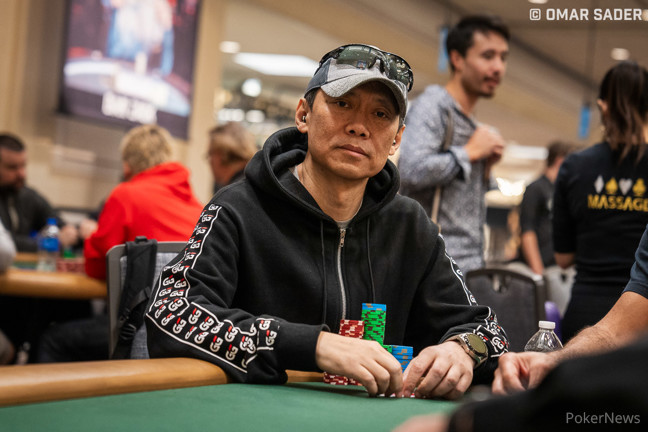 Alex Keating raised to 2,000,000 and after thinking briefly, Guoliang Wei announced he was all-in, for a little under 10,000,000. Keating made the call in short order.
Guoliang Wei: A♦3♥
Alex Keating: A♣K♣
The flop fell 3♣8♥6♥, and a three in the window shot Wei into the lead. An 7♠ on the turn was a blank, but the K♠ on the river ended Wei's dreams and awarded the title to Keating.
Niveau 34 : Blinds 250,000/500,000, 500,000 ante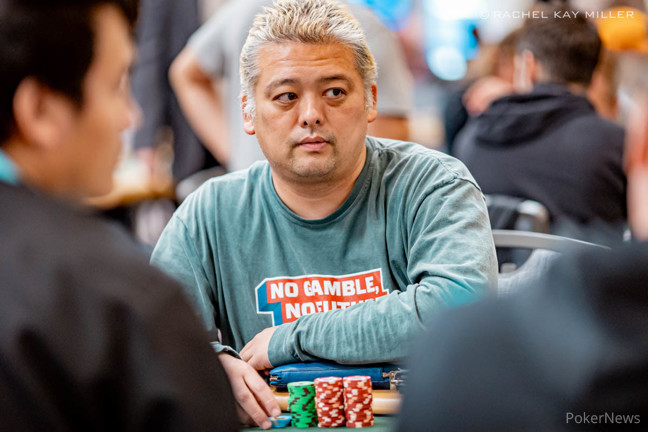 Nozomu Shimizu went all in on the button and Guoliang Wei made the call from the big blind.
Nozomu Shimizu: K♦2♦
Guoliang Wei: 8♠8♦
Shimizu asked the dealer to hold on so that he could hone his energy and get in a proper stance for an all-in.
Once he was in position, the dealer rolled Q♥J♣9♦, giving Shimizu a few more outs, then when the 2♥ rolled it increased his outs a bit more, but it wasn't meant to be as the A♦ completed the board.
Niveau 34 : Blinds 250,000/500,000, 500,000 ante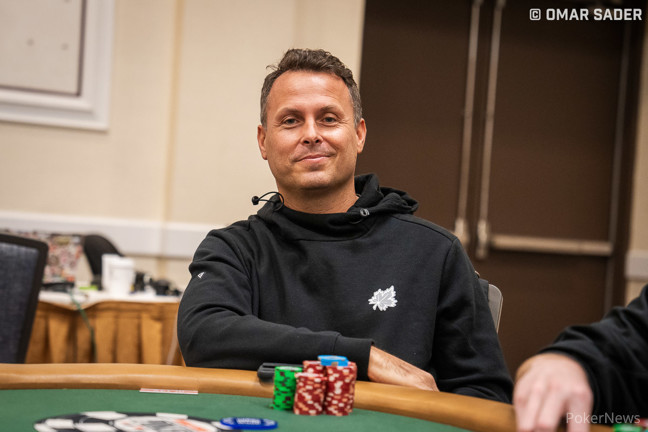 Alex Keating opened the action with a raise to 1,000,000 and a short-stacked Marcello Delgrosso went all in for a bit more than double that. Keating made the call.
Marcello Delgrosso: A♠6♠
Alex Keating: 9♥3♥
Keating was in as good of shape as he could hope considering his hand but Delgrosso remained in the lead as the J♥5♠5♦ rolled. The turn rolled the K♥ giving Keating the flush draw and he was already apologizing when the A♥ spilled off the deck, giving him the flush.
Niveau 34 : Blinds 250,000/500,000, 500,000 ante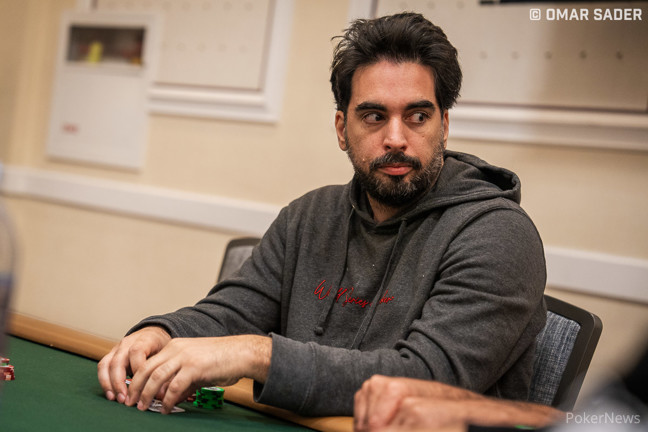 Alexandros Kolonias went all in from the cutoff for 1,550,000. Alex Keating on the button, did not look like he wanted to call but with the chip counts as they were, clearly felt he had no choice.
Alexandros Kolonias: A♠9♠
Alex Keating: 2♠4♥
The dealer spread a flop of 6♥8♦8♥.
A turn of 5♥ gave Keating several outs and there was an air of inevitability over the table before he peeled a 3♦ on the river, to bring an end to Kolonias' tournament
Niveau 34 : Blinds 250,000/500,000, 500,000 ante
Nozomu Shimizu went all in the first hand back from dinner and got no callers. After folding a few hands after, Keating told him he thought he would be shoving every hand, to which Shimizu responded with a shove when it folded to him. Keating made the call.
Nozomu Shimizu: K♥5♣
Alex Keating: A♣K♣
The flop rolled A♦3♦3♣ and Keating celebrated by shouting, "Ace-uh!" while Shimizu rooted for a four to make a straight draw. The turn closed the door on Shimizu with the A♠ and Keating soared into the lead as the useless 4♠ fell on the river.
Niveau 34 : 250,000/500,000, 500,000 ante
Joueur
Jetons
Progression

Nozomu Shimizu

15,300,000

-600,000

Alex Keating

11,725,000

-775,000

Marcello Delgrosso

5,800,000

1,100,000

Alexandros Kolonias

3,900,000

500,000

Guoliang Wei

3,550,000

50,000
Niveau: 34
Blinds: 250,000/500,000
Ante: 500,000
Niveau 33 : Blinds 200,000/400,000, 400,000 ante
The remaining players at the final table are now on a 60-minute dinner, they will be due back at approximately 8:10 p.m.
Blinds will be 250,000/500,000 with a 500,000 big blind ante.