Niveau 27 : 60,000/120,000, 0 ante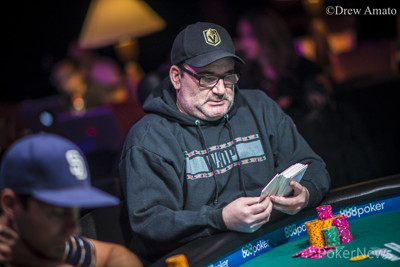 Badacey
Dennis Eichhorn raised. Action folded around to Mike Matusow in the small blind, and he called for the remainder of his stack. Viacheslav Zhukov also called from the big blind. On the first draw, Matusow took two, Zhukov took three, and Eichhorn took two.
"I bet," Matusow joked.
Zhukov checked the side action over to Eichhorn, who bet. Zhukov folded. On the second draw, Matusow stood pat, while Eichhorn took one.
"Oh lord, it's hard to be humble," Matusow started singing. "When you make great folds and you give yourself a chance!"
Matusow stood pat again, and Eichhorn went into the tank.
"Oh come on man, I'm pat and the clock is ticking," Matusow said. "Make a decision, already."
Eventually, Eichhorn decided to take one card.
Matusow turned up
for a wheel and a three-card four. Eichhorn, on the other hand, turned over
for a three-card six, though he was drawing dead on the low side. Eichhorn sweated his last card and flipped up the
showing he made a seven badugi. That was good enough to take half the pot and spoil Matusow's bid to double up.