John Racener Wins Event #17: $10,000 Dealer's Choice 6-Handed Championship

Niveau 29 : 100,000/200,000, 0 ante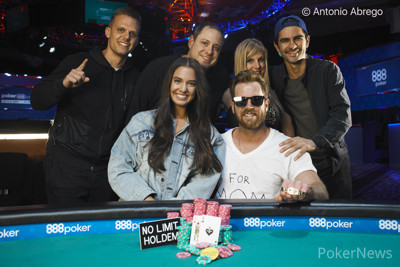 It was a long road for John Racener to win his first bracelet, and it took him all ten levels of play today to finally get to the top of that mountain. Racener started as the chip leader, but he was all over the map today. At one point just before dinner, he slipped to the bottom of the chip counts, then bounced right back up to the top. After Mike Matusow was eliminated from the tournament, it seemed like Racener just won every pot. He eliminated the last three players in very quick fashion to lock up the win, the bracelet, and the $273,962 prize.
"I've been wanting this forever," Racener said about his victory. "I've got so many seconds and thirds. I have over $10 million in earnings, but no gold. I've just been wanting to win so bad. I didn't even look at the prize pool. I didn't even know what first place was. I just wanted to win the bracelet. It's all I really cared about. I don't show much emotion, but when I finally got it, then it was time to celebrate."
It wasn't the Racener show all day though. Dropping early were Shawn Buchanan and Ben Yu. Buchanan dropped to Viacheslav Zhukov in a hand of Badeucey, while Yu was eliminated by Matusow in a hand of Stud Hi-Lo Eight or Better. James Obst took a couple successive beats, opted to change the game to No-Limit Hold'em and was drawn out by Matusow when his
fell behind to Matusow's
on the river. This brought the final seven players to the unofficial final table where Racener held a slight chip lead.
| Position | Player | Country | Prize |
| --- | --- | --- | --- |
| 1 | John Racener | United States | $273,962 |
| 2 | Viacheslav Zhukov | Russia | $169,323 |
| 3 | Chris Klodnicki | United States | $117,786 |
| 4 | Dennis Eichhorn | United States | $83,263 |
| 5 | Mike Matusow | United States | $59,827 |
| 6 | Schuyler Thornton | United States | $43,707 |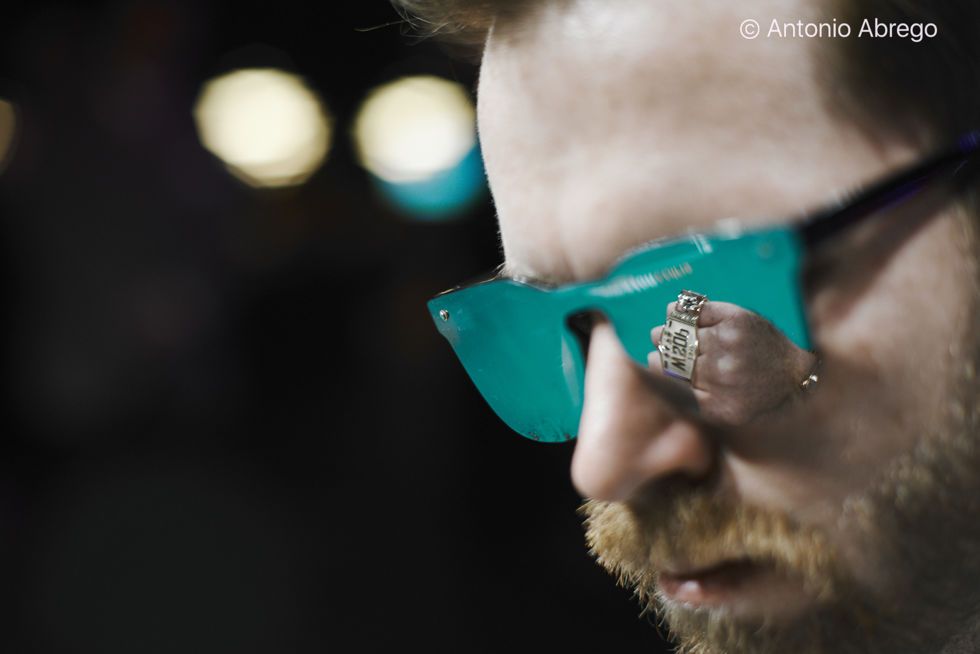 It was Eric Crain who fell first at the unofficial final table when Matusow completed a nine Badugi and ninety-five low to Crain's ninety-seven low in Badacey. The final six players played for roughly an hour and a half before Schuyler Thornton fell on the short stack and was eliminated in a hand of Badacey as well. Matusow and Racener split up his chips with a Badugi and an eighty-seven low respectively and he hit the rail.
The final five players then reached a stalemate, with players doubling up, dropping chips, trading the chip lead over and over again for over five hours. It was Matusow who would fall first though. He ran into the wheel of Zhukov during a hand of A-5 Triple Draw.
Racener then eliminated the final three players in a span of less than ten hands to close out the tournament. First was Dennis Eichhorn, who couldn't catch up to Racner's eighty-six low in a hand of Pot-Limit 2-7 Lowball. With that hand Racener took the massive chip lead, with over a million more than the next player at the table. He opted to change the game to No-Limit Hold'em and ended the tournament in three hands. Chris Klodnicki shoved all in with the
and Racener called him down with the
and held through. On the last hand, Zhukov moved all in with pocket sevens, but couldn't win a race against Racener's
. Racener flopped Zhukov to just one out and he did not catch it.
"You have to plan for success," Racener said. "I always said to myself that I wanted to win my first bracelet for my Mom. She's always been my biggest fan, and she still is from up above. No matter what time of the day it was back home, with the three-hour time span, she would always stay up and sweat me online all night. Even if she had to get up for work at 8 a.m. She would stay up and sweat me until she had to go to work. I just really wanted to win the first one for her."
With that, Racener locked up his very first bracelet, over six years after his November Nine run and second-place finish. He took home $273,962 for the victory, but more importantly, the sense of accomplishment that goes along with it. For him that was what was most important.
"I said to myself coming out here this year that I'm going to bring some white t-shirts. I'm going to bring a magic marker, and I'm going to write 'For Mom' on the shirt. I go I' bet you I'm going to win that tournament if I do that.' Just for planning for success. Just watching a lot of motivational and successful videos. They say you've got to plan for success, and I've been wanting to do this for years now."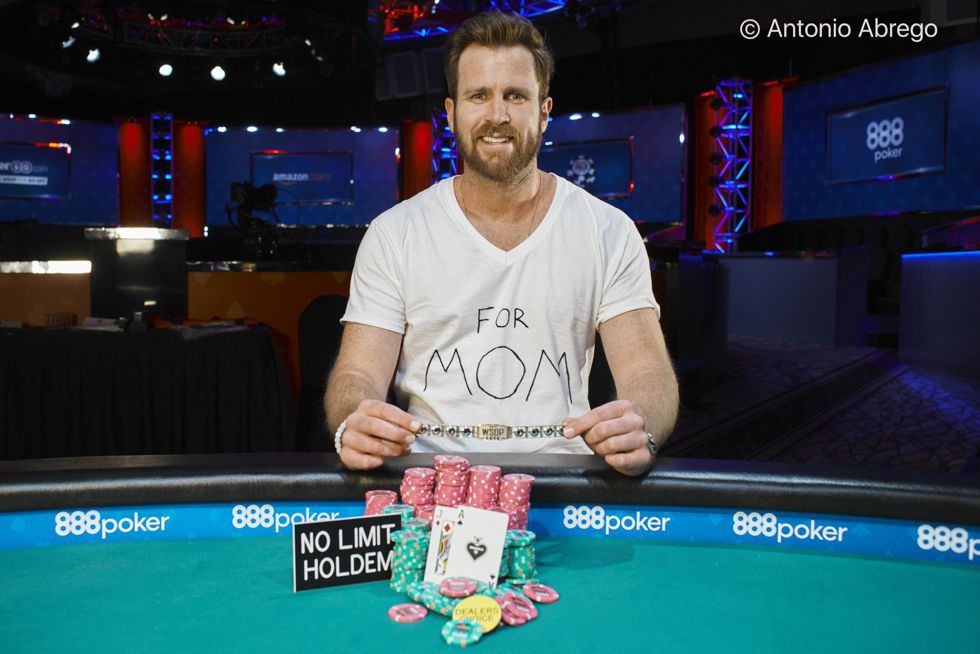 For Racener, taking the bracelet home for his mother was what he wanted the most.
"She passed away about three-four years ago and I've been wanting to do it and I never did it. I said you know what I'm going to man up, I'm going to balls up, and I'm going to do it this year and boom. First time I wore the t-shirt, I won. She's my biggest fan, still is, and she is happy as hell right now. So is my Dad up there."