Heidi May Captures Her First Bracelet in Event #70: $10,000 Ladies No-Limit Hold'em Championship
Niveau 24 : 12,000/24,000, 4,000 ante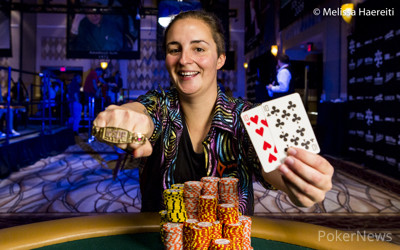 In just three short hours and 219 hands, Australia's Heidi May locked up the title in Event #70: $10,000 Ladies No-Limit Hold'em Championship for her biggest career cash worth $135,098.
May defeated a worthy competitor in Deborah 'Debs the Destroyer' Worley-Roberts, with both players having extremely vocal and supportive rails. In the final hand, Worley-Roberts moved all in for her last 20 big blinds and May snap-called. Worley-Roberts held king-jack off suit while May tabled pocket tens in a coin-flip scenario. May flopped a full house tens full of deuces and Worley-Roberts found herself drawing dead after the turn.
Worley-Roberts has almost doubled her career earnings after this runner-up finish, amassing close to $200,000 in cashes and logging her best result today. It was clear that she was one of the fan-favorites with her vocal rail and constant cheering from late on Day 2 yesterday.
May is certainly a decorated player in her own right and a well-loved member of the Australian community. She had a massive and vocal rail also, with the two players' friends and family building a friendly rivalry in the crowd. May is a 27-year-old professional poker player from Tasmania, Australia who has been playing for a living for about four years now. She mostly plays higher stakes cash games and online tournaments, but has recently started to mix in live tournaments. May explained that she learned how to play when she was 18 years old in University, and previously worked as a support worker in age-care and disability. She still occasionally works when she's at home, but her focus is mostly on poker.
"I'm feeling pretty happy", said a smiling May in her bright, multi-colored 'disco shirt'. "The disco shirt. It's our house shirt. Every time someone makes a final table we wear it", she explained. The members of May's house have now made four final tables this series while wearing the shirt, and she is the first to snag a bracelet in it. They've had two wins in the Aussie Millions in the past.
May's biggest win before this one was around $32,000 in an online tournament. "It feels really good to finally close one out, especially after having a few deep runs and not closing. I think in the other tournaments I got really lucky. This time, I ran really well." She has had five cashes at the WSOP this summer, including this win and a deep run in Event #33: $1,500 No Limit Hold'em, finishing in 28th place for $9,683. May's lifetime earnings totaled just over $100,000 before this win, and she has more than doubled that now.
With all of the talk about women in poker as of late, May explained how she feels "a bit indifferent" towards the topic. "It's a really nice environment. It's non-threatening and stuff. When you come to a table and it's all these guys that stare you down in hoodies and stuff, it's a little bit too serious for some people." She went on to explain that she had a great time playing with the ladies and she "enjoyed playing against Deb. She's really funny."
Final Table Results
| | | | |
| --- | --- | --- | --- |
| Place | Player Name | Country | Prize (USD)* |
| 1 | Heidi May | Australia | $135,098 |
| 2 | Deborah Worley-Roberts | United Kingdom | $83,459 |
| 3 | Jana de la Cerra | United States | $57,930 |
| 4 | Julie Dang | United States | $40,843 |
| 5 | Katherine Ansorge | United States | $29,256 |
| 6 | Alexis Sterner | United States | $21,298 |
| 7 | Tiffany Lee | United States | $15,760 |
| 8 | Meg Zampino | United States | $11,858 |
| 9 | Karen Hodge | United States | $9,075 |
Many notable ladies finished in the money in this event, including Allison Schultz (10th place - $7,066), Wendy Weissman (20th place - $3,710), Fatima Nanji (23rd place - $3,710), Amanda Sizemore (24th place - $3,710), Lexy Gavin (28th place - $3,104), Amanda Baker (43rd place - $2,647), Lynn Gilmartin (49th place - $2,301), Vanessa Selbst (56th place - $2,040), Kimberly Mcclymont (60th place - $2,040), Julie Cornelius (77th place - $1,703), and Mina Greco (99th place - $1,545).
Some of the players that were unable to get anything going in this event included Kristen Bicknell, Jessica Dawley, Karina Jett, Loni Harwood, Fatima Moreira de Melo, Safiya Umerova, Jess Welman, Liv Boeree, Melissa Gillett, Annette Obrestad, Jackie Glazier, Jennifer Shahade, Ebony Kenney, Cindy Kerslake, Melanie Weisner, Celina Lin, Brittany Paige, Marsha Wolack, Linglin Zeng, Gaelle Baumann, Jamie Kerstetter, Ruth Hall, Molly Mossey, Natalia Breviglieri, Kelly Minkin, Sofia Lovgren, and Kitty Kuo.
Final Table Action
The unofficial final table was reached shortly after the final break of the night on Day 2 when Karen Sortin busted to Worley-Roberts in 11th place ($7,066) with ace-king against Worley-Roberts' pocket tens and couldn't improve. The next two levels were played at a feature table in the Amazon room, and they lost five more players before play concluded for the night.
The first casualty at the final table was Allison Schultz, who busted in tenth place ($7,066) after rivering a set of eights and losing most of her chips to Alexis Sterner. Sterner had flopped a set of nines and won that pot. Schultz busted the next hand, and the official final table was born.
Karen Hodge was the next one out when she got all her chips in preflop with pocket queens against Tiffany Lee's pocket aces. Hodge flopped a set of queens, but Lee found a jack on the turn to give her Broadway to eliminate Hodge. Hodge finished in ninth place for a payout of $9,075. Meg Zampino was the eighth-place finisher ($11,858). Zampino three-bet shoved with ace-four suited in the big blind and was called by De la Cerra who had ace-king. Zampino flopped a flush draw, but could not get there.
The next one out was Tiffany Lee. Lee was all in several times with two tables remaining and kept doubling up. She continued that trend at the final table as well, until she ran ace-queen offsuit in the small blind into Sterner's aces on the button and couldn't find a miracle to stay alive. Lee earned $15,760 for her seventh place finish. Sterner was the last elimination of the evening on Day 2. She finished in sixth place after getting her stack in with king-queen in the small blind against Heidi May's ace-queen in the big blind. They both made a full house but May's queens full of aces was best and Sterner hit the rail, taking home $21,298 for her deep run.
The final five players came back for Day 3 today, Sunday, at noon to play down to a winner, continuing with 30 minutes left in Level 21.
May came in to the day leading the final five players with almost half of the chips in play. It was Katie Ansorge who came in to the day as the shortest stack and ended up falling in fifth place ($29,256) as the first casualty of the day. She had lost most of her chips in an earlier hand, flipping with deuces against Julie Dang's king-queen off suit. Dang turned a straight and Ansorge was eventually forced to move in with ten-three of hearts. De la Cerra held king-deuce of hearts and flopped top pair to send Ansorge to the rail.
Thirty hands later, Dang appeared to make a play for the big blind and shoved with ten-three off suit from the small blind. Unfortunately for her, Worley-Roberts decided to go with king-queen and flopped a pair of queens to eliminate Dang in fourth place for a payday worth $40,843.
By the first break of the day, Worley-Roberts had two-thirds of the chips in play with May sitting in second and De la Cerra having the short stack. As soon as the three ladies came back, May pushed the action and ended up taking over the chip lead in just five short hands. She flopped trips with a better kicker than Worley-Roberts and got paid on the river.
The tides turned drastically and May ended up flipping with ace-king suited against De la Cerra's pocket eights. The flop came ace-high and De la Cerra would have to settle for third place for a nice payday worth $57,930.
Heads-up play lasted 43 hands, but it went quickly because the two ladies were making very fast decisions. Worley-Roberts was in shoving mode after May chipped away, and eventually lost a final flip to finish as runner-up in this event after a hard-fought battle.
As always, thank you for following along as PokerNews brought you all of the live coverage in this event!