Event #9: €1,650 Pot-Limit Omaha/No-Limit Hold'em Mix
Jours 2
Event #9: €1,650 Pot-Limit Omaha/No-Limit Hold'em Mix
Jour 2 a débuté

| Table | Seat | Player | Country | Chip Count | Big Blinds |
| --- | --- | --- | --- | --- | --- |
| 80 | 1 | Mustafa Biz | Turkey | 110,500 | 37 |
| 80 | 2 | Aaron Duczak | Canada | 136,000 | 45 |
| 80 | 3 | Egor Terekhin | Russia | 41,000 | 14 |
| 80 | 4 | Martin Kury | Germany | 195,000 | 65 |
| 80 | 5 | Erik Cajelais | Canada | 214,000 | 71 |
| 80 | 6 | Sandeep Chatlani | India | 67,000 | 22 |
| 80 | 7 | Harout Ghazarian | Canada | 365,000 | 122 |
| 80 | 8 | Adam Lamphere | United States | 87,500 | 29 |
| | | | | | |
| 81 | 1 | Arto Loikkanen | Finland | 134,000 | 45 |
| 81 | 2 | Matthew Beck | New Zealand | 101,500 | 34 |
| 81 | 3 | William Chattaway | United Kingdom | 268,000 | 89 |
| 81 | 4 | Ankit Ahuja | India | 376,500 | 126 |
| 81 | 5 | Tomas Martim Dias Queiroz Ribeiro | Portugal | 74,500 | 25 |
| 81 | 6 | Dennis Martin | Germany | 80,000 | 27 |
| 81 | 7 | Chris Ferguson | United States | 179,000 | 60 |
| 81 | 8 | Robert Kaggerud | Norway | 55,500 | 19 |
| | | | | | |
| 82 | 1 | Michal Wozniak | Poland | 92,500 | 31 |
| 82 | 2 | Krzysztof Jaguscik | Poland | 24,500 | 8 |
| 82 | 3 | Fabian Gumz | Germany | 104,500 | 35 |
| 82 | 4 | Shaun Deeb | United States | 234,000 | 78 |
| 82 | 5 | Paul Hendee | United States | 340,000 | 113 |
| 82 | 6 | Carlo Savinelli | Italy | 63,500 | 21 |
| 82 | 7 | Jeff Cormier | Canada | 208,000 | 69 |
| 82 | 8 | Jonas Kronwitter | Germany | 138,000 | 46 |
| | | | | | |
| 83 | 1 | Maksim Pisarenko | Russia | 174,000 | 58 |
| 83 | 2 | Siarhei Chudapal | Belarus | 107,000 | 36 |
| 83 | 3 | Roland Israelashvili | United States | 99,000 | 33 |
| 83 | 4 | Jeff Madsen | United States | 238,500 | 80 |
| 83 | 5 | Kasparas Klezys | Lithuania | 59,000 | 20 |
| 83 | 6 | Christopher Howden | United Kingdom | 14,500 | 5 |
| 83 | 7 | Jakob Madsen | Denmark | 138,000 | 46 |
| 83 | 8 | Shahaf Nacson | Israel | 436,000 | 145 |
| | | | | | |
| 94 | 1 | Zhong Chen | Netherlands | 187,000 | 62 |
| 94 | 2 | Quan Zhou | China | 327,000 | 109 |
| 94 | 3 | Steven Heron | United Kingdom | 48,000 | 16 |
| 94 | 4 | Mihai Niste | Romania | 77,500 | 26 |
| 94 | 5 | Dragos Trofimov | Italy | 161,000 | 54 |
| 94 | 6 | Alexandre Viard | France | 250,000 | 83 |
| 94 | 7 | Kristoffer Rasmussen | Denmark | 78,500 | 26 |
| 94 | 8 | Robert Cowen | United Kingdom | 123,500 | 41 |
| | | | | | |
| 95 | 1 | Denis Drobina | Romania | 65,000 | 22 |
| 95 | 2 | Nikola Cokesa | Slovenia | 132,500 | 44 |
| 95 | 3 | Paresh Doshi | United Kingdom | 100,500 | 34 |
| 95 | 4 | Daniel Negreanu | United States | 85,000 | 28 |
| 95 | 5 | Jeff Lisandro | Italy | 287,000 | 96 |
| 95 | 6 | Daniel Ezekiel | United Kingdom | 218,000 | 73 |
| 95 | 7 | Paulius Vaitiekunas | Lithuania | 37,500 | 13 |
| 95 | 8 | Ismael Bojang | Austria | 169,500 | 57 |
| | | | | | |
| 96 | 1 | Steffen Do | Denmark | 203,000 | 68 |
| 96 | 2 | Asi Moshe | Israel | 291,500 | 97 |
| 96 | 3 | Ming Juen Teoh | Malaysia | 68,500 | 23 |
| 96 | 4 | Tomasz Panek | Poland | 102,500 | 34 |
| 96 | 5 | Sam Higgs | Australia | 81,500 | 27 |
| 96 | 6 | Patrick Petermair | Austria | 44,500 | 15 |
| 96 | 7 | Oleg Pavlyuchuk | Russia | 286,000 | 95 |
| 96 | 8 | Abelardo Hafauri | Venezuela | 131,500 | 44 |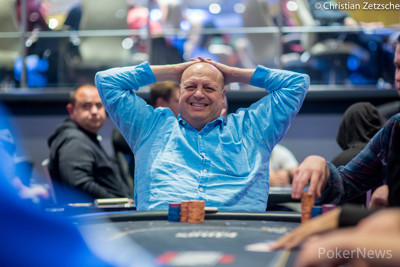 The action is set to resume at 2 p.m for Day 2 of Event #9: €1,650 Pot-Limit Omaha/No-Limit Hold'em Mix inside the Poker Arena at King's Resort in Rozvadov. There will be 56 players returning to the felt with Shahaf Nacson leading them all, bringing 436,000 chips with him.
The field returning for Day 2 contains some of the best mixed game players in WSOP history and announces plenty of action, including multiple bracelet-winners Jeff Lisandro (287,000), Jeff Madsen (238,500), Asi Moshe (292,500), Chris Ferguson (179,000) and Daniel Negreanu (85,000).
Shaun Deeb, the new leader at the top of the WSOP Player of the Year leaderboard, bagged a nice 234,000 and will be looking for another deep run in this event. Other notables still on Day 2 are Quan Zhou (327,000), Erik Cajelais (214,000), Ismael Bojang (169,500), Roland Israleshvili (99,000) and Samuel Higgs (81,500).
With 56 players remaining and with 42 being paid, the early stages will no doubt be cautious as players battle to cash in this event, who attracted a total of 279 entries yesterday, 38 more than last year, to create a prizepool of €418,500 and a nice €97,365 payday for the new champion.
As yesterday, the levels will last 40 minutes with 15-minute breaks every three levels or color-ups. There will be a 60-minute break after level 23, which should be around 8.30 p.m. The plan is to play down to a winner.
The PokerNews live reporting team will be here to bring you all of the action until a winner is crowned.

Day 2 just started with the tournament director announcing all the important details for the day. Cards are up in the air.
Niveau: 15
Blinds: 1,500/3,000
Ante: 3,000

Niveau 15 : 1,500/3,000, 3,000 ante
No-Limit Hold'em
Two players risked their tournament lives early into Day 2 and they both managed to double up.
At first, Krzysztof Jaguscik was found all in with
against Fabian Gumz who was holding
. The board ran out
and Jaguscik held his lead to stay in.
At the same time, Christopher Howden was all in with
against Jakob Madsen's
. Almost same hands is in the other hand, but a different result, since the dealer opened
on the board to give a straight to Howden.
No-Limit Holdem
Tomasz Panek raised to 7,000 under the gun and Abelardo Hafauri called in the cutoff along with Ming Juen Teoh in the blinds.
The flop gave
and it checked to Hafauri who bet 10,000. Only Panek called. The same action happened on the
turn, this time for 20,000.`
When the
, Panek checked again and faced a third barrel from Hafauri for 25,000. Oanek tanked for some time and called but only to muck as Hafauri tabled
for the nut flush.
No-Limit Holdem
In a raised pot, the flop read
and Alexandre Viard check-called a bet for 6,500 from Quan Zhou situated on the button.
On the
, both players checked and the
came on the river. Viard led out for 12,000 and Zhou let it go.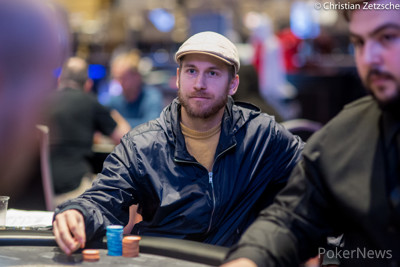 Pot-Limit Omaha
In the first of two hands, it folded to Arto Loikkanen who raised to 7,000 on the button and called a three-bet from Matthew Beck in the small blind.
The flop gave
and things heated quickly as Beck fired 54,000 and Loikkanen raised, putting Beck at risk for stack worth 81,000. Beck called to reveal the following showdown:
Matthew Beck:

Arto Loikkanen:
Loikkanen didn't hit on the
turn and
river and was left with a stack around 22,000 after that hand.
A few moments later, Loikkanen was all in with
and was against
for Ankit Ahuka, who improved his hand into a set of kings to eliminate Loikkanen.

Niveau 15 : 1,500/3,000, 3,000 ante
Pot-Limit Omaha
Two hands between Ming Juen Teoh and Asi Moshe, one pot for each of them in the four-card format. In the first one, Moshe opened to 8,000 from the small blind and Teoh three-bet the pot to 35,000 having only 16,000 behind him. Moshe potted and Teoh called.
Asi Moshe:

Ming Juen Teoh:
The board was looking
until the board and Teoh was close to the end of his day. The
on the river kept him alive as he doubled up.
A couple of hands later, Moshe took some of his chips back, when he opened from early position to 10,500 and Teoh was the only caller, on his left.
The flop came
and Teoh called a bet for 11,500.
The
came on the turn and this time Moshe bet 24,000, prompting Teoh to fold.