Event Info
| | |
| --- | --- |
| Buy-in | 6,000 MAD |
| Players | 901 |
| Joueurs Survivants | 1 |
| Tapis moyen | 18,020,000 |
| Jetons au total | 18,020,000 |
Info Niveau
| | |
| --- | --- |
| Niveau | 32 |
| Blinds | 80,000 / 160,000 |
| Ante | 20,000 |
Main Event
Jour 3 terminé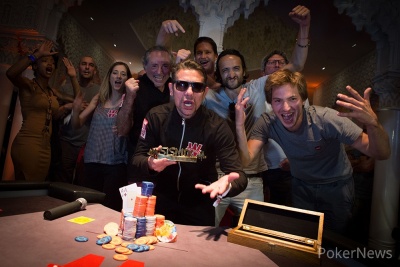 Il a fallu six heures de Table Finale pour voir émerger Bruno Lopes en tant que vainqueur de la troisième édition du Sismix. Le Team Pro Winamax succède aux Belges Davidi Kitai et Jérôme Sgorrano après un duel contre l'amateur Alexis Fleur. Kool Shen s'approche tout doucement du million de dollars de gains en carrière... magique pour le chanteur qui remporte 850 00 dirhams sans deal soit environ 79 000€.
C'est le 4e plus gros cash de l'histoire d'amour de la star avec le avec le poker. Vainqueur en 2012 des Euro Finals of Poker 5000€ Diamond Championships pour 100.000€ puis du WPT National 1650€ Cannes pour 108.000€, Kool Shen avait aussi terminé 4e du Main Event EPT Madrid pour 140.000€. Il a cette fois dominé un field de 901 joueurs, le record d'affluence pour le Sismix.
Ils étaient 22 en lice au départ de la journée de dimanche et Romain Lewis n'a mis que 2 mains à chuter en 22e position pour un gain de 3300€. Le joueur PokerStars a 3bet shove
après une ouverture d'[Removed:13] avec
et rejoint le rail après un board qui ne l'a pas aidé. Trois niveaux plus tard, ils n'étaient plus que 12 en lice et c'est le Français Alexis Fleur qui s'était installé en tête du tournoi. Il ne rendra cette position qu'en head's up face à Bruno Lopes.
La bulle de la Table Finale s'est jouée au bout de six heures de jeu, dimanche. Les 6 finalistes tricolores du Main Event à 550€ l'entrée ont ensuite eu droit à une pause dîner de 90 minutes pour profiter de leur exploit. Thomas Cazayous n'a pas eu une minute de plus puisqu'il s'incline sur la première main de la TF sur un lancer de pièce perdu contre Alexis Fleur. Cazayous remporte 122.000 dirhams soit environ 11.000€ pour sa 7e place.
Réduit à 9 blindes, Karim Benamrouche s'incline avec
contre
chez [Removed:13]. Un
au flop va le laisser croire au miracle mais une
rivière l'élimine en 6e place pour 160.000 dirhams soit presque 15.000. Malgré deux double-up de suite, Grégory Cometto met tout au mauvais moment puisqu'il se fracasse dans les
de Bruno Lopes avec
. Il termine finalement 5e pour un gain de 210.000 dirhams soit 19.500€.
La bataille à 4 joueurs va durer 90 minutes avant que Guignol ne tombe face à Kool Shen. Guignol confirme qu'il ne joue pas pour rien et ajoute une performance de plus à son palmarès. Il termine 4e pour un gain de 275.000 dirhams soit 25000€.
Sébastien Compte s'incline lui sur la 3e marche du podium après avoir tout mis de grosse blinde. Alexis Fleur avait ouvert du bouton sans voir ses cartes et Bruno Lopes placé un 3-bet de petite blinde. Fleur regarde et trouve
pour éliminer Compte qui ne peut retourner mieux que
mais repart tout de même avec 375.000 dirhams soit 34500€.
Après une petite pause, Alexis Fleur a donc débuté le duel final avec deux tiers des jetons. Le jeune membre du Club Poker a eu l'opportunité de conclure rapidement quand il s'est retrouvé avec
à tapis préflop contre les
de Kool Shen mais le sort en a décidé autrement. Un
magique est apparu au board et a relancé le chanteur, désormais en tête ! Alexis Fleur s'est alors battu comme un diable pendant 3 heures pour tenter de se refaire.
Dunke n'a rien pu faire une nouvelle fois quand son
n'a pas tenu contre le
de Bruno Lopes et termine finalement runner-up pour un gain de 585.000 dirhams soit 54.000€ environ. C'est la meilleure performance en MTT du spécialiste de cash-game.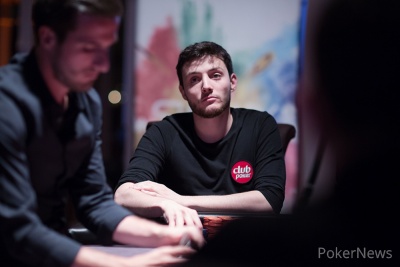 The heads-up battle between Alexis Fleur and Winamax Team Pro Bruno Lopes began with the worst hand winning and ended that way as well. Fleur, who was down low due to folding on the river a few hands ago after calling a fairly large turn-bet got it all-in preflop for his remaining 2 million chips with
against Lopes'
.
Fleur was quickly behind when the
appeared on the flop to give his opponent a pair. Lopes was able to stay ahead in the hand when the
appeared on the turn followed by the
on the river.
Alexis Fleur takes home 565,000 MAD (€53,917) for his runner-up performance while a Team Winamax pro wins the Winamax SISMIX Main Event for the second time in three years with Davidi Kitai winning the event in 2014. Last year was close with Team Winamax's Sylvain Loosli falling just short with a second place finish.
Bruno Lopes not only etches his name in the poker history books as the latest winner, but also walks away with a trophy and the top prize of 850,000 MAD (€78,341)
| | | | | | |
| --- | --- | --- | --- | --- | --- |
| Bruno Lopes | | | | 18,020,000 | 2,220,000 |
| Alexis Fleur | | | | Eliminé | |
Lopes began the hand with a standard button raise and Fleur defended. Fleur led out for 300k on a
flop and called a reraise to 900k by Lopes.
Lopes then bet 1.8 million when the action was checked to him after the
appeared on the turn. Fleur tanked, then called. Lopes then bet 2 million when the
completed the board. Fleur once again tanked, but this time around folded shipping a big pit to Lopes.
| | | | | | |
| --- | --- | --- | --- | --- | --- |
| Bruno Lopes | | | | 15,800,000 | 3,640,000 |
| Alexis Fleur | | | | 2,220,000 | -3,640,000 |
Lopes bet from the button 375,000. Fleur three-bet to 875,000. Action then got more serious with Lopes four-betting to 2,475,000 and calling Fleur's all-in five-bet to 5,800,000.
Lopes:

Fleur:
Lopes was well ahead on the
flop and even further ahead when the
appeared on the turn. However, Fleur was saved when the
completed the board with both players splitting the pot with a 7-high straight.
One small pot for Lopes, then one small pot for Fleur as the duo continues to battle.
Niveau:

32
Blinds:

80,000/160,000
Ante:

20,000
Neither player has returned to the table. The tournament director is fine with players taking as much time as they need before returning to action.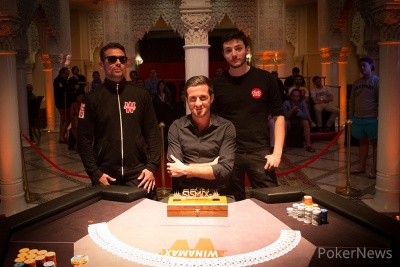 On the last hand before the 15 minute break, Fleur got it all-in with
against Lopes'
. Lopes pulled ahead in the hand when he paired his deuce on a
flop. The
completed the board bringing Fleur back close to 6 million in chips heading into the break.
Blinds go up to 80,000/160,000 with a 20,000 ante when play resumes in a few minutes.
| | | | | | |
| --- | --- | --- | --- | --- | --- |
| Bruno Lopes | | | | 12,160,000 | -3,760,000 |
| Alexis Fleur | | | | 5,860,000 | 3,760,000 |
Fleur gained some ground but then lost it and then some. The action began with Fleur raising to 260,000 amd then calling a three-bet from Lopes of 720,000.
Lopes then led out with a bet of 550,000 on the
flop and Fleur called. Lopes bet again, this time for 1,000,000 which was also called by Fleur.
Lopes checked when the
appeared on the river. Fleur then fired out for 1,500,000. Lopes called and won the hand after Fleur turned over
and Lopes exposed
.
| | | | | | |
| --- | --- | --- | --- | --- | --- |
| Bruno Lopes | | | | 15,920,000 | |
| Alexis Fleur | | | | 2,100,000 | |