Event Info
| | |
| --- | --- |
| Prize Pool | 2,470,800 MAD |
| Players | 142 |
Info Niveau
| | |
| --- | --- |
| Niveau | 27 |
| Blinds | 40,000 / 80,000 |
| Ante | 10,000 |
MAD 20,000 High Roller
Jour 2 terminé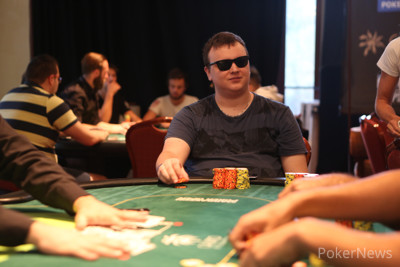 Disputé sur deux jours, le High Roller WPT DeepStacks Marrakech à 1800€ l'entrée s'est terminé très tard dans la nuit de jeudi à vendredi au Casino de Marrakech.
Les deux derniers survivants ont dealé pour environ 50 000€ et ont joué le trophée. Après un Day 2 de plus de 13 heures, c'est le Lituanien Aleksandras Voisnis qui a battu [Removed:44], qui s'était mis en évidence en terminant runner-up du High Roller du WPO Dublin (avant de faire 18e du Main Event), la semaine dernière.
Agé de 27 ans, Voisnis a connu un tournoi plutôt linéaire, montant un gros stack d'entrée. Le futur vainqueur a bien géré sa finale et remporté un 30-70 contre Johan Guilbert à 4 left. Le Team Pro PMU Poker se serait replacé directement dans le sillage de son bourreau s'il avait tenu sur ce coup là, il a finalement rejoint le rail pour un peu plus de 20 000€.
Trois joueurs avaient décidé de buy-in le tournoi juste avant l'entame du Jour 2, portant l'affluence à 142 entrants. Les participants ont généré un prizepool d'environ 222 000€ et les 17 derniers survivants se sont partagés le magot.
Mathieu Papineau s'est hissé à la 5e place du tournoi alors que Louis Linard (7e) et Anas Tadini (8e) ont atteint l'ultime table. Ludovic Moryousef (9e), Manuel Sadornil (14e), François Pirault (15e), Isabel Baltazar (16e) et Romain Lewis (17e) ont aussi fait le boulot pour au moins un min-cash à un peu plus de 3000€ (35 000 dirhams).
Présents au Jour 2, Alexandre Reard, Sonny Franco, Ricardo Manquant, Bernard Guigon, Usman Siddique et Imad Derwiche n'ont pas fait l'argent. C'est un Espagnol qui souhaite garder l'anonymat qui a échoué à la place de bubble-boy...
Le Main Event à 1200€ est à suivre sur PokerNews à partir de 13 heures, heure française.
La Finale
| Place | Joueur | Pays | Payout (MAD) | Payout (Euro) |
| --- | --- | --- | --- | --- |
| 1 | Aleksandras Voisnis | Lithuania | 550,000 | 49,500* |
| 2 | Parham Apoor | Iran | 510,000 | 45,900* |
| 3 | Diego | Spain | 300,000 | 27,000 |
| 4 | Johan Guilbert | France | 220,000 | 19,800 |
| 5 | Mathieu Papineau | France | 170,000 | 15,300 |
| 6 | Rachid Am | Morocco | 130,000 | 11,700 |
| 7 | Louis Linard | France | 100,000 | 9,000 |
| 8 | Anas Tadini | Morocco | 78,800 | 7,092 |
*deal
"You will finish second, that's still a good result," the French-speaking rail of [Removed:44] joked earlier on and indeed that's where he would finish. After giving up the next hand in heads-up, Ahoor shoved for around 650,000 and Aleksandras Voisnis snap-called from the big blind.
[Removed:44]:

Aleksandras Voisnis:
Even Voisnis jokingly cheered for the suited deuce seven of his opponent, he was as delighted about the flop of
. Ahoor picked up a flush draw with the
turn, but the
river was a blank. According to the deal the two struck before heads up started, Ahoor takes home 510,000 MAD while Voisnis receives the trophy, the bottle of Chivas and 550,000 MAD for his efforts.
The winner shots will be taken tomorrow and some sleep is now overdue before the Main Event kicks off at noon. A recap of today's action is to follow.
While [Removed:44] won the first hand of heads-up, he would take a massive hit in the second hand to see Aleksandras Voisnis get a full double. The Lithuanian three-bet all in for 2,380,000 and Ahoor called.
Aleksandras Voisnis:

[Removed:44]:
The flop of
left little hope for Ahoor to finish the tournament right there and Voisnis locked up the double with the
turn to make the
river a formality. Ahoor dropped to fewer than 12 big blinds as a result.
Both remaining players agreed to a deal and left 60,000 Dirhams as well as the winner's trophy and bottle of Chivas up for grabs. There is also a trophy for the second place finisher, albeit not as shiny.
Below are the deal numbers:
[Removed:44]: 510,000 MAD
Aleksandras Voisnis: 490,000 MAD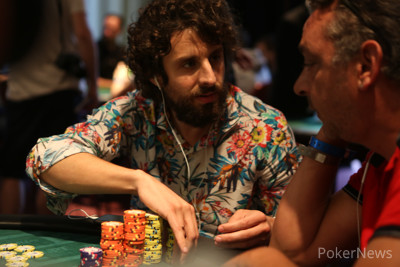 [Removed:44] limped in from the small blind and Rati Vale Il Dieko shoved for what appeared to be 800,000. Ahoor snao-called and his rail jumped out of their seats to check the showdown.
Rati Vale Il Dieko:

[Removed:44]:
"Come on," Ahoor said before the flop fell
to give the Spaniard the lead. "Give me a queen," Ahoor demanded and his wish was immediately granted with the
turn. A blank
river let the French-speaking rail celebrate and Il Dieko was eliminated in 3rd place for 300,000 MAD.
Both remaining players asked for a brief break to look into possible ICM numbers right after.
In a battle of the blinds, Rati Vale Il Dieko bet the flop of
and Aleksandras Voisnis called from the big blind. The
turn was checked before the Spaniard bet the
river for 240,000. Voisnis called and Il Dieko showed
for a busted straight draw. Voisnis claimed the pot with
and let out a loud "vamosss."
The next hand, the Lithuanian shoved the small blind and [Removed:44] checked his big blind before announcing a quick call.
[Removed:44]:

Aleksandras Voisnis:
The flop of
gave Voisnis a gutshot along with his two live cards, but the
turn and
river were of no help to let Ahoor double for 1,100,000.
Rati Vale Il Dieko limped the small blind, having won a pot one orbit ago in the same spot against Aleksandras Voisnis. The latter checked from the big blind and there was no betting action on the
flop either. On the
turn, Il Dieko bet 140,000 and that forced a fold.
Voisnis limped the next small blind and [Removed:44] checked. The flop came
and a bet of 85,000 by Voisnis won the hand right there.
Niveau:

27
Blinds:

40,000/80,000
Ante:

10,000
[Removed:44], not vice versa, was in the big blind and checked his option to a limp of Aleksandras Voisnis in the small blind. On the
flop both players checked and Voisnis bet the
turn for 65,000, which Ahoor called. The
river was checked and Voisnis turned over
for a bluff and Ahoor won the pot with
.