Miles Busts Cada, Rises to Lead Over Cynn and Short-Stacked Dyer
Niveau 40 : 800,000-1,600,000, 200,000 ante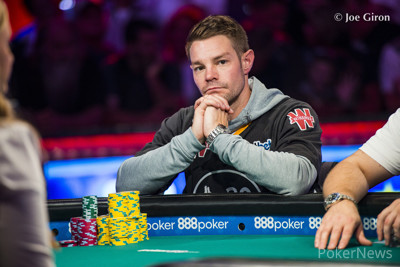 Just three contenders remain in the hunt for $8.8 million and a place in poker history as the 2018 World Series of Poker Main Event champion: Tony Miles, John Cynn and Michael Dyer.
Those three outlasted Aram Zobian, Nicolas Manion and 2009 Main Event champ Joe Cada on what proved to be a wild day in which the chip counts and final standings look nothing like where they started about seven hours earlier.
Whereas it looked like Dyer might run away with things a la Joe McKeehen in 2015 — he came in with about 40 percent of the chips in play — he's now been reduced to the short stack after a downhill slide that saw him bag just 26.2 million, good for only 16 big blinds.
Instead, it's Tony Miles who has risen from fourth place to finish the day with a sizable edge, racing out ahead of his final two competitors and bagging 238.9 million; about 60 percent of the total chips.
"It's indescribable," Miles said of bagging the lead with just three players remaining. "It's a dream come true. It's truly magical."
Cynn rounds out the field with 128.7 million.
Final Three Players
| Seat | Player | Country | Chip Count | Big Blinds |
| --- | --- | --- | --- | --- |
| 1 | John Cynn | United States | 128,700,000 | 80 |
| 2 | Tony Miles | United States | 238,900,000 | 149 |
| 5 | Michael Dyer | United States | 26,200,000 | 16 |
The story dominating headlines coming in, Cada's attempt to win an unprecedented two post-boom Main Event titles, ended about 30 hands into Day 9 at the hands of Miles. With five players left — Zobian fell victim to Dyer early on — Cada opened for 2.2 million under the gun at 500,000/1,000,000/150,000 and Miles three-bet it to 6.9 million on the button. Cada, who repeatedly showed a willingness to put his stack at risk leading into and during Day 9, shoved for 47.65 million.
Miles went into what looked to be a pained thinking process before he found the call button with ace-king. Cada rolled over pocket tens and the race was on. The hallmark of Cada's 2009 final-table run was his ability to win preflop all ins with pocket pairs, often times against bigger ones, but the flip wouldn't go his way. Miles flopped a king, much to the delight of a rail that ranked as easily the most raucous in the house.
"I didn't think that he would be shoving that wide," Miles said of the hand. "I thought that he would be flatting a lot of stronger hands just because of some things that I was taking into consideration. We are playing for a lot of money and there's a lot of pressure, so I just wanted to take my time and get the decision right."
After fading the turn and river, Miles suddenly found himself over 100 big blinds and within striking distance of Dyer. A lead that seemed insurmountable melted away when three players saw a king-four-three flop, with Miles holding a set of threes. He bet when checked to and Dyer raised to 14.3 million. He barreled again for 21.4 million on a five turn and then check-called a big bet of 27 million when the king paired on the river.
The stream would later show Dyer had flopped bottom two pair.
Dyer reclaimed his lead a bit later but then paid off two streets to Miles when the latter made aces full on a double-paired board and bet the river big. Dyer also got unlucky when he couldn't fade a flush draw that Manion jammed on the flop.
The start-of-day leader couldn't do anything with those chips though, following his fellow Michigan native Cada to the payout desk when he ran ace-ten into Cynn's kings.
That meant bagging time for the final three. There remains just over 50 minutes in Level 40 (800,000/1,600,000/200,000). The players will return at 5:30 p.m. local time on Saturday and play until the face that will adorn the next banner is the only one left.
Miles and his rowdy rail have positioned themselves for the party of a lifetime if he can finish the job.
"Those people are my heart," he said. "It means the world to me to be able to come out here and show them what we work so hard for all the time. My dad's always asked me, 'Why do you play tournaments? Why don't you just stick to cash games?' and I'm always telling him one day you could win life-changing money."
"It's a dream come true, I'm truly blessed and I'm honored to be here."
Miles still has two more opponents to get through, though, and the poker world's collective eyes will be trained on the final day of poker's biggest tournament on Saturday to see who emerges as champion.
Sarah Herring talked to Miles and Cynn after play.
Final Table Payouts Thus Far
| Place | Player | Country | Prize |
| --- | --- | --- | --- |
| 1 | | | $8,800,000 |
| 2 | | | $5,000,000 |
| 3 | | | $3,750,000 |
| 4 | Nicolas Manion | United States | $2,825,000 |
| 5 | Joe Cada | United States | $2,150,000 |
| 6 | Aram Zobian | United States | $1,800,000 |
| 7 | Alex Lynskey | Australia | $1,500,000 |
| 8 | Artem Metalidi | Ukraine | $1,250,000 |
| 9 | Antoine Labat | France | $1,000,000 |