Event #65: $10,000 No-Limit Hold'em MAIN EVENT - World Championship
Jours 3
Event #65: $10,000 No-Limit Hold'em MAIN EVENT - World Championship
Jour 3 terminé
Niveau 16 : 3,000-6,000, 1,000 ante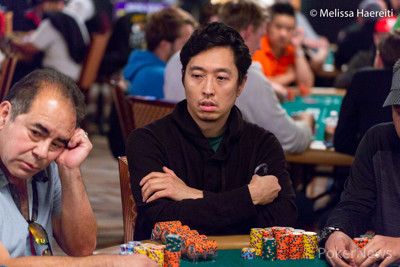 Day 3 of the 2018 World Series of Poker (WSOP) Main Event has come to a conclusion with the remaining players all heading home assured of an in-the-money finish and a guaranteed $15,000 payday.
Following three Day 1 flights, and two Day 2 flights, just 2,786 players remained in the Main Event, and for the first time they would all combine to play together here on Day 3. Everyone's eyes would be on reaching the money-reaching final 1,182, but that would be easier said than done as over half of the players would need to be eliminated throughout the day for that to occur.
With players located across three separate rooms, action would be intense to start the day as a plethora of eliminations began the table-breaking process. Jason Mercier, Parker Talbot, Greg Merson, Matt Waxman, Matt Berkey, JC Tran, Loren Klein, Phil Hellmuth, Eli Elezra, Erick Lindgren, Tom Marchese, and Steffen Sontheimer were just a handful of the big names falling short of the money.
For Hellmuth (pictured below), his day would be spent at the feature table where he was catching plenty of heat from players and fans. In the end, Hellmuth would see his tournament come to an end at the hands of Jans Arends. Hellmuth's ace-king was up against Arends' ace-nine, but when the dealer peeled off a nine on the river Hellmuth would be eliminated from the Main Event.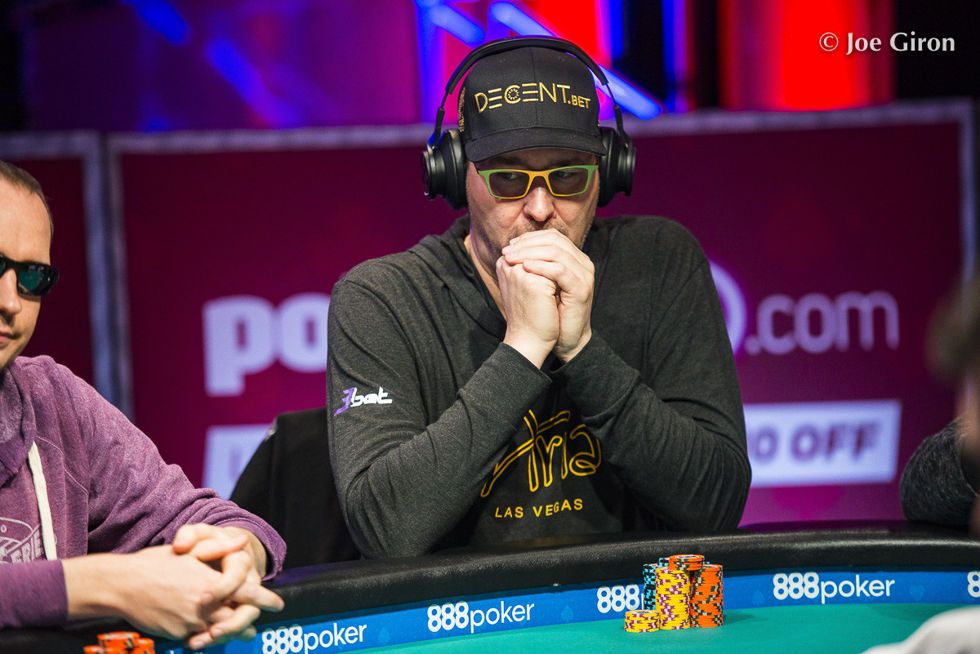 As the day progressed, several players began making their run up the chip leaderboard. Frankie Flowers was having the time of his life in the Brasilia Room laughing with players and having a great time all the while he continued to accumulate chips. Eventually, Flowers would be moved to the feature table, and then into another section of the Amazon Room where a monster hand occurred that saw him crack aces with tens, while also doubling a short stack up who made quads.
However, the true story of the day would be the bubble bursting in the Main Event. With an hour remaining in the final level, the players were sent on an impromptu break as the WSOP staff relocated every player into the Amazon Room for the first time during the tournament. From there, a further 22 eliminations needed to occur until the bubble burst, and once play resumed, the eliminations occurred at a slower rate than before. Hand-for-hand play was finally reached with just over one minute remaining in the level, and in the day.
On the first hand of the hand-for-hand process, there were three all-ins for the players for the crowd to sweat. Gerard Cassis found a double holding kings against queens, before Paul Volpe and Ryan Messick chopped with aces. The third hand, however, would see Sam Taylor's trip aces cut down by Chi Chan's full house, and the Main Event would be on the stone bubble and then be sent on a 20-minute break for the color-up of the blue 500-denomination chips.
On the first hand after the break, two all-ins would occur. Ross Mallor would find himself all in holding ace-king against Ben Cade's queens, and when he flopped a king and turned an ace, Mallor would double.
Unfortunately for Matthew Hopkins (pictured below), he wouldn't be so lucky when over on the feature table he was all in with ace-five against Bryce McVay's ace-queen. Both players paired their ace on the run out and Hopkins would be crowned the Main Event bubble boy; but in the process receive an entry into the 2019 WSOP Main Event.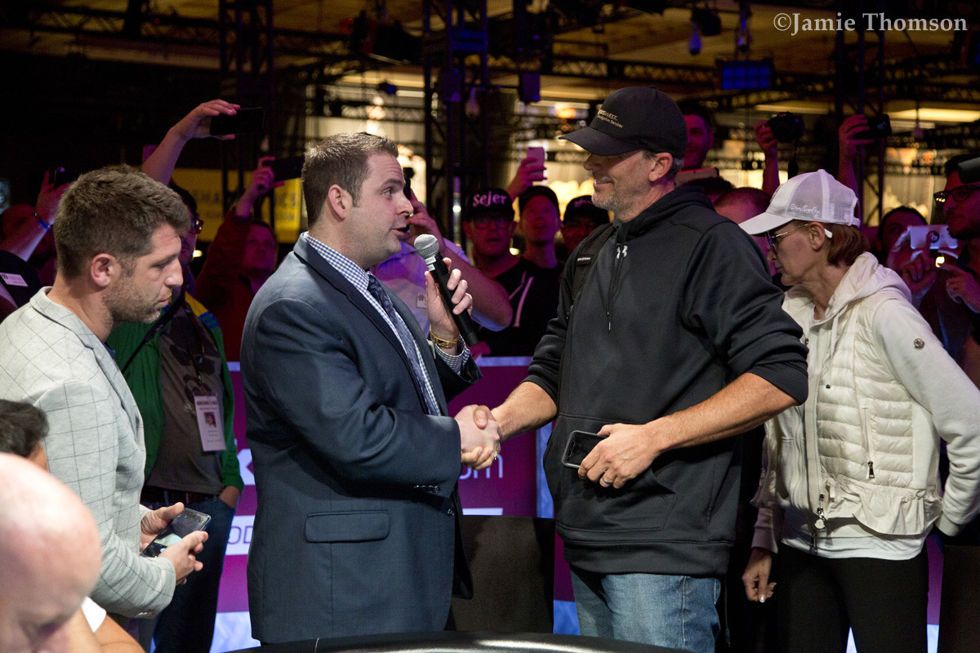 With Hopkins on the rail, the remaining 1,182 players were in the money and guaranteed a $15,000 payday as play would officially be concluded for Day 3. Leading the remaining players into Day 4 is In Sun Geoum who, courtesy of an aces-versus-kings confrontation, rocketed up the leaderboard and retained his position to end with 1,696,000 in chips. Flowers is snapping at his heels with 1,624,000, while Samuel Bernabeu (1,418,000), Michael Lavenburg (1,356,000), and Julius Malzanini (1,292,000) round out the top five.
Play is set to resume for Day 4 on Sunday, July 8, at 11am (PDT) with the PokerNews Live Reporting Team providing all the continuous live updates. So stay tuned to PokerNews.com for continued coverage of the Main Event, and the remainder of the 2018 WSOP schedule.
Niveau 16 : 3,000-6,000, 1,000 ante
Joueur
Jetons
Progression

In Sun Geoum

1,696,000

Frankie Flowers

1,624,000

Alexander Wong

1,431,000

1,130,300

Samuel Bernabeu

1,418,000

Eric Sfez

1,390,000

838,100

Michael Lavenburg

1,356,000

Julius Malzanini

1,292,000

Alexandro Tricarico

1,289,000

89,000

Kaylen Lebaron

1,284,000

44,000

Eric Froehlich

1,235,000

Farukh Tach

1,224,000

Eric Hicks

1,200,000

Adam Geyer

1,191,000

Konstantin Beylin

1,190,000

71,000

Anthony Marsico

1,164,000

Oliver Weis

1,156,000

Krasimir Yankov

1,139,000

Jake Toole

1,128,000

Jeff Banghart

1,106,000

761,100

Daniel Engels

1,102,000

974,300

Martial Blangenwitsch

1,100,000

949,200

Brad Albrinck

1,086,000

838,500

Daniel Merrilees

1,080,000

666,800

Cory Albertson

1,075,000

Andres Jeckeln

1,056,000

Niveau 16 : 3,000-6,000, 1,000 ante
The full chip counts of all 1,182 survivors will be published when PokerNews receives them and a recap of today's action is to follow.
Joueur
Jetons
Progression

In Sun Geoum

1,696,000

16,000

Frankie Flowers

1,624,000

Samuel Bernabeu

1,418,000

153,000

Michael Lavenburg

1,356,000

606,000

Julius Malzanini

1,292,000

187,000

Eric Froehlich

1,235,000

-15,000

Farukh Tach

1,224,000

134,000

Eric Hicks

1,200,000

291,000

Adam Geyer

1,191,000

211,000

Anthony Marsico

1,164,000

364,000

Oliver Weis

1,156,000

919,300

Krasimir Yankov

1,139,000

229,000

Jake Toole

1,128,000

78,000

Konstantin Beylin

1,119,000

-31,000

Cory Albertson

1,075,000

170,000

Andres Jeckeln

1,056,000

256,000

Ben Yu

1,040,000

135,000

Ernest Smith

1,019,000

778,400

Samuel Touil

1,013,000

223,000

Jeffrey Benhart

1,005,000

-14,500

Blake Battaglia

981,000

777,000

Chris Moorman

969,000

18,000

Ambassador

Govert Metaal

962,000

Jan Mach

950,000

110,000

Dan Heimiller

945,000

125,000
Niveau 16 : 3,000-6,000, 1,000 ante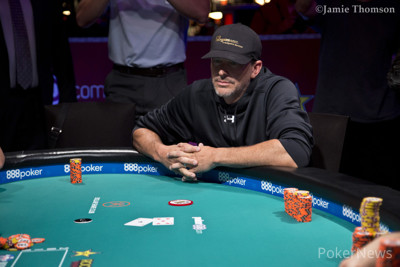 Bryce McVay raised to 15,000 from middle position, Matthew Hopkins reraised all in for 49,000 from the button and McVay called.
Once the other all-in and call took place, the hands were revealed.
McVay tabled
, dominating the
held by Hopkins.
The flop came down
, providing little help to Hopkins. The turn was the
, leaving Hopkins with just three outs to survive. The river was the
, locking up pot for McVay and sending the remaining 1,182 players into the money.
It's not a complete loss for Hopkins, though, as he will receive a $10,000 entry into the 2019 World Series of Poker Main Event.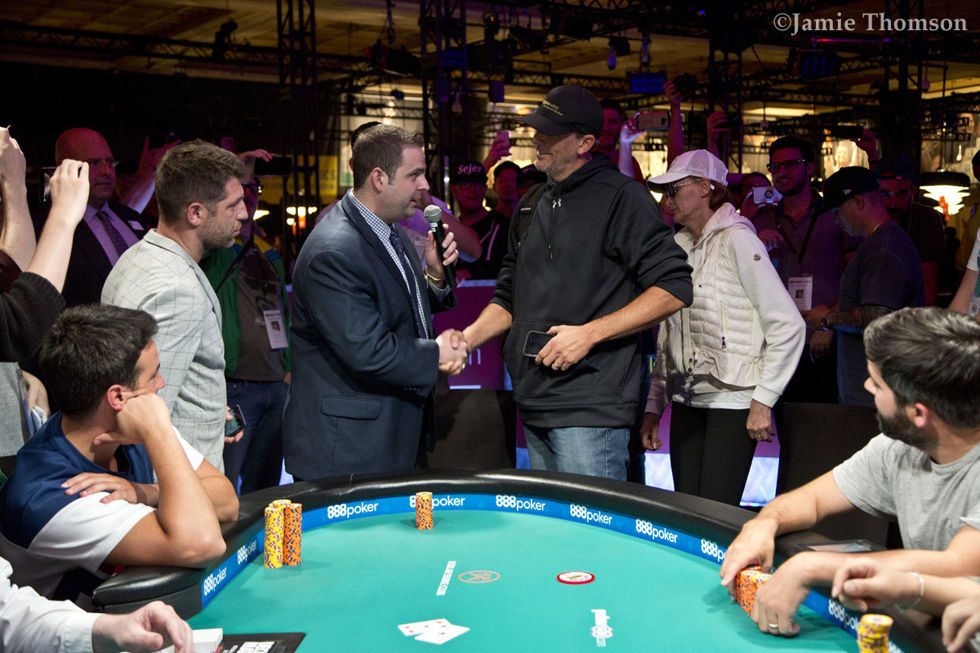 Niveau 16 : 3,000-6,000, 1,000 ante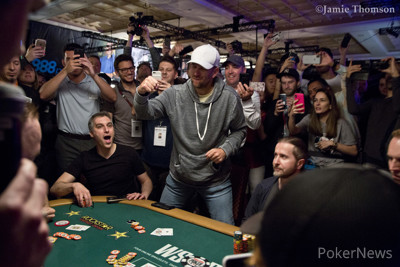 The player in mid-position raised to 12,000 and Ben Cade three-bet to 40,000 from the button. Ross Mallor was sitting in the big blind with 51,000 and was in the tank trying to figure out what to do. After a while, Mallor shoved. The initial raiser folded and Cade called.
The ESPN TV crew and the rest of the media that is covering the WSOP Main Event swarmed the table. So did a bunch of players who were curious enough to see what was happening. There were also two other tables with all-ins and calls, Jack Effel came over to announce the action.
Ross Mallor:

Ben Cade:
The board ran out
to give Mallor a pair of kings on the flop and two pair on the turn. A diamond on the river would have split the pot, a ten on the river would mean that Mallor would be eliminated.
The
on the river meant that Mallor would double up and he high-fived his neighboring player and celebrated loudly.
Niveau: 16
Blinds: 3,000/6,000
Ante: 1,000
Niveau 15 : 2,500-5,000, 500 ante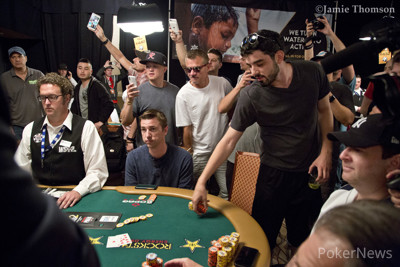 With about 100,000 chips in the middle and the board reading
, Sam Taylor was in the big blind and facing a decision for the remainder of his approximately 150,000-chip stack from Chi Chan, who was in the hijack. Taylor went into the tank for several minutes until tournament staff arrived at the table and gave him half a minute to act. As the final seconds ticked down, Taylor moved some T-1,000 chips forward to call and put himself at risk.
Once the cards were turned over, it was Chan who had the winner with
for aces full of threes. Taylor showed
for trip aces and Chan took the pot to eliminate Taylor, bringing the 2018 Main Event to the stone bubble.
The tournament went on break immediately following the conclusion of the hand to the obvious displeasure of the remaining players. The Amazon room was filled with the sound of booing as they began to file out of the exits. The light blue T-500 chips were colored up during the break to make the bagging process quicker.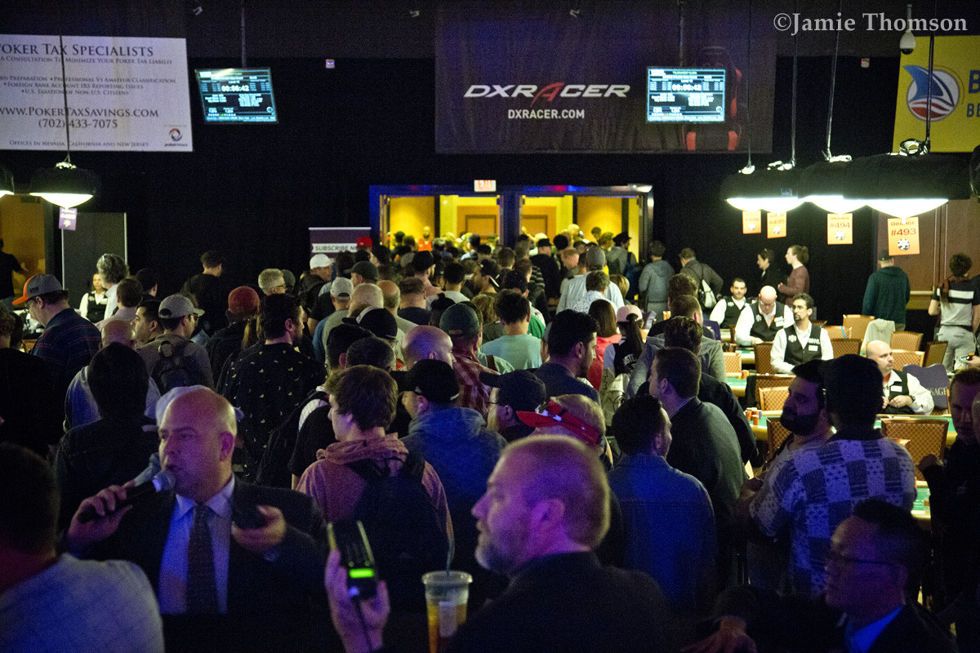 Niveau 15 : 2,500-5,000, 500 ante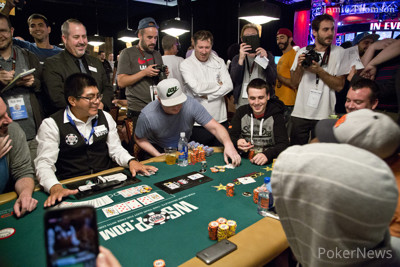 The second hand on the money bubble was a big one and it ended up in a spectacular split pot.
Ryan Messick had raised to 13,000 and Paul Volpe in the small blind clicked it up to 48,000. Messick made it 150,000 to go and Volpe moved all in, Messick called it off for 526,000.
Ryan Messick:

Paul Volpe:
The
flop gave some back door outs, but the
turn and
river locked up the split pot.

Niveau 15 : 2,500-5,000, 500 ante
The hand-for-hand play had begun, and on Farid Jattin's table, the board was down
. Jattin was up against two opponents, and he bet 21,500 from the big blind. One of his opponents raised to 76,000 and the player on the button folded.
Jattin thought for several minutes as a crowd gathered. Every other table in the Amazon room had finished their play by the time Jattin pushed a stack of orange chips worth around 110k into the middle to signal a raise on top of his previous bet.
Jattin's opponent thought for close to 30 seconds before he folded and the former tabled
for seven high.