Event #60: $888 Crazy Eights No-Limit Hold'em 8-Handed
Jours 1b
Niveau: 11
Blinds: 600/1,200
Ante: 200

Niveau 10 : 500/1,000, 100 ante
As the field dwindles, only five tables remain in Amazon Purple, and the rest of the players are in Amazon Orange. Of the 1,664 total entries in Flight B, only 392 players remain.
Four-time bracelet winner Max Pescatori is still in, sitting around twice the starting stack.
Andres Herrera has been doing some work and has crossed the 100,000-chip mark, closing in on Arturs Daugis.
Joueur
Jetons
Progression

Andres Herrera

109,000

109,000

Megan Thomson

45,500

17,500

Ben Yu

40,400

33,200

John Racener

39,500

28,300

Ebony Kenney

38,000

8,500

Jon Turner

37,500

37,500

Tyler Patterson

34,000

24,100

Peter Eichhardt

29,000

21,000

Todd Witteles

24,500

-22,200

Alex Rocha

24,300

24,300

Bart Hanson

21,000

10,300

Alex Foxen

19,500

-8,500

Loren Klein

18,000

18,000

Ray Henson

17,500

1,500

Max Pescatori

14,500

14,500

Andy Black

14,500

14,500

Aaron Massey

14,000

Roland Israelishvili

13,800

13,800

Joseph Cheong

7,000

7,000
Niveau: 10
Blinds: 500/1,000
Ante: 100

Niveau 9 : 400/800, 100 ante
With more than 2,300 in the middle and the board reading
, Ryan Laplante bet 1,100, and Romain Lewis called in the big blind. On the
turn, Laplante bet 2,700, and Lewis called. The river was the
, and Laplante bet 5,800. After a long pause, Lewis went all in for 18,600 and Laplante tank-folded.
Lewis let him pick one, and Laplante turned over the
.

Niveau 9 : 400/800, 100 ante
Flight A ended with 1,506 entries, and 58 players made it through to Day 2. A total of 168 players were paid out in Flight A today. Seville Hale bagged the chip lead in that flight, setting the pace with a stack of 713,000. A full recap of Flight A can be found here.
Registration closed on Flight B with 1,664 total entries. That brings the total to 3,170 entries so far, with two more flights to go.
Niveau: 9
Blinds: 400/800
Ante: 100

Niveau 8 : 300/600, 75 ante
Below are some additional counts from Amazon Purple.
Players in Flight B are currently on a 20-mintue break. The 25-denomination chips are being colored up, and registration will close at the end of the break.
Joueur
Jetons
Progression

Tony Sinishtaj

25,000

6,500

James Salmon

23,000

11,000

Loni Harwood

20,100

20,100

Ben Keeline

19,000

7,500

Tristan Wade

19,000

19,000

Todd Witteles

17,500

150

Aaron Johnson

17,000

2,500

Robert Cote

15,600

7,600

Mandy Baker

13,500

8,300

Steve Karp

13,000

7,800

Niveau 8 : 300/600, 75 ante
A player in middle position raised to 1,500, and he was called by both the small blind and Arturs Daugis in the big blind.
On the
flop, the blinds checked, and the preflop raiser continued for 5,000. The small blind folded, and Daugis check-raised to 16,500. His opponent called. The turn was the
, and Daugis led out for 23,450. His opponent thought for a little while and folded his hand.
Daugis is at the top of the counts, closing in on 100,000 chips.

Niveau 8 : 300/600, 75 ante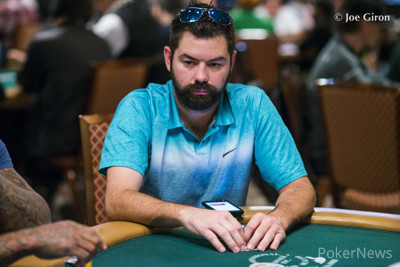 Tyler Patterson open-shoved all in for 3,100 in late position, and the player in the small blind re-shoved. The big blind called all in for 10,700, and the hands were tabled.
Patterson:

Small blind:

Big blind:
Patterson chuckled when all the cards were shown, and the board ran out
. Patterson flopped a pair of eights and held up to triple up, and the big blind won the side pot.

Niveau 8 : 300/600, 75 ante
There are 1,621 entries in Flight B so far, with registration open until the end of this level.
Joueur
Jetons
Progression

Megan Thomson

28,000

9,500

Shannon Shorr

28,000

28,000

Cole Jackson

20,600

20,600

Nadya Magnus

18,000

10,000

Scott Davies

14,600

4,600

Kenny Hallaert

13,700

9,000

Safiya Umerova

10,000

10,000

Ryan Belz

9,500

500

Michael Lech

8,800

8,800

J.C. Tran

7,500

7,500

Martin Staszko

7,000

-1,000

Naoya Kihara

6,100

6,100