Sponsorisé par:

Event Info
| | |
| --- | --- |
| Prize Pool | $1,261,239 |
| Players | 154 |
Info Niveau
| | |
| --- | --- |
| Niveau | 27 |
| Limites | 200,000 / 400,000 |
| Ante | 0 |
Event #9: $10,000 Omaha Hi-Lo 8 or Better Championship
Jour 4 terminé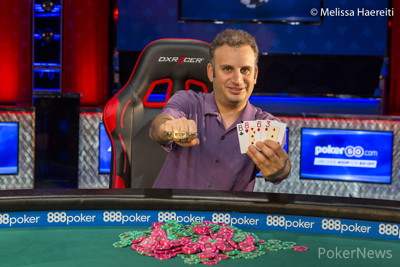 Avec 5,1 millions de jetons sur les blindes 200,000/400,000, contre 2,6 millions à Daniel Negreanu, Abe Mosseri était en bonne position à l'entame d'un Jour 4 additionnel sur l'Event #9 WSOP Pot Limit Omaha Hi-lo Championship à 10.000$ l'entrée. Huit ans après son premier bracelet, il n'aura fallu que quatre mains à l'Américain pour finir le travail.
"Avec des blindes si hautes il fallait jouer toutes les mains et celui qui aurait les cartes allait gagner. Hier nous avons tous les deux eu notre chance mais je l'ai matraqué aujourd'hui", a expliqué le joueur de New York qui ne jouera que quelques Championship d'ici la fin de festival. "Ma maison c'est la Bobby's Room! C'est un sentiment génial (d'être un double vainqueur WSOP)" a terminé cet amoureux des variantes qui compte tout de même plus de 2 millions de dollars de gains en carrière.
Toujours bloqué à 6 bracelets WSOP malgré deux podiums en une semaine, Daniel Negreanu a consacré quelques minutes à PokerNews avant de filer jouer le Heads Up Championship à 10.000$ : "La première main a été décevante ! Je trouve
. Très puissant et le flop n'a pas été bon mais il y avait beaucoup de bonnes turns. Là il a fait couleur et j'ai réalisé un bon fold. Je n'ai pas gagné une main, sur la dernière donne je pouvais encore gagner mais je savais bien que cela pouvait aller dans un sens ou dans l'autre. Il faut avoir de la réussite à ce point", a jugé Negreanu.
"J'ai étudié le jeu, cela veut dire que je suis plus pointu dans des spots closes et les situations marginales. Il faut faire les bons trucs. [...] J'ai du faire le Jour 2 sept nuits sur huit depuis mon arrivée. C'est ce que je cherchais et c'est pour cela que je me suis bien préparé physiquement pour gérer la fatigue", a ajouté un Negreanu confiant.
"Une semaine comme ça c'est une bonne rampe de lancement pour le classement de Joueur de l'Année WSOP. Je me sens prêt", a ajouté le Team Pro PokerStars.
Le Jour 3 avait été ajourné après 10 niveaux d'une heure dont 5 heures de plan à 3. Fabrice Soulier a terminé 4e de sa 10e table finale pour un gain à 6 chiffres lors d'un tournoi qui a vu Mike Matusow (8e) et John Monnette (9e) atteindre la finale.
WSOP Event #9
| Position | Joueur | Pays | Prix |
| --- | --- | --- | --- |
| 1 | Abe Mosseri | United States | $388,795 |
| 2 | Daniel Negreanu | Canada | $240,290 |
| 3 | Yarron Bendor | United States | $166,895 |
| 4 | Fabrice Soulier | France | $118,340 |
| 5 | Ilya Dyment | United States | $85,702 |
| 6 | Ray Dehkharghani | United States | $63,419 |
| 7 | Anthony Zinno | United States | $47,975 |
| 8 | Mike Matusow | United States | $37,120 |
| 9 | John Monnette | United States | $29,391 |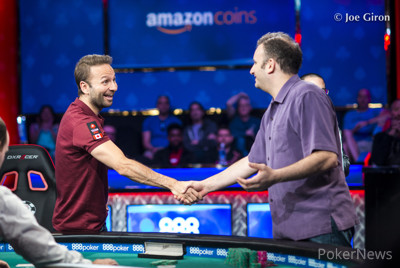 Daniel Negreanu limped and Abe Mosseri checked.
On the
flop, Mosseri bet and Negreanu folded, which left him with 750,000.
In the next hand, Mosseri raised and Negreanu called.
On the
flop, Negreanu bet, Mosseri raised, and Negreanu called all in.
Negreanu:

Mosseri:
The board ran out
and
and Mosseri's two pairs bested Negreanu's who was eliminated.
Abe Mosseri raised preflop and Daniel Negreanu called.
The flop came
and Negreanu bet and Mosseri called.
The turn was the
and Negreanu bet and Mosseri called.
The river was the
and both players checked.
"I flopped two pair," said Negreanu. "Queen-ten."
Negreanu showed
, but Mosseri had a better kicker for his two pairs with
Daniel Negreanu raised and Abe Mosseri called.
The flop came
and Mosseri bet. Negreanu called. The turn was the
and Mosseri bet again.
"You know what I was saying about monster hands?" said Negreanu, showing
. He mucked and Mosseri took down the early pot.
Niveau:

27
Limites:

200,000/400,000
Ante:

0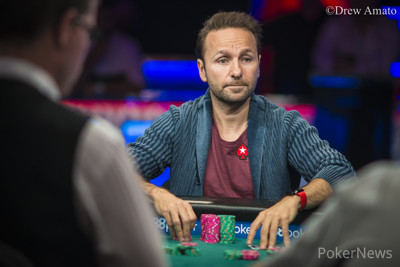 The stage is set for one of the most eye-catching heads-up battles in recent years, as six-time WSOP bracelet winner Daniel Negreanu looks to make it a magnificent seven in Event #9: $10,000 Omaha Hi-Lo 8 or Better. Standing in his way is American Abe Mosseri who holds about a 2-to-1 chip lead at present, but with both players short relative to the blinds, you get the feeling it might not take long when play resumes at 3 p.m.
Today's unscheduled fourth day of play was needed to separate the pair after an extended day's play yesterday failed to find a winner. A topsy-turvy final table saw the likes of John Monnette, Mike Matusow, Anthony Zinno, Ray Dehkharghani and Fabrice Soulier all come up short in their search for a bracelet.
Three-handed play between the aforementioned Negreanu, Mosseri and Yarron Bendor lasted a brutal five-and-a-half hours without an elimination, before Bendor was knocked out by Negreanu.
When Negreanu and Mosseri return today the limits will be 200,000/400,000 with the stacks looking as follows:
| Name | Country | Chip Count |
| --- | --- | --- |
| Abe Mosseri | United States | 5,135,000 |
| Daniel Negreanu | Canada | 2,575,000 |
And here are the results for the rest of the final table so far:
| Position | Name | Country | Prize Money |
| --- | --- | --- | --- |
| 3 | Yarron Bendor | United States | $167,979 |
| 4 | Fabrice Soulier | France | $119,109 |
| 5 | Ilya Dyment | United States | $86,259 |
| 6 | Ray Dehkharghani | United States | $63,831 |
| 7 | Anthony Zinno | United States | $48,287 |
| 8 | Mike Matusow | United States | $37,361 |
| 9 | John Monnette | United States | $29,582 |
Event #9: $10,000 Omaha Hi-Lo 8 or Better Championship
Jour 4 a débuté