Niveau 27 : 30,000/60,000, 60,000 ante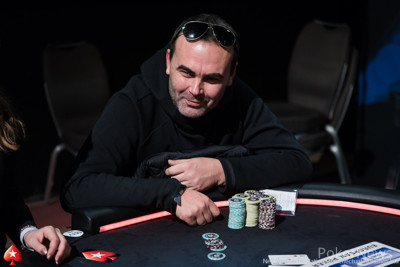 Le PokerStars European Poker Tour Prague 2018 bat son plein au casino Hilton depuis le week-end dernier. Premier temps fort du festival,l'EPT National à 1100€ a souri aux Français, 31 d'entres eux se sont glissés dans les 373 places payées avant de partir à l'assaut du Jour 2 de lundi.
Alors que le Jour 3 se profile mardi, ils sont encore deux à viser les 382,750€ réservés au vainqueur. Présent aux avant-postes toute la journée de lundi, Jean-Noël Thorel a terminé la journée dans le Top 3. Avec 5,9 millions de jetons, il est à la poursuite du Norvégien Preben Stokkan (7,7 millions) et du Bulgare Iliya Iliev (8,8 millions) qui était déjà en tête à l'issue des trois journées de départ qui ont généré un field de 2486 entrants et un prizepool de plus de 2,4 millions.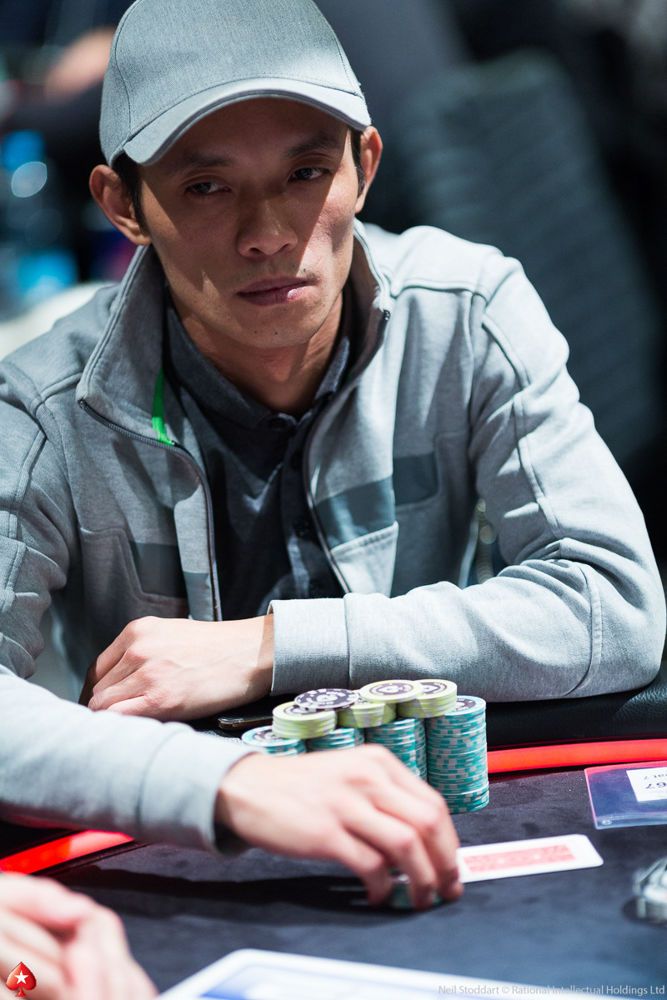 Moins connu, Ut Tam Vo (en photo) a réalisé quelques résultats dans le Sud de la France et tient sa première opportunité à l'international. Assuré d'un gain de 8,930€ comme les 30 survivants du tournoi, le tricolore va doubler ses résultats en carrière et peut rêver d'un gros coup avec 2,5 millions de jetons soit la moyenne et une 11e place au classement provisoire.
L'Américain Bryan Paris (2 millions), l'Italien Walter Treccarichi (1,5 millions) ou le Roumain Florian Duta (945 000) comptent bien jouer les trouble-fêtes à partir de midi pour cette avant dernière journée de compétition. La partie reprendra avec 53 minutes à jouer dans le niveau 30,000-60,000 (big blind ante 60,000) et PokerNews sera au plus près de l'action.
Finalement 32e (pour 7,560€), Laurence Fleury a elle raté le Jour 3 d'un rien alors qu'Arthur Conan, Ivan Deyra, Thierry Delpui et Alexandre Reard se sont glissés dans le Top 100 du tournoi. Kimmo Kurko, Atanas Kavrakov, Scott Margereson et le vainqueur de l'EPT Prague 2016 Jasper Meijer Van Putten ont aussi cru pouvoir s'offrir une grosse performance. Ils devront tous se concentrer sur les prochains tournois et notamment le High Roller EPT National à 2200€ qui débute mardi.
On to day 3 with 2.06m at 30k/60k. 31 remain, 382k first! Resumes tomorrow

— Bryan Paris (@bparispoker)
Victor Choupeaux, Giuliano Bendinelli, Jonathan Roy, Ricardo Graells, Ari Engel, Parker Talbot ou encore Gaëlle Baumann devraient en être après avoir ajouté une ligne à leur palmarès aussi sur cet EPT National...
| | |
| --- | --- |
| *Place | Prix (EUR) |
| 1er | €382,750 |
| 2e | €204,200 |
| 3e | €138,400 |
| 4e | €106,600 |
| 5e | €89,000 |
| 6e | €71,800 |
| 7e | €54,800 |
| 8e | €39,700 |
Classement (sélection)
31 Aleksander Boski €8,930
32 Laurence Fleury FR €7,560
45 Ivan Deyra fr €6,210
49 Arthur Conan fr €6,210
53 Kimmo Kurko fi €6,210
55 Atanas Kavrakov bg €6,210
61 Scott Margereson gb €4,880
67 Thierry Delpui €4,880
68 Jasper Meijer Van Putten nl €4,880
69 Harry Lodge gb €4,880
77 Alexandre Reard fr €4,090
78 Mihai Manole ro €4,090
85 Jan-Eric Schwippert de €4,090
93 Martin Finger de €4,090
105 Christophe Devaux €3,480
111 Fouad Zouiten €3,480
114 Alain Patry FR €3,480
115 Sofia Lovgren se €3,480
123 William Kassouf gb €2,900
134 Sebastian Malec pl €2,900
160 Jacques Torbey €2,570
167 Vojtech Ruzicka cz €2,570
168 Jimmy Lefebvre FR €2,570
173 Dimitar Danchev bg €2,570
174 Pascal Sven Baumgartner €2,570
175 Martin Kabrhel cz €2,570
179 Dalle Joseph FR €2,570
184 Benjamin Chalot fr €2,300
185 Saar Wilf il €2,300
190 Matti Konttinen €2,300
200 Gael Dirig FR €2,300
211 Alexandre Viard fr €2,300
214 Parker Talbot ca €2,300
215 Krasimir Yankov bg €2,300
216 Mykhailo Gutyi ua €2,300
217 Gaelle Baumann fr €2,300
231 Jeremy Davenne FR €2,040
232 Ari Engel ca €2,040
249 Marcin Wydrowski pl €2,040
254 Mehdi Violleau FR €2,040
258 Palot Samuel FR €2,040
268 Giuliano Bendinelli it €1,820
292 Pierrick Burban fr €1,820
306 Ricardo Graells ch €1,820
309 Meddi Ferrah fr €1,820
311 Guillaume Marcellesi FR €1,820
321 Victor Choupeaux fr €1,820
323 Antoine Labat fr €1,820
328 Gauthier Brugnooge FR €1,720
331 Fournier Eric €1,720
339 Boubekeur Benhalima €1,720
340 Jean-Patrick Delorme FR €1,720
341 Simone Speranza IT €1,720
353 Jakub Michalak pl €1,720
356 Sylvain Gonon €1,720
357 Jonathan Roy ca €1,720
367 Philippe Jousseaume €1,720
373 Marcus Krzymyk DE €1,720