EPT Monte Carlo : 21 Français dans l'argent, 15 tricolores franchissent le Jour 2

Niveau 15 : 2,000/4,000, 4,000 ante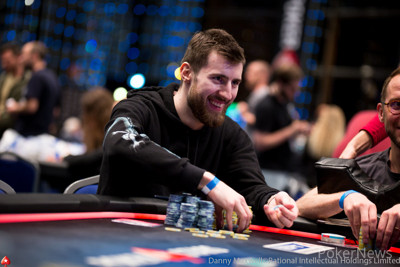 Day 2 of the 2019 PokerStars and Monte-Carlo®Casino European Poker Tour (EPT) €5,300 Main Event is in the books and the money bubble has burst throughout the scheduled five 90-minute levels. Before the start of play, another 18 hopefuls entered with a fresh stack fo 30,000 and two no-shows boosted the field to 922 entries in order to create a prize pool of €4,471,700.
Only 107 players bagged up chips at the end of level 15 with €9,660 locked up for all those that will return to the tables of the Monte-Carlo Sporting on Thursday, May 2nd, 2019, as of 12 p.m. local time and a duo sits atop of the leaderboard in Wiktor Malinowski and Julien Martini.
Martini dominated throughout the day and was the first to reach more than half a million in chips. On the stone-cold money bubble, the Frenchman was atop the counts and had more chips than all other seven players at his table combined.
"You know, it's just one of those days. Whenever I was bluffing, they folded. When I had it, they called," Martini said in one of the tournament breaks of the day.
The last time he was running as hot early in the event, Martini ended up second to Ramon Colillas in the 2019 $25,000 PokerStars NL Hold'em Players Championship for a payday of nearly $3 million.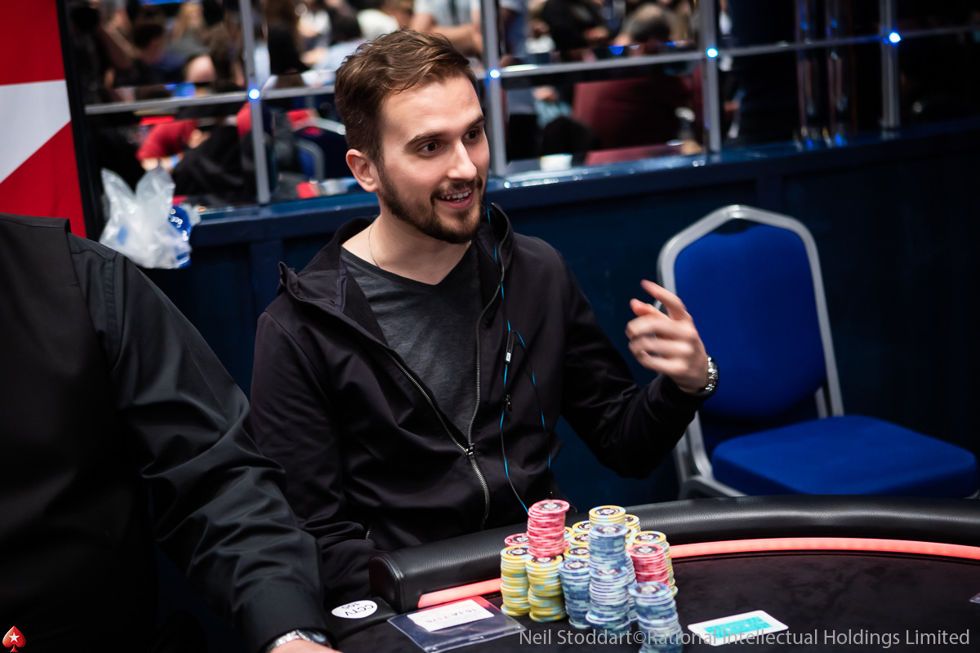 Ultimately, Martini narrowly missed out on the overall lead after Day 2 with his impressive stack of 735,000, as a late surge of Malinowski saw the Super High Roller finalist pull ahead of Martini and claim 769,000 to his name for Day 3. Malinowski won a big pot off 2018 EPT Prague champion Paul Michaelis and proceeded to knock out Diego Zeiter and Mike Watson in the last two hands of the night.
Seth Davies ended up with an equally impressive stack of 684,000 with most of those chips coming from a double elimination at the end of the night when his jacks beat the pocket tens of Shahar Levi and the pocket kings of Joseph Mouawad in a preflop three-way all in. Other notables with more than half a million in chips include James Romero (630,000), Jean-René Fontaine (628,000), Pablo Melogno (607,000), Day 1a chip leader Ludovic Geilich (606,000), Ami Barer (604,000), Paul Michaelis (573,000) and Fionn Macnamara (542,000).
Among those to advance to Day 3 were also such big names as Ramon Miquel Munoz (491,000), Timothy Adams (482,000), 2013 EPT Deauville champion Remi Castaignon (440,000), Manig Loeser (410,000), Patrik Antonius (333,000), Conor Beresford (284,000), Sam Greenwood (245,000), Michael Wang (225,000), 2013 WSOP Main Event champion Ryan Riess (202,000), and Christoph Vogelsang (193,000).
Fatima Moreira de Melo will represent the red spade on Day 3 with a stack of 154,000, PSPC champion Ramon Colillas will return with 134,000. The fellow PokerStars ambassadors Celina Lin, Kalidou Sow, and Maria Konnikowa were on the long list of casualties that all had to leave the Salle des Etoiles empty-handed. Two-time EPT champion Victoria Coren Mitchell was eliminated just before the money bubble.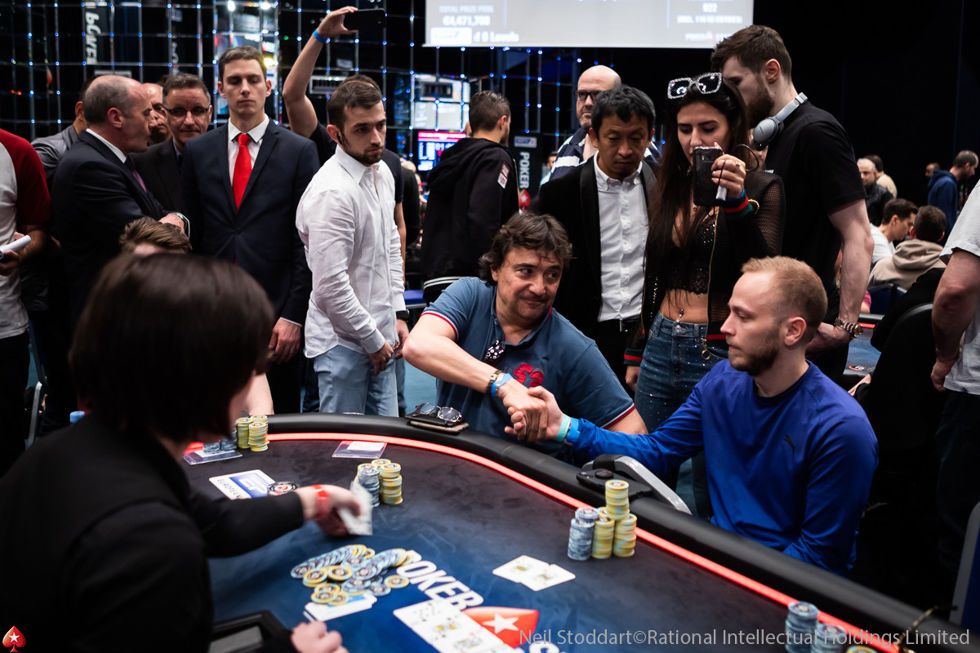 The bubble burst in the final level of the night and it was Philippe Narboni that had to leave empty-handed. Narboni flopped top set with pocket kings and jammed then turn when a four-card straight appeared. James Romero called with king-jack for the straight and the river was a blank ace. Narboni still had a chop at half the min cash, as Oshri Lahmani was all in with aces against the jacks of Pablo Melogno, but the best starting hand in Hold'em held up to let Lahmani double.
After that, the fireworks started and more than two dozen players were sent to the payout desk in order to collect their share of the prize pool. That included such big names as Benny Glaser, Paul-Francois Tedeschi, Sam Grafton, Daniel Dvoress, Josep Maria Galindo Lopez, Gaelle Baumann, and Jeff Hakim.
Even less fortunate were former professional football player Jimmy Kebe, Jason Wheeler, Pete Chen, Dimitar Danchev, Dominik Nitsche, Nick Pupillo, the former EPT Grand Final champions Mohsin Charania and Jan Bendik, Pierre Calamusa, Kristen Bicknell, Erik Seidel, Isaac Haxton, Alex Foxen, and Super High Roller champion Sergio Aido to name just a few.
Steve O'Dwyer lost a flip with pocket eights against the ace-ten of Jinhua Li and the big of Kalidou Sow to win a second EPT Main Event title came to an end in a three-way all in. Sow was at risk with queens against the ace-king of Michael Wang and the pocket sixes of short stack Stefan Heizmann. Both the king and a six appeared on the flop to secure a triple up of Heizmann and the exit of Sow.
Not far away from the money bubble, Shyngis Satubayev five-bet jammed with ace-queen into the ace-king suited of Pablo Melogno, who immediately flopped trips kings to win a pot in excess of half a million in chips. The 2018 EPT Sochi champion Arsenii Karmatckii was left short after a bluff gone wrong against Paul-Francois Tedeschi and he lost the remainder of his chips in a three-way all in with ace-five versus ace-queen and pocket nines.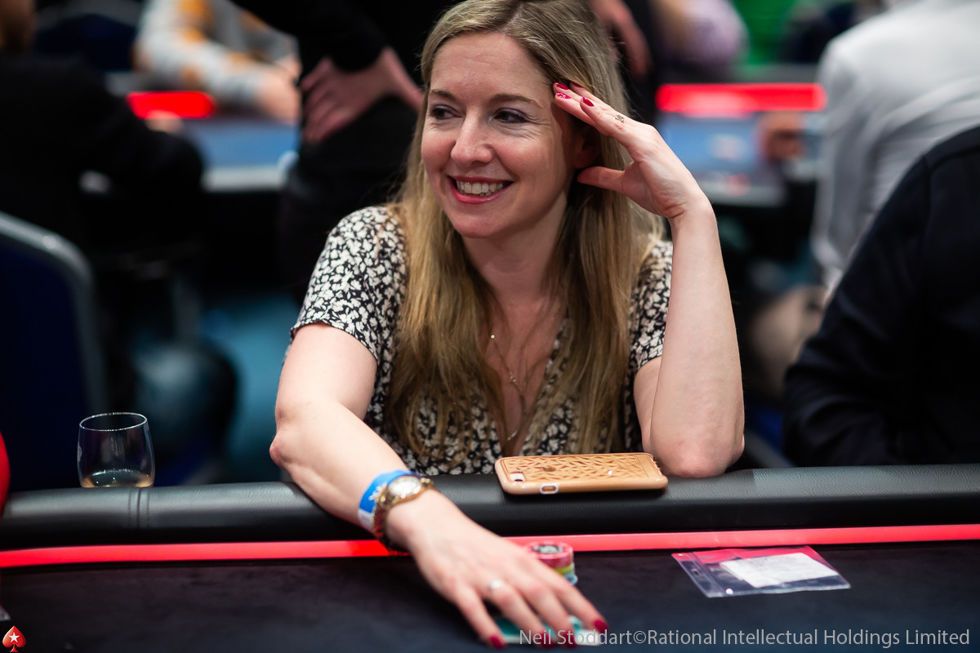 Victoria Coren Mitchell, the only two-time champion of the popular live event series to date, ran out of chips a few spots off the money bubble. Down to just over two big blinds, she moved all in with king-queen and Seth Davies called with ace-king suited to remain in the lead after a jack-high board.
All remaining 107 players will be back in action after a good night's sleep as of noon local time and at least five 90-minute levels are scheduled with a break every level. The action resumes in level 16 with blinds of 2,500-5,000 and a big blind ante of 5,000, and a 30-second shot clock will be introduced before the cards go back in the air.
The PokerNews live reporting team will be your one-stop shop for all the action from the floor and the feature table with hole cards displayed will run on a security delay of 30 minutes.
Main Event Day 3 Seat Draw
| Table | Seat | Name | Country | Chips | Big Blinds |
| --- | --- | --- | --- | --- | --- |
| 1 | 1 | Vlado Banicevic | Montenegro | 198,000 | 40 |
| 1 | 2 | Dominykas Karmazinas | Lithuania | 105,000 | 21 |
| 1 | 3 | Maksim Kolosov | Russia | 142,000 | 28 |
| 1 | 4 | [Removed:174] | Lithuania | 90,000 | 18 |
| 1 | 5 | Viktor Katzenberger | Hungary | 352,000 | 70 |
| 1 | 6 | Ambrose Travers | United Kingdom | 122,000 | 24 |
| 1 | 7 | Jack Maskill | United Kingdom | 431,000 | 86 |
| 1 | 8 | Masato Yokosawa | Japan | 262,000 | 52 |
| | | | | | |
| 2 | 1 | Karoly Odor | Hungary | 230,000 | 46 |
| 2 | 2 | Oshri Lahmani | Israel | 55,000 | 11 |
| 2 | 4 | Ermo Kosk | Estonia | 111,000 | 22 |
| 2 | 5 | Michel Bouskila | Australia | 117,000 | 23 |
| 2 | 6 | Konstantinos Asgoudakis | Greece | 477,000 | 95 |
| 2 | 7 | Manig Loeser | Germany | 410,000 | 82 |
| 2 | 8 | Govert Metaal | Netherlands | 397,000 | 79 |
| | | | | | |
| 3 | 1 | Jean Mikhael | Lebanon | 80,000 | 16 |
| 3 | 2 | Alisa Sibgatova | Russia | 303,000 | 61 |
| 3 | 3 | Charles La Boissonniere | Canada | 320,000 | 64 |
| 3 | 4 | Guy Catan | France | 64,000 | 13 |
| 3 | 5 | Massimo Mosele | Italy | 372,000 | 74 |
| 3 | 6 | Emrah Cakmak | France | 143,000 | 29 |
| 3 | 7 | Karim Jamil | Belgium | 185,000 | 37 |
| 3 | 8 | Ibrahim Ghassan | Lebanon | 312,000 | 62 |
| | | | | | |
| 4 | 1 | Martin Schacher | Switzerland | 222,000 | 44 |
| 4 | 2 | Vlad Darie | Romania | 90,000 | 18 |
| 4 | 3 | Patrik Antonius | Finland | 333,000 | 67 |
| 4 | 4 | Mikalai Vaskaboinikau | Belarus | 181,000 | 36 |
| 4 | 5 | Georgios Kitsios | Greece | 263,000 | 53 |
| 4 | 6 | Jonas Lauck | Germany | 64,000 | 13 |
| 4 | 7 | Ionut Voinea | Romania | 434,000 | 87 |
| 4 | 8 | Ramon Colillas | Spain | 134,000 | 27 |
| | | | | | |
| 5 | 1 | Eusebiu Jalba | Romania | 165,000 | 33 |
| 5 | 2 | Cedric Boussetta | France | 304,000 | 61 |
| 5 | 3 | Enio Bozzano | Brazil | 120,000 | 24 |
| 5 | 4 | Morgan Aceto | France | 131,000 | 26 |
| 5 | 5 | Corentin Ropert | France | 107,000 | 21 |
| 5 | 7 | Johann Zeitoun | France | 222,000 | 44 |
| 5 | 8 | Christophe Panetti | Switzerland | 495,000 | 99 |
| | | | | | |
| 6 | 2 | Fionn Macnamara | United Kingdom | 542,000 | 108 |
| 6 | 3 | Jorden Verbraeken | Belgium | 367,000 | 73 |
| 6 | 4 | Ludovic Geilich | United Kingdom | 606,000 | 121 |
| 6 | 5 | Luis Medina | Portugal | 128,000 | 26 |
| 6 | 6 | Huan Jiaming | China | 67,000 | 13 |
| 6 | 7 | Oleg Larichev | Russia | 170,000 | 34 |
| 6 | 8 | Andreas Klatt | Germany | 83,000 | 17 |
| | | | | | |
| 7 | 1 | Fady Kamar | Lebanon | 223,000 | 45 |
| 7 | 2 | James Romero | United States | 630,000 | 126 |
| 7 | 3 | Aram Sargsyan | Armenia | 82,000 | 16 |
| 7 | 4 | Nicola Grieco | Italy | 409,000 | 82 |
| 7 | 5 | Romain Lewis | France | 108,000 | 22 |
| 7 | 6 | Ryan Riess | United States | 202,000 | 40 |
| 7 | 7 | Orpen Kisacikoglu | Turkey | 361,000 | 72 |
| 7 | 8 | Nicola D'Anselmo | Italy | 292,000 | 58 |
| | | | | | |
| 8 | 1 | Wiktor Malinowski | Poland | 769,000 | 154 |
| 8 | 2 | Malikeh Razavi | Iran | 192,000 | 38 |
| 8 | 3 | Pierre Merlin | France | 172,000 | 34 |
| 8 | 4 | Seth Davies | United States | 684,000 | 137 |
| 8 | 5 | Vahe Ter-Khachatryan | Armenia | 88,000 | 18 |
| 8 | 6 | Ami Barer | Canada | 604,000 | 121 |
| 8 | 7 | Ramon Miquel Munoz | Spain | 491,000 | 98 |
| 8 | 8 | Nicolas Chouity | Lebanon | 156,000 | 31 |
| | | | | | |
| 9 | 1 | Ariel Celestino | Brazil | 411,000 | 82 |
| 9 | 2 | Julien Martini | France | 735,000 | 147 |
| 9 | 3 | Ivan Deyra | France | 142,000 | 28 |
| 9 | 4 | Danilo Velasevic | Serbia | 118,000 | 24 |
| 9 | 5 | Bruno Volkmann | Brazil | 348,000 | 70 |
| 9 | 6 | Tamer Kamel | United Kingdom | 106,000 | 21 |
| 9 | 7 | Vamshi Vandanapu | United Kingdom | 174,000 | 35 |
| 9 | 8 | Paul Michaelis | Germany | 573,000 | 115 |
| | | | | | |
| 10 | 1 | Artur Martirosian | Russia | 30,000 | 6 |
| 10 | 2 | Conor Beresford | United Kingdom | 248,000 | 50 |
| 10 | 3 | Sylvain Mazza | France | 207,000 | 41 |
| 10 | 5 | Markus Durnegger | Austria | 194,000 | 39 |
| 10 | 6 | Artur Koren | Germany | 199,000 | 40 |
| 10 | 7 | Fatima Moreira De Melo | Netherlands | 154,000 | 31 |
| 10 | 8 | Erwann Pecheux | France | 235,000 | 47 |
| | | | | | |
| 11 | 1 | Aladin Reskallah | France | 380,000 | 76 |
| 11 | 2 | Gen Nose | Japan | 215,000 | 43 |
| 11 | 3 | Dirk Wiele | Germany | 143,000 | 29 |
| 11 | 4 | Armin Rezaei | Austria | 169,000 | 34 |
| 11 | 5 | Michail Karapanos | Greece | 210,000 | 42 |
| 11 | 6 | Dario Sammartino | Italy | 365,000 | 73 |
| 11 | 7 | Robert Nesh | Russia | 76,000 | 15 |
| 11 | 8 | Serafim Kovalevskiy | Russia | 149,000 | 30 |
| | | | | | |
| 12 | 1 | Wei Huang | China | 147,000 | 29 |
| 12 | 2 | Boris Kolev | Bulgaria | 196,000 | 39 |
| 12 | 3 | Ignacio Barcenas Romera | Spain | 341,000 | 68 |
| 12 | 4 | Sergei Bagirov | Russia | 51,000 | 10 |
| 12 | 5 | Christoph Vogelsang | Germany | 193,000 | 39 |
| 12 | 6 | Rocco Palumbo | Italy | 163,000 | 33 |
| 12 | 7 | Thomas Hueber | Austria | 305,000 | 61 |
| 12 | 8 | Evy Kvilhaug | Norway | 162,000 | 32 |
| | | | | | |
| 13 | 1 | Rustam Hajiyev | Azerbaijan | 377,000 | 75 |
| 13 | 2 | Michael Wang | United States | 225,000 | 45 |
| 13 | 3 | Mikita Badziakouski | Belarus | 65,000 | 13 |
| 13 | 4 | Milos Lalovic | Serbia | 217,000 | 43 |
| 13 | 5 | Sam Greenwood | Canada | 245,000 | 49 |
| 13 | 7 | Andreas Vlachos | Greece | 97,000 | 19 |
| 13 | 8 | Pablo Melogno | Uruguay | 607,000 | 121 |
| | | | | | |
| 14 | 1 | Roberto Fernandez | Spain | 81,000 | 16 |
| 14 | 2 | Maxi Lehmanski | Germany | 327,000 | 65 |
| 14 | 3 | David Lascar | France | 204,000 | 41 |
| 14 | 4 | Jean-René Fontaine | France | 628,000 | 126 |
| 14 | 5 | Francois Evard | Switzerland | 435,000 | 87 |
| 14 | 6 | Timothy Adams | Canada | 482,000 | 96 |
| 14 | 7 | Antonio Scalzi | Italy | 87,000 | 17 |
| 14 | 8 | Remi Castaignon | France | 440,000 | 88 |